60,000 Q&A topics -- Education, Aloha, & Fun
topic 13823
Finishing Aluminum Castings: burrs / flash / lamination issues
A discussion started in 2002 but continuing through 2019
2002
Q. I am looking for a finishing process that will remove flash, burrs, lamination from aluminum die castings. A trim press is used to remove large window flash, but many areas require subsequent processing to remove sharp edges from internal cavities. The current method utilized is a person with a steel file (after the parts are shot blasted). It is very ineffective. Pneumatic hand tools have been used in the past but part geometry inhibits effective processing.
Are any of the following processes applicable?
chemical wash
high pressure water blasting
thermal deburring
vibratory deburring
others?
Jason S
[last name deleted for privacy by Editor]
- Indianapolis, Indiana
---
2002
Q. The parts in question are high-pressure-cast aluminum transmission cases and converter housings. Part geometry varies widely by product line. Generally speaking, the trouble areas are oil passageways that pass through the casting. Typically 1/2" square and entering 2-3" from the face of the part. This passage intersects with a similar passage entering from an adjacent face of the casting.
The interior passage has flash at the deepest point of the passage (where the two die surfaces mate during casting). A punch press operation ensures that the flash does not completely seal the passageway off, but is not precise enough to ensure 100% flash removal from this intersection point. That's where the hand filing commences, but with 10-20 discrete oil passages that must each be inspected and "touched up" ... you can imagine the volume of labor that is required to keep up with the flow of parts.
Jason S
[returning]
- Indianapolis, Indiana
---
---
Aluminum Casting Surface Finishes
2006
Q. I have customers whom want a polished surface.

We are currently casting in an alloy contain 9% Mg. The final product appears with a colour variation over the surface. In some areas the colour is very dark.

What is the reason for this "colour" variation?

After polishing they seem to disappear, but after surface treatment, these colour changes appear again.

Are these areas due to variation in composition?
Niels Erik Holm
- Birkeroed, Denmark
---
2006
Q. I have been making Aluminum Alloy Castings For various applications. The Castings are meeting my customer's requirements in form of Quality of Castings, their functional requirements such as Radiographic standards, Hydrostatic requirements, Machining Tolerances,etc.
But when it comes to Surface finish, the castings give a repulsive feeling to my customers. Generally the Castings are made in Aluminum Alloy LM25 & after Heat- Treatment, They assume Grey colour. Whereas the customer wants natural Aluminum colour which could be lustrous. Similarly, I am also making Castings in Alloy LM6. These castings are not Heat-Treated, But nevertheless the customer wants good surface finish on the Castings.
My question is how do I achieve good finish on the castings so that my customers feel attracted to my product.
PRADEEP DATAR
- HYDERABAD, A.P. , INDIA
---
---
Polishing naturally pitted [cast] aluminum
April 16, 2009
Q. I've been polishing the parts for my engine bay. So far I've finished the valve cover and now I am working on the intake manifold. My question is when I polished the valve cover the finish was already smooth; my intake on the other hand has a natural pitted appearance. When I tried polishing it, the Tripoli compound I'm using simply turns black on to the metal. Let me know if there is a solution for this.
Thank you... Joe
Joe Putnam
hobbyist - Missouri
---
---
July 17, 2019
Q. Generally, our Castings are made in Aluminum Alloy LM25 / 356 ( Al Si7 Mg0.5 ) . After Heat Treatment, they assume a Grey colour, whereas the customer wants natural lustrous Aluminum colour.

After treatment, we use Steel(SS) ball blasting with 0.4 mm but the appearance remains light Gray only.
What is the method to improve surface finish to silver mill finish?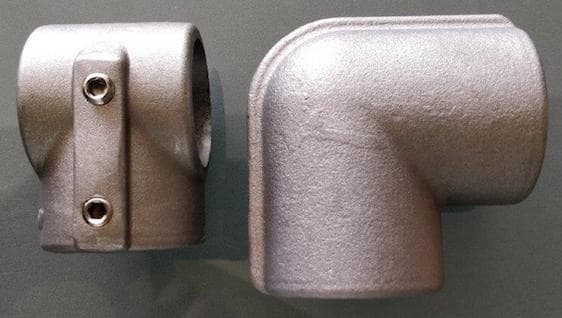 Working on chemical brightening method at 85 °C with
Orthophosphoric acid (85%) 80 vol%
Acetic acid (glacial, 99.5%) 15 vol%
Nitric acid (60%) 5 vol%

Does this solve the problem of grey color due to silicon, or need any other treatment.
Any solution provider is welcome.
Jayesh Patel
Gravity Casting Manufacturer - Ahmedabad, Gujarat, India
^- Privately contact this inquirer -^