World's #1 finishing resource since 1989
No login needed: Chime right in
topic 13648
Painting an aluminum outdrive - Mercruiser
2002
Q. I would like to know of a preferred method of painting my Mercruiser outdrive lower units, which are aluminum castings. If you are not familiar with sterndrive power on boats, they are the used to transfer power from the boats engine(s) to the prop(s) and are usually remain submerged (in my case, in fresh water for 6 months each year), or in southern climates, a year or more in salt water. My drives are currently in a shop being bead blasted to remove all paint.
Because I don't have access to a oven, the process would have to include air dry times between processed elements.
I have tried using zinc chromate primers and both lacquer and enamels for sealing and cover coats with little durability, usually lasting less than one season.
Any help you can provide would be greatly welcomed.
Thanks,
Jim Hoadley
- Vermilion, Ohio
---
May 14, 2008
A. Jim,

I've had similar problems over the last 8 years with my Mercruiser Bravo 3 out drive. I've painted it every year, and even glass bead blasted once. Zinc chromate primer helped but didn't cure the problem. The corrosion and blistering continued, needing renewal work every spring. As I write this, I am going through the same thing again, only this time I am taking care to do it properly and thoroughly. I have done much research to try to get it correct this time (I hope). My understanding is once blistering and pitting of the aluminum starts under the paint, it has to be removed completely. Bead blasting worked at stripping once but it is messy and expensive. This time I bought an air operated Needle Scaler [affil. link to info/product on Amazon]. For the past two days I've been stripping the paint, blisters, and white corrosion powder that remains in all the pits under the blisters. Its important to go over every square inch of paint with the needle scaler. It will bust up old paint and reveal corrosion you never thought was there. Today I did an acid wash using Mary Kate On and Off [affil. link to info/product on Amazon] which contains phosphoric and oxalic acids. This product contains the correct acids in a water solution recommended by many experts. I acid washed today by using a nylon paint brush to scour over the entire out drive. The out drive is off the boat, so I also got the gimble casing and bell housing as well, also previously stripped with the needle scaler. The acid wash was amazing. It foamed as it went to work, dissolving the white aluminum oxide corrosion on the surface of the cast aluminum. The acid does something else. It converts the surface aluminum oxide to a new microscopic crystalline structure that is hard and a few micrometers thick. This, according to the experts, kills the corrosion and extends the life before it starts again over time under any new paint. It also does a heavy etch into the surface and makes a better surface for priming. After leaving the acid on for about 20 minutes, I hose washed the acid off with water. The acid only attacks the aluminum oxide, whereas a strong alkaline such as caustic soda will eat into and dissolve aluminum (not recommended). The acid wash will also take off any zinc chromate primer that was used in the past. Next, I will prime the out drive and gimble housing exterior with a two part epoxy paint. If there is significant pitting and erosion, such as on the cavitation plate, a two part epoxy fairing compound made by Interlux (417A & 418B) can be first applied, cured for 24 hours, and sanded smooth before priming. Following the primer and the appropriate cure window of time for the primer, the final top coat can be applied using a 2 part urethane paint. It is not recommended to top coat more than 24 hours after painting or the primer will have to be sanded to make a profiled surface for the top coat to stick. I plan on using 3 coats of primer, sprayed on with an air gun. Directions must be followed for the appropriate mixing of hardener / activator and the reducer (thinner). The top coat should be multiple coats as well. This primer and top coat will seal the pores of the acid washed aluminum casting and give many more seasons of use before corrosion starts up again. The results depend on taking time and taking care to do a thorough job at stripping the old coatings and getting rid of all the old corrosion under the coatings.
Bill Ofca
- Hyde Park, New York
---
September 1, 2008
? I was wondering how your outdrive turned out?
Richard Hudson
- Charleston, South Carolina
---
---
Marine repair shop has problems epoxy coating props and skegs
2004
Q. I have a small marine propeller repair shop, we also repair skegs (the fin on the bottom of the motor or out drive). I have been using a high build epoxy primer 3 parts paint 1 part activator and adding 1 unit of reducer to thin out the paint. after 3 heavy coats the units are wet sanded 120 grit then reprimed, the final sanding is with 400 and top coated with acrylic paint. I have had some units come bask after 2 months in the water and they have blisters 1-3 millimeters all over some areas heavy and some not heavily blistered. I have just switched to a urethane paint for top coat but have not scene and results yet. Other things I have considered is electrolysis. The blisters seam to be right down to the aluminum almost like the primer did not bond to the aluminum.
Would love to here any thoughts thanks.
Sandy
marine repair - Parry Sound, Ontario, Canada
---
2004
A. Your primer might have an incompatibility with the acrylic or polyurethane topcoat. You might be able to get away with a two-part zinc chromate primer sprayed over the raw and cleaned aluminum surface, followed by a two-part urethane topcoat. You'll eliminate the lengthy sanding and recoating process you have with the epoxy primer. Good luck.
Jake Koch
G. J. Nikolas &Co.,Inc.

Bellwood, Illinois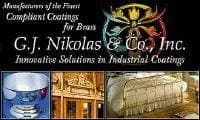 ----
Ed. note: Readers may also be interested in letter 29978, "Best way to paint a cast aluminum boat sterndrive"