topic 12880
Electroless Nickel Plating on Aluminum Alloy Molds
A discussion started in 1995 but continuing through 2017
1995
Q. We have been asked to electroless nickel plate Aluminium alloy 6262. In the UK there are no technical references to this material. Do you know of any processes for cleaning this alloy, We know that it contains Lead and Bismuth, do these represent any contamination problems?
Any information on this particular alloy would be gratefully received. Thank You
Mike M
[last name deleted for privacy by Editor]
-Herts. England
---
A. Hi, Mike. I'm confident that the ASM Metals Handbook will have the composition and properties data for this alloy. The metal must be zincated before electroless nickel plating, so the electroless nickel bath should not "see" the composition of the substrate.
Ted Mooney, P.E.
finishing.com
Pine Beach, New Jersey
---
---
2000
Q. I'm a 3rd year physics student and I need know about Electroless Aluminium because I must work with that, I have not any technical references about that, thanks.
Daniel R
[last name deleted for privacy by Editor]
Universidad Nacional de Ingenier'ia - Lima, Peru
Ed. note: the term "electroless aluminum" is unfamiliar to us, Daniel, please explain the material or the process. Thanks.
---
---
2000
Q. We have a job requiring a perfect surface on aluminum mold. We plated 2 smaller molds with nickel and they were fine, but our plater can't handle a mold 10" x 18" x 20". He tried and got poor results because of "poor circulation" in the tank, which is barely that size.
Callout for .003RA, but we don't know anyone who can measure it. Mirror finish is what we look for.
One plater coated with copper, then nickel, and when we heated the mold the plating blistered. Current plater puts on .003" of nickel after polishing and cleaning. Electroless nickel flash, then plate with .002" of nickel.
Perry G. Wood, PE
plastic mfg - Kearney, Nebraska
---
A. Hi, Perry.
Plating involves metallurgical bonding and doesn't require "tooth", so I don't think the smoothness creates the adhesion issue. We merged your inquiry with a previous one that explains that the type of aluminum alloy is very important though.
I think your first plater is experienced with plating aluminum molds and understands that his tank isn't big enough. But it's possible that your newer platers aren't well versed in this specialty. I think you need to find a plater who specializes in electroless nickel plating of aluminum molds. Good luck.
Regards,
Ted Mooney, P.E.
finishing.com
Pine Beach, New Jersey
---
---
2002
Q. We currently have Electroless Nickel (EN) coated onto our 2024 aluminum molds. We have had adhesion problems in the past. We are considering switching to type 7075? Does this alloy coat easier than the 2024 aluminum? How does it compare to the 6000 series alloys?
Thanks,
Brandon Hellenbrand
- Fairburn, Georgia
---
2002
A. For most platers, 7075 is the most difficult to plate because of the higher amount of alloy metals. 6061 is far easier to plate for most, but lacks the properties that you can get from 2024 or 7075.
Decent adhesion is not impossible. My guess is they are polished with a grease compound and the plater cannot see the film, and his alkaline tank is not getting it all out. Next suspect is the zincate layer. This is more of an art than a science and a double zincate is mandatory. You may be forced to go to an alloy zincate which will work better for most people, but have a small amount of cyanide in them.
James Watts
- Navarre, Florida
---
2002
A. 7075 is still an alloy more prone to adhesion failures than 6000 series alloys. 7000 series can be plated but the quality parameters to achieve good adhesion are much tighter than 6000 series alloys.
Todd Osmolski
- Charlotte, North Carolina, USA
---
---
To minimize your searching efforts and to offer multiple viewpoints, we've combined some threads into the dialog you're viewing. Please forgive any resultant repetition or failures of chronological order.
Outgassing during electroless nickel plating process
2002
Q. Our factory produces product made from Mic 6 aluminum tooling plate. Over time we have made some observations which concerns our manufacturing team. Is all Mic 6 tooling plate the same (chemical and mechanical properties)? Is the range within the afore mentioned question such that different lots of material could machine differently; example: harder or softer? Is there data on how much porosity is acceptable? The reason for these rather ambiguous questions is that the products we machine from Mic 6 tooling plate are sent to plating for Electroless Nickel. The parts are machined and grained to a 16 finish prior to plating and usually maintain that finish integrity during the plating process. Recently we have observed that the surface finish after plating has a rough "sandpaper" feel and is unacceptable to our customer. Our Plater says it is "outgassing" from the Mic 6; Question? Is that possible? If so why? Is there enough variation in the Mic 6 specifications that allow material sold to factories to exhibit such behavior?
If there is any valuable input from any source, I would appreciate all information.
Thank You,
Carl Johnson
- Hayward, California
---
2002

A. Most probably his bath became contaminated, out of balance or saturated with zinc from previous preparation steps for aluminum. Another possibility, his filtration system was down or not working properly when he ran your parts. It happens sometimes that substrates have abnormal impurities impossible to correct (mostly on castings not rolled stock), but they normally show up like pits, blisters or total delamination of nickel. If none of that is present, the adhesion is acceptable and only the aspect is rough, then its his bath not his prep cycle nor your material.

Guillermo Marrufo




Monterrey, NL, Mexico





---

2002

A. Because you grind to a 16 finish, there is likely metal splinters all over the surface. This condition would lead to excessive gassing in an electroless nickel solution resulting in porosity. There is no amount of porosity that is acceptable if the aluminum is to be protected. Either do not grind, or have the parts chemical or electropolished. If there is a functional reason for the 16 finish try to accomplish it by means other than grinding. There is a fairly large heat treat range in the specifications for aluminum during manufacture of wrought alloys. Some batches could be harder or softer then average.

Don Baudrand




Consultant - Poulsbo, Washington



(Don is co-author of the
book "Plating on Plastics")


---
2002
A. Most aluminum alloys that are not 6000 series can be difficult to get a good quality plating on. This is due to the things that are added to the aluminum alloys. The parts may have a nice surface finish when they leave your shop but when they go into a cleaning and pretreatment the surface fish deteriorates. Jig plate is not a good substrate for consistent smooth plating.
Todd Osmolski
- Charlotte, North Carolina, USA
---
2002
A. Following up on my colleague Todd's comments, all aluminum is difficult to plate, but especially the grade of aluminum known as "cast jig plate," sold under the trade names of Mic 6, Alca +, and others. They do have a very wide composition range, however, like leaded steels that platers hate to finish, grinders like jig plate because it stays flat upon machining. Jig plate is notorious even with anodizers who curse it whenever they're asked to get a good looking anodize on jig plate. The first cleaning and etching reveals a blotchy appearance and it's nearly impossible to get a consistent, uniform finish on it whether it's plated or anodized.
Now for my opinion on what you might be seeing. The roughness from plating would most likely be "shelf" in nature, i.e. the surfaces facing up during plating. If it's more less uniform roughness all over, I'd suspect that the parts were stripped and replated for whatever reason. Plating on aluminum is never a 100% proposition; stripping and replating are a norm for the process, however, impossible to strip without leaving tell tale signs.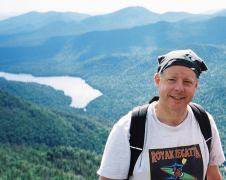 Milt Stevenson, Jr.
Anoplate Corporation
Syracuse, New York
---
July 15, 2009
A. Slightly off topic, but hopefully useful. We machine a lot of parts out of jig plate that are powdercoated. We have an occasional problem with what appears to be outgassing, messing up the powder coating. It is usually baked, recoated and eventually fixed, although it sometimes takes several tries.
John Cooper
- Rose Hill, North Carolina, USA
---
---
2004
-- this entry merged into this thread by editor in lieu of maintaining duplicative threads
Q. We are running Aluminum 6061-T6 components in white water (paper/pulp molding) with a pH of 6.5 - 7.0. Can you recommend a suitable coating for this application for corrosion protection? What metals should I stay away from in terms of Galvanic corrosion?
Jeff K
[last name deleted for privacy by Editor]
Mechanical Engineer - Hantsport, Nova Scotia, Canada
---
A. Hi, Jeff. Electroless nickel plating is the first coating I'd look at for such an application. As long as no aluminum is exposed, there is no galvanic corrosion issue. Good luck.
Regards,
Ted Mooney, P.E.
finishing.com
Pine Beach, New Jersey
---
---
2005
Q. I am a final yr metallurgical engg. student working on electroless nickel plating on aluminium samples

what is the remedy for the dots that I get on the sample on plating
Vasav Pandya
- Jaipur, Rajasthan, India
---
A. Hi Vasav. We would need a better description and hopefully pictures before we can understand the "dots" defect you are reporting. In the meanwhile, if you can get access to them, Chemical (Electroless) Nickel Plating by G.G. Gawrilov or Electroless Plating: Fundamentals & Applications by Mallory and Hajdu will probably have all the answers. Good luck.
Regards,
Ted Mooney, P.E.
finishing.com
Pine Beach, New Jersey
---
---
Plating a Large Cast Aluminum Rotational Mold
August 12, 2017
Q. Does anyone here have experience with large rotational mold re-finishing / plating? I have a large kayak mold (15') with porosity that needs re-finishing to a higher polish but has issues with porosity.

All help and suggestions appreciated.
Tom Mitzlaf
Product designer - USA
---
July 25, 2018
A. Consider anodizing aluminum alloy molds instead of Nickel Plating. The nickel is very hard to stick, and the anodizing gives a thin nitride layer that will last as long as the plating.
Jack Brainard
Global Mold Engineering - Louisville, Kentucky USA


If you have a question in mind which seems off topic, please Search the Site