World's #1 finishing resource since 1989
Chemical (Electroless) Nickel Plating
by G.G. Gawrilov
| | | | | |
| --- | --- | --- | --- | --- |
| ISBN | Pub. year | | Author | Publisher |
| ‍0861080238 | 1979 | | G.G. Gawrilov | Portcullis Press |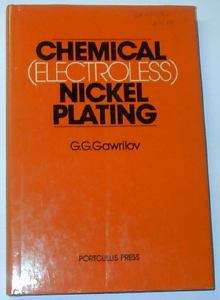 A Review by Ted Mooney:
1979, hardcover, 189 pages.
A detailed review of electroless nickel plating, with 521 refs., many of German and Russian origin which become available to us English language readers, perhaps for the first time, through this book.
Covers both acid hypophosphate and alkaline hypophosphite solutions, hydrazine (briefly), and boron compounds with significant detail on chemical composition, properties of deposits, substrates, and detailed explanations of industrial uses. Includes treatment of composite plating and ternary alloys (Ni-Co-P and Ni-Co-B, for example).
Readers who wish to develop their own additive systems will find this volume indispensable.
These links attempt to go directly to the book in question:
"Available" or "Sorry!" note is based on a recent finishing.com search and is not an official position of the bookstore.
Inventory at book dealers varies, and these links might redirect if the volume is out of stock, so please check that the offered book/edition is what we illustrate/discuss here and that you want. If a link doesn't work or points to the wrong book, the dealer may be out of stock; please try another source. Disclosure: finishing.com may receive a commission if you buy after following these links. As an Amazon Associate I earn from qualifying purchases.