topic 12871
How to Make & Use Liver of Sulphur
An ongoing discussion from 2002 through 2014 . . .
(2002)
Q. I know that caustic is a corrosive type of chemical, but is there any specifics to what type of caustic solution to use for the mixture of liver of sulphur?
Chris Mcghee
- Hamilton, Ohio
---
A. Hi, Chris. Liver of Sulphur for jewelry blackening is widely available and very inexpensive. You can buy it as crystals or as a pre-diluted liquid. Except for exceptionally large industrial users, it's probably much cheaper and certainly a lot safer to buy a commercial product. Here are a couple of sources =>
[disclosure: finishing.com may earn a commission if you buy through these links]
I don't know for sure the context where you read "caustic", but the word is not just an adjective, it is also slang for "caustic soda" (sodium hydroxide). This is a very strong chemical that should probably be reserved for industrial use. Good luck.
Regards,
Ted Mooney, P.E. RET
finishing.com
Pine Beach, New Jersey
---
(2002)
A. Liver of sulphur is sulphurated potash mostly consists of potassium polysulphides. It is alkaline, and will turn silver and some other metals black on contact.
Neil Bell
Red Sky Plating
Albuquerque, New Mexico
---
(2002)
A. Caustic soda is indeed corrosive to skin, and that is usually what is meant when a chemical is designated corrosive, but so is acid a corrosive. Caustic soda is very alkaline, the hydroxyl ion [OH]- is very reactive, which is what attacks skin, and a strong acid, like sulphuric or hydrochloric is corrosive because the proton [H]+ in the molecule is very reactive.
Your question seems to be related to how to keep the sulphide at a high enough pH so that we don't generate H2S (hydrogen sulphide (gas)), which is what happens if the pH gets too low. You would most likely use sodium hydroxide (caustic soda) or potassium Hydroxide (caustic potash) to adjust the pH of your solution to keep it above 8 or 9, I suppose this would be high enough. What does your formula call for as a pH level?
These sulphides used for antiquing will generate hydrogen sulphide gas if improperly used, this is a deadly gas.
Dumping large amounts into the sewer could potentially put sewer workers at risk, if for some reason, the dump encountered an acid dump by someone else into the same sewer. Unlikely, but possible.
Tom Pullizzi
Falls Township, Pennsylvania
---
(2002)
!! I normally don't get into this discussion BUT in "Condensed Chemical Dictionary" [link is to info about the book at Amazon], 1971 it states "Liver of a term formally used to characterize compounds containing sulphides etc --------.The word is outmoded and should be avoided." This is said in 1971.
If you wish to use "liver of sulphur" you can purchase at gardening supplies nurseries as "lime sulphur", calcium polysulphide. If you wish to antique then dilute to 1-10 ml/litre. If you wish to strip copper use 50% strength.
But please don't try to "MAKE" it if you don't understand, i.e., actually KNOW about chemistry.
Geoffrey Whitelaw
- Port Melbourne, Australia
---
(2003)
A. Here...
How to use Liver of Sulphur
By: John A. Foutz
Liquid oxidizers (Win-Ox, Silver Black, etc.) are easy to apply but are too easily removed. The chemical also tends to creep out long after the work is finished unless the piece is rinsed very thoroughly.
Liver of sulphur is the most effective oxidizer of sterling silver I know of in both cost and performance. It, unfortunately, is the least easy to apply. It penetrates and thus is the most resistant ...

Copy and paste this link in your navigation bar for the Foutz article:
www.ganoksin.com/orchid/archive/9711/msg00480.htm
David Dolata
- Ripon, Wisconsin
---
(2004)
A. We use Lime sulphur solution (Calcium polysulphide is the a.i.) as a fungicide, and you guys should realize that although not a restricted pesticide, it does have a very nasty acute effect to eyes and other sensitive areas. Proper mixing attire would be the following: face shield [linked by editor to product info at Amazon], long sleeves and pants, coveralls, PVC mixing apron [linked by editor to product info at Amazon], chemical resistant boots and protective gloves [linked by editor to product info at Amazon]. With a pH of around 10, it is caustic enough to do permanent damage quite easily. This earns it a DANGER label-- skull and crossbones type stuff. Yet it is organic. Good stuff, but respect it, people!
Stevenson
farming - Orient, New York
---
(2004)
A. Liver of sulphur is not "lime sulphur", calcium polysulphide, but is a synonym for potassium polysulphide or potash sulphurated. Please do not heat the solution or add it to acid as the material reacts (with acid or steam) to evolve hydrogen sulphide gas, which is toxic, flammable, explosive, and even corrosive when moist.
Leona Lengyel
- Adelaide, South Australia, Australia
---
---
Blackening of copper at home
(2007)
Q. Hi guys.
Is there a way to actually MAKE a solution for blackening of copper at home?
I copper-plated a revolver and now I want to blacken the copper plating to make the revolver look like it was blued.
I used a cold blue solution from the gun store and it makes copper jet black BUT it leaves a very slight, barely noticeable greenish tint. Actually it is so slight that no one except for me could notice it but still... it kind of annoys me.
I need something that can blacken copper by making it really jet black or by giving it a bluish or brownish tint .
What should I use?
Svet Tzarev
- Sofia, Bulgaria
---
A. Hi, cousin Svet.
Geoff has implied -- and I agree with him (although you certainly don't have to) -- that if you don't know the answer, it means you haven't had sufficient chemical training to safely engage in trying to make compounds and mixtures of this sort :-)
Sort of like if you have to ask where to start the incision for an appendectomy, you probably shouldn't try to perform one :-)
Regards,
Ted Mooney, P.E. RET
finishing.com
Pine Beach, New Jersey
---
(2007)
A. Liver of Sulphur-(LOS) Sulphated Potash...All names for a quite traditional Copper Patina. For what it is worth, the gentlemen posting the question about applying a patina to a copper plated gun barrel, one must use caution as the plating is often quite thin. LOS is quite aggressive, and has been my experience that it will often blast the plating right off the object. Maybe a selenous acid base patina? Check out Sculpt Nouveau. Birchwood Casey has a nice black patina =>

Working with LOS most every day one must take caution. It can be absorbed through the skin, and the toxic component, Hydrogen Sulphide gas ("Rotten Egg Smell") deadens your sense of smell as you are exposed to it, making you unaware of the risk. I have become quite ill from accidental exposure to the gas by allowing LOS to combine with something as simple as some citric acid pickle solution, or even Barkeepers Friend. Anything with a pH of 6 or lower is to avoid!

You'll do fine to wear rubber protective gloves [linked by editor to product info at Amazon], glasses at least. Good ventilation! Of course, I am doing large areas; small things like jewelry might not let off more Hydrogen Sulphide than a fart. (Yes, that's what that is.)

Charlie
Charles D
[last name deleted for privacy by Editor]
- Indianapolis, Indiana
---
January 9, 2012
Hi, Charlie.
Folks, make sure you do your research before you decide on Birchwood-Casey. Its a fantastic product, with undeniably consistent results; however, it is designed largely for an industrial application, where things like the disposal of selenium, copper-bearing liquids, and neutralized acids are considered part of the daily routine. You need safety gear to handle this stuff. That particular patina is an acid based patina that etches into the copper in a given alloy, and attaches the selenium molecule chemically. It is not an oxidizing patina that reacts to surface treatment, which if used carefully, can then be flushed with enough water into the waste system.

Where did I get my info? I was one of the consultants that helped to field test their line of gel based acid patinas while I applied the patina and finish to the metal work at the Bonfire Memorial for the Texas A&M students killed at that tragedy. Let me tell you, OSHA and the EPA both had a huge presence felt.
Brian Bales
-
indianapolis, Indiana
---
January 28, 2011
A. Liver of sulphur is very volatile. Once mixed with water the solution will be active for a day at best! Don't dissolve all the yellow lumps and hope to keep solution for next time!

Having owned and operated a bronze art foundry for 20 years my advise is switch to sodium polysulphide. this is sold under the name of zinc purifier. It is supplied as a slurpy deep amber colored liquid. This has the same coloring effect on metals as liver of sulphur but the liquid is nowhere near as volatile, meaning the room will not smell and the solution when mixed will stay active for weeks! Good if you have to mix a bath tub sized tank full at a time.

This for those brave enough is much easier to produce yourself.

"Dissolve 480 grams of Na2S.9H2O in 500 ml of water, add 40 grams of NaOH and 18 grams of sulfur. Stir thoroughly and dilute to 1 liter with water"

I know that someone always says "hey mate its safer to buy, leave it to the pros" right! But for anyone living in the rest of the world, often many things taken for granted in the developed world are just not available and there is no choice. Knowledge means choice!

Dave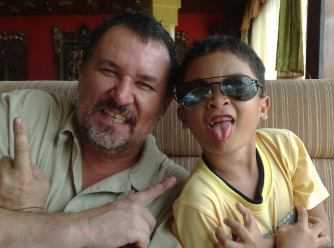 Dave Mune
mfgr of decorative concrete -
Cebu, Philippines
(Expat living in Cebu) - Philippines
---
---
Is liver of sulphur safe for jewelry stones?
(2007)
Q. Hi everybody!

I could really do with some help to a question I have been trying to find the answer for, for quite a few weeks and as yet haven't had any luck!

I just want to know what stones can be dipped in liver of sulphur? I make lots of wire wrapped jewelry but mostly with semi-precious stones/pearls or handmade glass beads attached...can these be dipped into the solution then go into a tumbler safely?

Some people I've spoken to say I can dip ANY stones, but I've seen people do it before I'm just not sure what stones they were dipping!

I'd really appreciate someone helping me out here! I've been asking around for weeks now and no one seems to give me a straight answer!

Many thanks!

Holly.
Holly
[last name deleted for privacy by Editor]
Jewelry designer - Lake Mary, Florida
---
(2007)
A. I don't know the answer, Holly, but I understand that most relatively mild chemicals have little effect on most stones -- although I'm starting to see some warning signs at jewelry counters that they have coated their stones for better color; I hope someone can be more definitive.
But it's usually good to remind people that although pearls are often used in jewelry in pretty much the same fashion as stones, pearls are not stones, and they react to chemicals much differently than stones do. Treat pearls as a separate thing from stones when reading messages about jewelry stones. When you read that something does not affect stones, it does not mean that it doesn't affect pearls!
Ted Mooney, P.E. RET
finishing.com
Pine Beach, New Jersey
---
---
What is a safer way to patina copper than liver of sulphur?
August 27, 2008
Q. Hi
Is there something safer I can use to patina a copper plate instead of using liver sulphur?
Annette
annette hagger
student - England. UK
---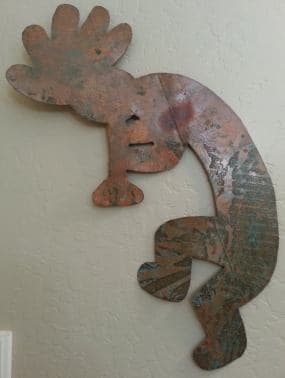 August 2008
A. Hi, Annette. If you are using the pre-diluted liquid liver of sulphur with good ventilation, on small pieces, and you avoid acidifying it with vinegar or anything else, it sounds pretty safe. Safer would be seal it in a plastic bag overnight with crushed hard boiled eggs, but I think they might be too slow and variable to really do the job. Let us know if you find otherwise!
Regards,
Ted Mooney, P.E. RET
finishing.com
Pine Beach, New Jersey
---
August 27, 2014
A. A safe inexpensive way to patina copper is simply to add feline urine and let it sit until desired results are achieved. Dipping different textured paper towels and toilet tissue in the urine and placing on the copper will give different textures and patterns =>

Make sure to keep it wet. Don't forget the gloves :)
Misty Hall
- Phoenix Arizona USA
---
---
Can liver of sulphur restore antiquing to orange copper
December 2, 2008
Q. I purchased a home that has copper counter tops. My son accidentally spilled vinegar on top of the counter top and unfortunately there was some salt particles on the counter. Needless to say, there was a chemical reaction and I now have a big orange spot in the midst of my beautiful antique brown copper counter tops. Would Liver of Sulphur help to restore the antique brown look to the spot? I welcome any suggestions.
Kari Purser
hobbyist - Opelousas, Louisiana
---
December 7, 2008
A. Hi, Kari. For countertops that are a dark antique brown like yours, I think it would help a lot even if not a perfect match. Wearing rubber gloves, sponge on a very dilute mixture and see how it goes.
For bright countertops, Brasso and other brass/copper cleaners should remove the raw orange look with a few applications.
Regards,
Ted Mooney, P.E. RET
finishing.com
Pine Beach, New Jersey


This public forum has 60,000 threads. If you have a question in mind which seems off topic to this thread, you might prefer to Search the Site