Live! From Pine Beach NJ: The world's most popular metal finishing website, and the internet's friendliest corner
topic 12635
Needle like growth in copper acid electroforming bath
A discussion started in 2002 but continuing through 2018
2002
Q. Hi all,
I have a small copper acid electroforming system. My solution, after long use darkened to a navy blue, and needle like metal shapes began to grow on the electroforms, that is that while the electroforming proceeded normally over most of the object, numerous needles, long (1-6mm) tapered, sharp appeared. Some were extremely fine. Some were angular in shape, looking like monoclinic or triclinic crystals. What was my contaminant and the cause of the needle crystal growth?
Thank you,
Charles Lewton-Brain
- Calgary, Alberta, Canada
---
2002
A. What chemicals do you add to your system. What was the original makeup of the bath, do you analyze for any components? If you add organics for grain refinement, do you add them back during electrolysis?
Tom Pullizzi
Falls Township, Pennsylvania
---
2002
Q. Thank you for the answer. The bath is Blum-Hoogeboom copper acid. 240 g/l CuSO4 75 g/l H2SO4 that's it, no additions beyond contamination through rinse water on objects reinserted into the bath. The anode basket is titanium. The anodes are cast from copper sheet. There is the possibility that stainless steel wire was in the anode basket for a time.
Thanks,
Charles Lewton-Brain
[returning]
- Calgary, Ab, Canada
---
2002
A. Please check chloride level in Bath. Maintain 18-30 mg/L. If you use city water, there will be no control.
Payal Mag
- Charlotte, North Carolina
---
---
2006
Q. Hi there,

I have a copper acid bath, (originally 240g CuSO4 + 72 g/l HsSO4 in 1 liter water.

There are copper sulfate crystals at the water line and in the bottom of the tank. The tank seems to have stopped plating, that is resistance appears to be so high that deposition does not occur. I am assuming the copper sulfate is too concentrated. How should I remedy this situation?
Thank you
best,
Charles Lewton-Brain
[returning]
- Calgary, AB, Canada
---
2006
A. While it is undeniably true that plating baths perform best when the concentrations are held within the recommended ranges, it does not seem possible to me that a copper sulphate plating bath would stop plating due to the copper sulphate concentration getting too high.

I think you should check your electrical connections and power supply and make sure that current is flowing. Do you know the pH?
Addendum: I was perhaps too hasty with the words that are now struck through: passivated anodes are possible from too high a concentration of copper (perhaps combined with lack of any chloride and failure to use phosphorized anodes). Please search the site for "passive copper anodes". Good luck.
Ted Mooney, P.E.
finishing.com
Pine Beach, New Jersey
We need "Aloha" now more than ever
---
2006
Thank you for the comments. I've checked the connections, will check again. I will find out the pH.

Thank you again.
Best,
Charles Lewton-Brain
- Calgary, Alberta, Canada
---
2006
Q. Hi again,

the pH is 1. What is the pH supposed to be for this solution? Thank you.
best,
Charles Lewton-Brain
- Calgary, Alberta, Canada
---
2006
A. I imagine the pH should be in the 0.8 to 1.0 range and what you are reading is okay. I was not suggesting that the pH being wrong was the primary problem, just trying to understand what conditions you have that I may not be picturing. But you are surely right that the solution is too concentrated; it's apparently beyond the saturation point. It just doesn't seem that that should stop it from plating.

I think your copper concentration is well beyond what it started at and your sulfuric acid is probably too low now, too. The Metal Finishing Guidebook alludes to prolonged plating at low current density causing a buildup of copper and a very thick film on the anode that can increase resistance. Try cleaning the anodes and plating at higher current density.
Ted Mooney, P.E.
finishing.com
Pine Beach, New Jersey
We need "Aloha" now more than ever
---
---
Copper electroplating troubleshooting: spiky crystalline trees
October 26, 2018
Q. Hello everyone, I've recently been put in charge of a 50 gallon electroplating setup at an university. The setup is a 50 gallon Technic tank that contains sulfuric acid and copper sulfate and no brightener. The setup is powered by a GWINSTEK GPR-1810HD rectifier and we run a penguin pump and filter as well.

When I took ownership of the tank it had sat for a few months and evaporated to about half. I used distilled water and refilled the tank. Last week I tried to form on a few test 14-gauge copper wires to see how the setup was running. The results I achieved were very unusual. The copper that had formed on the end of the wire was very crystalline in structure and brittle. The wires were in the bath for 12 hours at 4 volts. I was informed that the setup was working correctly in the spring.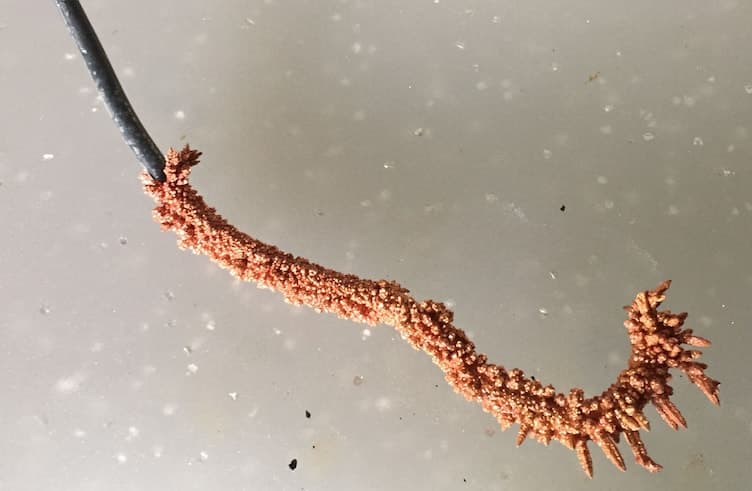 Since I work at a university and the bath is labeled hazardous, I have had no luck in being able to ship a sample to a lab for analysis. We also do not have a hull cell analyzing setup.

Does anyone have any ideas of how I could get our setup working correctly again?

Thanks!
Nick Mullins
Lab Supervisor - Champaign, Illinois, United States
---
November 2, 2018
A. Hi Nick

Your photo is exactly what I would expect to see with far too much current on a small cathode.

Try again with about 10 amps per sq foot of surface area and a bit of stirring. Voltage is largely irrelevant. It is current that does the plating.

12 hours is way over the top. Try half an hour.

What worries me more is that a university cannot do a basic chemical analysis.

Also almost everything is potentially "Hazardous" but a basic copper sulphate solution is about as low a hazard as you can get. Ask your safety advisor for a competent risk assessment and don't be fobbed off with half answers.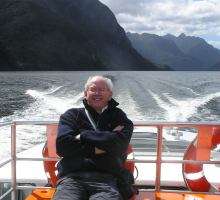 Geoff Smith
Hampshire, England


If you have a question in mind which seems off topic, please Search the Site