Live! From beautiful Pine Beach New Jersey: Welcome to the world's most popular metal finishing website
topic 12545
How to Anneal Stainless Steel to Soften It
A discussion started in 2002 but continuing through 2018
2002
Q. I have some stainless steel blanks that I use for POW/MIA bracelets; they are about 2 mm thick X 7" X .5". The stainless is extremely hard -- is there a way to anneal the stainless to soften it up? I have a ceramic kiln I can heat it in if this is possible? Can anyone help?
Thanks,
John Sissons
silversmithing - Tacoma, Washington
---
2002
A. Hello John!
The stainless you have is likely in the cold rolled condition. Annealing is commonly done at 1900 °F or so, for roughly an hour. You want to cool it fairly fast, especially through the 1500 °F to 800 °F temperature range, to avoid 'sensitization'. In that temp range, the chromium and the carbon in the stainless tend to combine, which depletes your stainless steel of chromium, the magic element that makes it stainless. Water quenching is fine metallurgically, but it may give you additional distortion, causing your sheet to warp or bow.
If you do it in air you WILL get an ugly scale- will you be able to grind it off? I'd recommend trying a small piece to see if you can live with the discoloration. Alternatives include using small stainless steel bags offered by heat treat supply houses, or getting it done commercially in an inert atmosphere.
Good luck!

Lee Gearhart
metallurgist
---
January 15, 2018
A. The answer at the start of the thread confuses me. 1900 °F is way too hot for what the person wants to do. I am annealing 316 SST parts as I write this at 750 °F in an electric Kiln. 3 hrs at 750 with a 50 °F per hour cool-down and we went from getting Machined a single part per Carbide inset to 4 parts or more per insert. There is no scale formation and very little color change on the surface.
Brian Patrick
- Cleveland Ohio USA
---
---
March 17, 2011
Q. You mentioned something about stainless bags or annealing bags. Could you please extrapolate as I have some silversmithing students who are working in stainless and I'd love to improve our annealing process. Currently we are just using a gas/air torch (silversmithing style) and heating up to orange and holding temperature for say 10 seconds. I really wonder whether this has any benefit?

Regards,
chris maron
- Sydney, NSW, Australia
---
March 18, 2011
A. Hello Chris!

What I was talking about are small bags, or envelopes, made of stainless steel. You put your parts inside, fold the metal as tightly as you can to keep out air, and anneal the package. Nabertherm in Germany makes them, as does Sentry in the US under their Sen/Pak trade name. Google "annealing envelopes" or something similar and you'll see pictures of what I'm describing. They give reasonable protection at the high temperatures used for thorough annealing of 18-8 stainless steel grades. We use something similar when aging beryllium copper- I'll wrap parts in aluminum foil and flow nitrogen gas through the package, and it works like a charm. The parts go in shiny and come out shiny. Aluminum melts at too low a temperature for wrapping stainless steel, however.

Regarding your current practice, and looking at Uddeholm's temperature chart (www.uddeholm.com/files/Temperature_guide.pdf ) I see that orange is about 1700 °F, and that's pretty high. Ten minutes won't fully anneal stainless grades, as you won't get any carbide dissolution, but you will get a great reduction of the residual stress you put in from bending or cutting or other working. So it's worthwhile, and may be all you need, but if you want to heat higher for longer, try the annealing bags.

Good luck!


Lee Gearhart
metallurgist
---
---
May 20, 2011
-- this entry appended to this thread by editor in lieu of spawning a duplicative thread
Q. Is it possible to do annealing on Stainless Steel 316 (ASTM A 213 TP 316) tube size 1/4" OD, 20 SWG or 16 SWG? Can you suggest how to do this?

Is it possible to do the same for a 3/8" OD tube of similar thickness?

These tubes are usually cold drawn tubes, and annealing is required for relieving stresses developed due to work hardening
Nitin Kirloskar
Manufacturing - Pune, Maharashtra, India
---
---
March 27, 2012
Q. I NEED TO ROLL 1" S/S ROUND BAR 304 INTO THE SHAPE OF AN S BUT IT WANTS TO SPRING BACK WOULD ANNEALING HELP? OR WHAT WOULD YOU SUGGEST?
ROWLAND STANTON
- PENSACOLA, FLORIDA, USA
---
April 1, 2012
A. Hi Rowland!

You could bend it part way, then anneal, then bend it some more. Maybe take more than two steps, if you have the luxury. That would certainly reduce the amount of residual stress in the bar, and allow it to retain the S shape.

Good luck!

Lee Gearhart
metallurgist
---
---
April 9, 2012
Q. Is it possible to anneal 441 Stainless Steel Tubing?
How do you anneal 441 SS tubing?
Jim Austin
- Jackson, Michigan, USA
---
April 12, 2012
A. Yes it is possible to anneal Type 441 stainless steel tubing. Full annealing is performed by heating to a temperature between 760 and 830 °C for 90 minutes per 25 mm of thickness, followed by air quenching. Stress relieving, e.g., after welding, can be performed in the range of 200-300 °C.
Toby Padfield
Automotive component & module supplier - Michigan, USA
---
---
July 28, 2012
Q. Hi. I would like to make jewelry and other decorative items from old stainless steel flatware. Although it's possible to hammer it flat and bend it into desired shapes, it's hardness makes it quite difficult. Years ago I worked in a jewelry store and used a gas torch to repair jewelry. Because of that, I am thinking that if I annealed the flatware before trying to bend it, it's malleability would be increased. Unfortunately, I don't remember what we used for annealing...seems like it was some sort of pickling solution, then, of course, flux for effecting the solder joint. I'd appreciate any suggestions for making these items easier to work with as well as suggestions for where to obtain the annealing material. Thanks so much for your help! Deborah
Deborah Galloway
- Roanoke, Virginia, USA
---
June 18, 2014
Q. Deborah, did you get any response to your question? I would really like to know the answer too.
Mary Morrison
Student of metal jewelry - Rock Hill, South Carolina
---
June 2014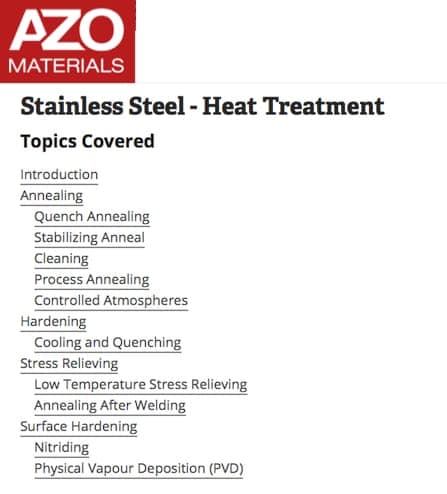 A. Hi Mary. Annealing for softening can be done, but it's by no means simple to understand, let alone do :-)
For example you harden copper by cooling it slowly, and soften it by cooling it rapidly -- whereas with steel you do the exact opposite. And with stainless steel, you also have to be conscious of cooling at the right rate through critical temperature zones as explained by Lee Gearhart. And then you have the issue of oxidation (blackening) unless you are able to exclude air with a special furnace or the stainless steel bags that he talks about.
I would not want to discourage you at all, but annealing stainless steel is a challenge you'll really have to work at, not a quick trick. And if you read jewelry-making forums I think they'll all suggest that you find sterling silver flatware, not stainless, for your designs :-)
Luck and Regards,
Ted Mooney, P.E.
finishing.com
Pine Beach, New Jersey
---
June 20, 2014

Thanks Ted. I think your suggestion of sterling is the right one for me. I don't have a shop with anvils etc. Ah well.
Mary Morrison
[returning]
- Rock Hill, South Carolina USA
---
---
September 15, 2012
Q. What would be the procedure for annealing stainless rod for threading?
Paul Marshall
- Anchorage, Alaska
---
November 8, 2012
Q. We have a continuous annealing and pickling line for stainless steel. Can someone tell me the annealing cycle for 200 and 300 Series and low nickel of stainless steel with chemical composition.
R.K.Kushwah
- Angul, Orissa, India
---
May 8, 2013
Q. I need to drill an SS304 M8 stud. The material is very hard. Can anyone tell me how can I soften the material?
NAZIR KHAN
Heavy Equipment - Mumbai , INDIA
---
January 21, 2014
Q. How can 202 Austenitic stainless steel be softened or annealed? Please advise for above grade annealing temp., soaking and cooling process. etc.
With regards,
Tonmoy kr Mitra
individual - Faridabad, Haryana, India
---
August 18, 2014
Q. Sir,
I want to bend a ss pipe of dia 1 inch and thickness of 0.95 mm. Can annealing help me to bend that pipe easily without getting wrinkles?

Thanking you
Parag
Parag Chavan
Engineering Works - Ahmednagar, Mahrashtra, INDIA
---

Hello Gentle Readers ...
There is a pattern to this page: QAA QA QQA QA QQA QQQQQ -- Q's almost balanced by A's at the beginning, but devolving to a long string of Q's.
Please try to answer a question before asking your own; otherwise, readers will probably not see your question, the 6th unanswered one in a row, let alone take the time to answer it. Good luck.
Regards,
Ted Mooney, P.E.
finishing.com
Pine Beach, New Jersey
---
Bending 1-3/4"OD x .120" wall 304/304L Tubing
February 6, 2015
Q. I am building a roadster replica. I have a 304 stainless roll bar, 1-3/4" OD x .120" wall tubing. The roll bar consists of a 180 degree hoop and a third leg which is fishmouth-welded to the top of the hoop. The third leg must be "bent" slightly to align with a chassis stub to which the other end attaches. Can I heat the fishmouth weld area and pull/bend the leg into the proper position?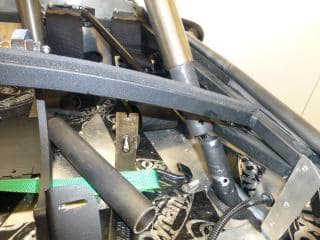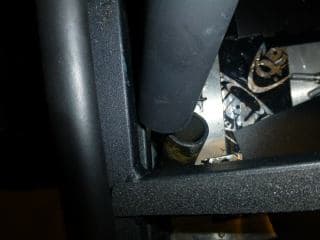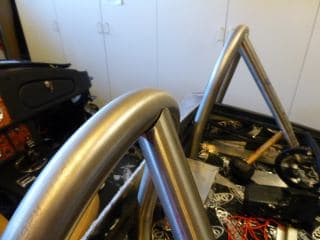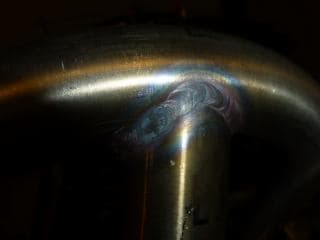 Dale Thomas
Car Restorer/Builder - Prescott, Arizona USA
---
February 8, 2015
A. Well, today we heated an area of ~ 3" all the way around below the fishmouth weld to cherry red while rigorously nudging the leg with a ratchet, 22 mm socket and a 4' length of 1-1/2" pipe. It took a lot of force, but it worked fine, with no pitting or visible deformation; should clean-up fine with a Scotch-Brite pad and lots of elbow grease.

Cheers, Dale
Dale Thomas
[returning]
- Prescott, Arizona USA
---
---
August 25, 2015
Q. I need to anneal 2x2" stainless steel welded wire (fabric), about 3'x3' in area. Too much material to heat with oxy-acetylene. Can I anneal with an arc welder? If not, how?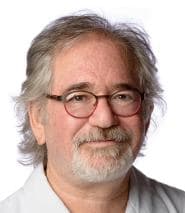 Alan Binstock
sculptor - Mt. Rainier, Maryland
---
---
December 4, 2015
Q. We are stamping 304 stainless .110" thick in a progressive die. The part is being sheared during the start of the progression and when the part is finished after a couple of bend stations, there are small cracks on the sheared edge. Is there anyway to eliminate the cracking? The hardness is about B80.
Chris Schuling
- Des Moines, Iowa USA
---
---
January 1, 2016
Q. I want to punch through hole of 4 mm dia. in 4 mm thick strip of Quality 202, what is the process to soften it for punching hole in it.
Brijesh Vishwakarma
- mumbai, Maharashtra & India.
---
February 2016

Hi cousin Brijesh. I don't know much about heat treatment, but it seemed to me that Lee and Toby already answered very similar questions. Can you please try to cast your continuing inquiry in terms of the answers they already offered rather than starting over again? For example, can you follow the annealing time-temperature ramps they suggested? Will you be bagging the parts or not? If not, then do you feel it will be practical to remove the scale as Lee talks about?
I guess I also don't know much about punching either, because I didn't think you could punch holes that are as small in diameter as the thickness of the sheet, but good luck. :-)
Regards,
Ted Mooney, P.E. RET
finishing.com
Pine Beach, New Jersey
Striving to live "Aloha"
---
---
August 3, 2016
Q. I want to cut off, drill and tap a high strength ARP stainless steel bolt head to get a cosmetic part that matches nearby structural fasteners, I intend to cut the head free in a lathe a use it to create a precisely centered place to start the drill. Because the hole to be drilled and tapped (much like hole in my head for taking this on) is only slightly smaller than the diameter of the bolt head, would annealing the bolt head help? In reading the previous posts in this thread I saw the part about scale and discoloration-obviously in a cosmetic application, neither is a welcome addition! I have four to do, and they are small, but but make for important completed details.
Thanks in advance!
William Stokes
- Savannah, Georgia USA
---
---
Heat treating stainless steel files
November 14, 2016
Q. Can we soften stainless steel without removing its ability to transmit vibrations?
thank you
walid nehme
dentist - montreal quebec canada
---
---
How to anneal cheap flatware
January 28, 2017
-- this entry appended to this thread by editor in lieu of spawning a duplicative thread
Q. I make jewelry and started dabbing with metals a couple of years ago and have found it to be my favorite! I am still working at figuring out the differences in types of metal and how they affect the annealing and soldering processes.
That being said I came up with a design I would really like to make out of a fork, yet I have no idea what type of metal it is or the annealing process to use (length of time to heat, color to achieve, quench or not to quench, etc.) I would be using a very inexpensive fork.
This is a hobby, therefore my tools consist of a propane BernzOmatic and pan of water. This has worked for the metals I have priorly annealed and I hope it will for this as well!
Any help you could give me with this would be greatly appreciated!
Joni Whitfield
Hobbyist - Pelham, Alabama USA
---
January 2017
A. Hi Joni. Almost all flatware is either stainless steel, silverplate, or sterling, and labeled -- although I do have one old rusty place setting of nickel-chrome plated steel.
If it's silver plate, the underlying metal is almost surely nickel silver. We appended your inquiry to a thread on the subject to get you started but unfortunately, much as you'd like to skip step 1 of identifying the metal and move right on to step 2 of annealing it, that doesn't work because (as explained above), different procedures are required to anneal different metals -- the same procedure used to soften stainless is used to harden copper and vice-versa. Good luck.
Regards,
Ted Mooney, P.E. RET
finishing.com
Pine Beach, New Jersey
Striving to live "Aloha"
---
---
March 2, 2017
Q. Dear Sir,

Here we have manufactured tube reducers for high pressure boilers, that are of different material like SA210 Gr A1, SA213 Gr TP 304H, SA213 Gr. T11.

So could you please suggest me what would be the heat treatment required after swaging (Reducing the diameter of Tube by passing it through a solid die with high pressure in cold condition) of tube. like either Stress relieving, annealing, normalizing, or something else.

Waiting for Your Positive feedback...
Zuhaib Ansari
Pressure Part Manufacturer - Malegaon, Nasik, Maharashtra, India
---
March 2017

Hi Zuhaib. Your questions are welcome here, of course, but this site is for readers to help readers, and only a small fraction of our readership has expertise in heat treatment. And as site administrator I can't help at all with such questions. Good luck.
Regards,
Ted Mooney, P.E. RET
finishing.com
Pine Beach, New Jersey
Striving to live "Aloha"
---
---
June 24, 2017
Q. Hello sir, I am working with SS304 deep drawing process; all the stages have been calculated & considered theoretically & are being verified practically ... but still during deep drawing my parts tend to fracture repeatedly. Will annealing help in some manner? What are the parameters to be looked into for same? Blank's thickness 0.2 mm.
karanbir singh
- chandigarh india
---
October 14, 2017
A. For .2 mm you need good malleability / elongation ratio and low inclusion perfect tribology.
narasimha murthy bhagavatula
- Hyderbad India
---
---
Oops! Carbon steel left in furnace overnight
April 5, 2018
Q. Hi, I am annealing high and medium carbon steel to demonstrate the effect of heat treatments. I accidentally left the steel in the furnaces at the austenitic temp over night. will this affect the results? I am assuming they will be okay once I have turned off the furnace and allow to cool slowly inside. The temperature was above 850 °C for a 1.1% and for a 0.45% carbon steel, so it should not have turned to spheroidite? The objective is to have the micro structure of the samples coarse pearlite. Thanks in advance.
Elaine
Elaine Cotrona
- Dublin, Ireland
---
April 6, 2018
A. Hi Elaine!

I suppose you have some protective atmosphere and good seals to prevent humidity and oxygen entering the furnace. If these measures were taken, I think your main problem could be some decarburization in the surface, not changes in the microstructure of the material.

If the temperature was higher than austenization temperature, I think that if the cooling speed is not so slow, you won't get much spheroidite. You don't have much energy in that structure because of the slow transition from austenite.

So, I think you can speculate and theorize, but the best is to check the material and see if you have any decarburization and if the structure is adequate. If you get the results, share it so all can learn of your experience.

Best of luck!
Daniel Montanes
TEL - N FERRARIS - Canuelas, Buenos Aires, Argentina
---
---
July 13, 2018
Q. I propose to add front wheel drive sprockets of 40T or 48T to my drum hubs on my "tadpole" trike, two wheels steered in front, and drive electrically at first, with 8T sprockets on 5/8 inch shafts, then add flexible shafts to an open differential at the rear for the world's first, to my knowledge, 3WD tadpole 27 speed human powered trike.
To add the sprockets I must remove the drum hubs by de-lacing at a 78 mm spoke hole circle and re-lace with annealed straight pull spokes through the hub, and a drilled cog with 18 2mm holes countersunk on a 78mm circle.
Ordinary spokes have a cold worked high strength bend that is too narrow.
Do I torch each spoke for an hour to orange at 1700 °F and quench?
What will the loss in tensile strength be after annealing and cold work of re-bending 90 degrees?
The spokes must be laced one-cross adjacent the cog; they will not carry much torque load.
Essentially all the torque load must be carried by the three-cross spokes on the outer layer.
The inner spokes all come from inside and cross once within the wheel so they can only cross once unlike a conventional build in which they come from alternate sides of a flange.
I think that's everything I can say about the situation.
Should I maybe leave the straight pull spokes un-annealed or stress relieve them in a different way for the fairly sharp bend?
Doug
Douglas Goncz
Replikon Research - Seven Corners, Virginia, USA
---
September 13, 2018
Q. I need to anneal some 349 stainless steel for a press operation. What is the best temperature to do the anneal and should there be a slow cool or a rapid cool for this process?
James Jeffrey
Gym City Metals - Dayton , Ohio
---
---
February 11, 2019
Q. I've recently started using 304 stainless, mostly making hand hammered kitchenware items. What I'm doing to anneal for easier hammering/malleability is to put it in my gas forge until orange/reddish in color, then pound away until hardened, and repeat. My concern is, by doing this, am I releasing toxic fumes and/or degrading the properties of the stainless steel. I believe 304 has chromium and other metals that can be toxic. There is also a black oxide on the steel after my process, which I leave on as part of the finish. Just wondering if that may have any concentrated toxins in it as well.

I'm mostly concerned with exposure to any toxins that 304 may produce while heating, sanding, and pounding. And what the proper temp is so I'm not overheating, and possibly degrading the material in doing so.

Thanks!
Jim Dobbler
- Massachusetts USA


If you have a question in mind which seems off topic, please Search the Site