topic 12341
Copper Iridium Rice Pulling Coin, page 2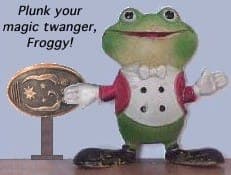 (Special thanks to Michele Maki of michelesworld.net for Froggy graphic)
---
---
I have details about the genuine coin which pulls rice. Are anybody interested to purchase it?
Jayanth
- Mumbai, India
---
Since you have the details, Jayanth, we'll ask you: what practical use is a rice pulling coin to be put to? Like the 1000 or so before you, we predict that you will not respond.
Ted Mooney, P.E. RET
finishing.com
Pine Beach, New Jersey
---
Iridium copper coin , rice pulling coin or metal, tamarind pulp pulling, contact [deleted by editor]. Also Available METAL DETECTORS for precious metals like gold and iridium copper coin searching , as rice pulling coins etc are enclosed in a metal box and buried under the soil, its easy to search with these machines.
[name removed at writer's request Aug. 04]
- Hyderabad, India
---
Dear Friends,
Quite sometime I too was thinking that there is no such thing as rice pulling Iridium Copper alloy. But today after personally witnessing some magical things happening, I could not belief it. Some thing real has happened. Two objects in Statue forms, when rice and wheat grains taken near to them, these grains were flying and get attached to the statues and get powdered after a length of time. When wrist watches were taken about couple of inches close to them, all of them automatically got stopped. The iron rods and nails were not attracted, hence no magnetic influence. These items looked some hundreds of years old may be two hundred to three hundred years. What is the real purpose, other than their antiquity?
When I saw so many letters in the finishing. com ridiculing and putting them as scams, I was also thinking as scams. So in our country the heritage and ancient civilization left us certain wonderful things to us. So this is also one such wonders like Mythology, Yoga, Indian System of Medicines. If you can not understand the real science in our ancient culture, don't blame them and call scams. I hats off the great perseverance of [name removed at writer's request Aug. 04] of Hydrabad for his continuous and untiring efforts to unravel the secret of this antiquity.
DR. KANNAPPA
- Chennai, Tamilnadu, India
---
Your letter accuses those who question the validity of "rice pulling" as insulting the memories of the ancient Indian cultures. Here in the U.S. we are used to that tactic and we have a saying: "Patriotism is the last refuge of a scoundrel".
Our objection to encouraging people to spend their life savings on "rice pulling" coins has nothing to do with disrespect for ancient Indian cultures, and everything to do with the way this business is being conducted. Surely India has universities that have departments devoted to the study of antiquities. When a major university says there is something to this rice-pulling stuff, I'll listen carefully. But as long as people leave only free, disposable, e-mail addresses and untraceable cell phone numbers and want other people's money, I'm gonna call it a scam.
Ted Mooney, P.E. RET
finishing.com
Pine Beach, New Jersey
---
Iridium copper coin, rice pulling coin or metal, tamarind pulp pulling. Also Available METAL DETECTORS for precious metals like gold and iridium copper coin searching , as rice pulling coins etc are enclosed in a metal box and buried under the soil, its easy to search with these machines.
[name removed at writer's request Aug. 04]
- Hyderabad, AP, India
---
I have a known person who possess a copper coin of east India company which pulls rice from a distance of half inch and dis colours the rice in 15 mts. time. If rub the rice becomes powder. The tested rice also pulls other rice. We want to sell the coin. Please give us the name and address of any person or company who can buy this in India so that we can have fruitful talk. Earlier we were cheated by touts who posed themselves as agent of American consulate and collected huge amount from us as deposits,but did not do any thing. So please give us proper guidance.
Regards,
Shiv Shankar Baba
- Siliguri, West Bengal , India
---
What is a rice puller? I have come across this among various web pages. Can someone educate me in simple terms ?
George Paul
- New Delhi, India
---
This chain of mails & postings on Copper Iridium coins is a real interesting read .. a good passtime.
I've a frank question to Mr. [name removed Aug. 04] (or for that matter whoever claims the 'magical' stuff of those coins):
WHAT IS THE BENEFIT OF THIS COIN (apart from pulling rice, attracting candle flames, and switching off certain lamps or torch lights) ?
To me, my hands do just as well and much better in switching off those ... :)) (and of course, I don't need to attract candle flame anyway, or pull rice. So I don't care on that!)
Mr. [name removed at writer's request Aug. 04] ... you still there ?
Gopi Prasad
- Austin, Texas
---
It looks like the Copper/Iridium guys had their chops busted here and are currently pulling rice at metalconstruction.org.
Have Fun Best regards,
Jim Sivertsen
- Alden, N.Y., U.S.A
---
Sir,
I want your help in solving a mystery which is keeping me highly disturbed. I have been told about a product (metallic plate) which pulls the rice grains whose brief description is as follows:-
1. Material iridium copper
2. Color black
3. Weight 2.15 kilograms
4. Rice puling 20 odd inches
5. Rice to rice pulling 5-6 inches
6. Rice pulling time 5 minutes
7. Rice dusting time 10 minutes
8. Dust color black / brown
The proprietor of this property is claiming it be of 100 million US $ and seems to be serious on the said , please help me in knowing that is this owner a mad man or a genuine man , if genuine than what make this plate so expansive etc etc? Even it pulls rice what's so special on this I want your help in solving this mystery.
Regards,
Rohit Khurana
- New Delhi
---
My name is CEEYEN and I am doing my pharmaceutical business here in Trivandrum, Kerala, India. I happened to see your website accidentally and I am in position that there is a copper iridium lebbo coin in my hand and so many come and they are not real buyers. I want to sell this coin and I am expecting Indian rupees 5000 crores crores and it has really 10000 crores in international market. I will give you the full details of this coin
-REVIEW-LEBBO COIN
-PREAMBLE
IN THE YEAR 1603 WITH THE PERMISSION OF HER MAJESTY THE QUEEN OF ENGLAND THE EAST INDIA COMPANY WAS ESTABLISHED AT VARIOUS PLACES IN INDIA,WITH THE HEAD OFFICE AT ENGLAND. EAST INDIA COMPANY HAD STARTED MINTING COINS TO DO BUSINESS ACCORDING TO THE SYSTEM.THE COINS WERE HAND MADE.IN THE YEAR 1616 THERE WAS A GRAHAKUTAMI,A TOTAL SOLAR ECLIPSE WHICH LASTED FOR MORE THAN FIVE HOURS IN INDIA.THE BRITISHERS WITH THE HELP OF THE LOCAL RISHIS MINTED COPPER COINS WITH COPPER IRIDIUM METAL IN ASSORTED WEIGHTS AND SIZES. THE COPPER IRIDIUM COIN IN POSSESSION WEIGHS 40.5 GRAMS(1616) WITH A PROVISION TO GET CHARGED WHEN REQUIRED.
-DESCRIPTION OF COIN
ONE SIDE (SIDE1)
THIS SIDE CONSISTS OF NAVAGRAHAS EMBEDDED IN IT BY THE GREAT GURUS AND RISHIS OF THOSE TIME.IT IS SAID THAT THE GURUS HAD GONE TO ALL THE PLANETS TO COLLECT THE METAL FROM EACH PLANET.SUN,MOON,MARS,MERCURY,NEPTUNE,JUPITER,SATURN,URANUS AND VENUS.THESE METALS FROM THE PLANET ARE EMBEDDED IN THE COIN AND ARE INTER CONNECTED WITH TINY VEINS,ALL LEADING TO THE CHARGING POINT.
THE OTHER SIDE(SIDE 2)
THIS SIDE HAS THE CHARGING POINT DIVIDED IN THREE DOTTED HOLES FROM WHERE CHARGING OF THE COIN IS POSSIBLE. APART FROM THE ABOVE THE FOLLOWING IS INSCRIBED IN THE COIN
(A) E
I C
(B) HAF 1616 ANA
THE HIDDEN POWERS WILL SURFACE ANLY AFTER CHARGING THE THREE DOTTED HOLES,EACH HAVING ITS OWN SEPARATE FUNCTION.
-OBSERVATION
THE COIN EXERTS VIBRATION WHEN HELD IN BETWEEN TWO FINGERS. THE COIN EXERTS MORE POWER AT 12.00 NOON,4.30 PM,6.30PM.FOR EXAMPLE THE SUN IS MORE POWERFUL AT 12 NOON AND THE MOON IS MORE POWERFUL AFTER 6.30 PM. EXPERIMENTS WERE CONDUCTED FOR WHOLE 24 HOURS,EVERY 30 MINUTES OF THE DAY AND NIGHT AND THE FOLLOWING OBSERVATIONS ARE RECORDED.
THE SUN VIBRATES MORE AFTER 12.10 NOON
THE MOON VIBRATES MORE AFTER 6.30 PM
THE SATURN VIBRATES MORE AFTER 4.30 PM
THE ABOVE TIMINGS CHANGE ACCORDING TO PLANETARY POSITIONS AND DURING AMAVASA AND POURNAMI.
OUT OF THE NAVAGRAHAS ON SIDE 1 OF THE COIN-THREE EXHIBITS ACTIVE IRIDIUM i.e,THE SUN,MOON AND SATURN.
AND,ON SIDE 2 OF THE COIN THE WORD 'E' 'I' 'C' AND THE NUMBER 1616 EXHIBITS ACTIVE IRIDIUM THIS IS USED TO SECURE THE COIN WITHOUT ANY DUPLICATION.
-REMARKS
THIS CAN BE TESTED WITH AN A/C & D/C TESTER.ACTIVE IRIDIUM DOES NOT TRANSMIT POWER AS IRIDIUM IS AN OPAQUE BODY.THE COIN CAN BE ACTIVATED WHEN REQUIRED.
I GET THIS COIN FROM THE ROYAL FAMILY
THANK YOU
CEEYEN
- India
---
Can anyone please tell me: 1.use of the rice puller coin 2.how it is made/formed? 3.cost? 4.the most efficient test
Thanks,
Harry Sen
- Delhi, Delhi, India
---
Dear sir,
I Mr.Tarachand Reddy, I am an advocate .
I got some coins from my ancestors which are pulling rice from 3 inch, let me know what is rice pulling iridium copper and rice pulling metal.
I got some doubts like
1) how to test ?
2) method of preservation?
3) end use of this power?
4)system of valuation?
5)types of ricepulling in metals, herbals and others?
6)are there any buyers for the above?
7) what is system of sale and other necessary documents required for this?
8)please avail other necessary and primary information regarding ricepulling and ricepulling iridium copper coins?
ASAP SEND ME A CLEAR INFORMATION FOR ABOVE DOUBTS I WILL BE GRATEFUL TO you .
TARACHAND REDDY
- India
---
I need to know of what value these rice pulling objects are and who buys them and what is the selling process as I have a rice pulling object. Only genuine and serious people should reply.
Abhishek Gupta
- Bangalore, Karnataka, India
---
In my best of knowledge cost of iridium is less then $ 50/gm. What the weight & % of iridium in coins of 1616,1717 & 1818. Also clarify iridium idientified only these three coins of any other mint copper coins. Can iridium directly pull the rice ?
Raghupathi
- Damanjodi, Orissa, India
---
Hi Tarachand Reddy and Others,
1) how to test ? take rice and place it very near to the metal. it turns black and powders
2) method of preservation? preserve in cotton and later in carbon paper or wooden box
3) end use of this power? COnfidential
4)system of valuation? Per Inch and time taken
5)types of ricepulling in metals, herbals and others? all contain Iridium from meteorites, plant setc absorb this and East India Company made metals from this
6)are there any buyers for the above? Buyers and middle men from India like me
7) what is system of sale and other necessary documents required for this? 200 Page document is required with taxing
8)please avail other necessary and primary information regarding rice-pulling and rice-pulling iridium copper coins?
Contact me and use a detector etc in villages near Srisailam, Bhadrachalam areas, these items will be in walls underground near foundations etc and in old attics in villages....
[name removed at writer's request Aug. 04]
- Secunderabad, India
---
Dear Mr. [name removed at writer's request Aug. 04],
How are your metal detectors selling? I see the copper/iridium rice pulling antics have been deleted from the bulletin board at metalconstruction.org. They must have excommunicated you guys.
Your promotion of the copper/iridium rice pulling coins would put P.T. Barnum to shame. You and your cohorts have used the Discovery Chanel, the Indian Government, East India Company and Mr. Ceeyen even used the Royal Family for credibility. The mysticism and cultural B.S. was great with gurus visiting other planets, I love it. The carbon paper protection was a great touch to prevent motor vehicles from stopping or going crazy. The unknown uses for the copper/iridium coins sounds marvelous, there is nothing like unknown uses, it's like a veiled threat. Perhaps Mr.Ceeyen, being in pharmaceuticals could fashion a copper/iridium suppository, think of the benefits and new claims. You fellows need to get together on the date of these coins, is it 1616, 1717 or 1818. The problem here is that Iridium wasn't discovered or named until 1804 by Tennant. The Iridium in meteorites is so low that it would take later technologies to extract it but you could say that the Gurus got it on Venus. The first ships from the East India Company didn't arrive in India until 1608 and rights for the first factory in Surat were gained in 1615 from the Mughal Emperor Jahangir. A Libo (not Lebbo) was an ancient Roman coin and the first record of any coin issued by East India Co. was in 1642. James the first was king from mid 1603 and I doubt he was called Her Majesty unless he was cross dressing. You need to have a little historic accuracy to go with the B.S.
All and All it has been a great way to promote metal detectors. You may need to get a good script writer and talk a local producer in Mumbai about making a Bollywood Spectacular about the search for the illusive copper/iridium rice pulling coins. I can almost hear them singing on Juhu Beach.
Regards,
Jim Sivertsen
- Alden, N.Y., U.S.A
---
DEAR SIRS,
ANYBODY CAN HELP ME ABOUT REAL INDIAN COST IRIDIUM/GM. I HAVE A BRASS METAL ABOUT 1 KG.OF 150- 200 YEARS OLD., WHICH PULLS THE MAGNET AND ON CONTACT THE RICE AND HERBALS ARE PULLED. WHEN IT IS BURNT IT OCCURS DIFFERENT COLORS LIKE BLUE, GREEN, BROWN, ORANGE AND YELLOW. TEMERIND PULP OR HYD.CLORIC ACID DISCOLORED THE METAL TO BLACE INSTEAD OF BRING GLAZE AND IT LOOKS OILY. HOW THIS METAL IS PROVED IT CONTAINS IRIDIUM OR NOT. IF IRIDIUM IS PRESENT SO HOW MUCH IT SHOULD BE.
RAMNATH
Home - JEYPORE, ORISSA, INDIA
---
I Sunjay came to know about the "RICE PULLING COIN OR VESSEL" ON 7 OF MAY 03 LOOKS LIKE OLD COPPER VESSEL BLACK WHEN IT WAS CLEANED AND FILLED WITH WATER THE WATER GETTING HOT ( NEVER MEASURED) AS I PUT MY HAND IN IT TO THROW THE WATER SUDDENLY IT BURNED. I BASHED MY SERVANT BUT HE TOLD HE DID NOT I THEN AGAIN PORE WATER IN IT ONE OFF MY UNCLE TOLD ME ITS MAGICAL MAY B ITS RICE PULLING VESSEL WITH IN SECONDS I SEARCHED THE NET FOR HOURS THEN I CAME TO KNOW ABOUT THIS I'm SEARCHING FOR A GENUINE BUYER. I also know its very difficult task till its finalized but I must go ahead.
Sunjay
- Nizamabad, A.P.
---
My friend showed me the RP test personally. I brought some rice grains from my home. It was real that metal rod pulled my rice 6" within 2 miniutes. The rice was turned in blue color.
N.R.Rajesh
- Trichy, Tamil Nadu, India
---
We give good rates for all rice pulling coin, other RP's like wood and NM, Feather etc.
Do the below tests and include the phone numbers also in the mails, see that there is no delay in any communication etc for fast processing 1)Get fresh rice and keep it very near the item for attraction note the time taken and distance pulled. 2)Now take these tested rice placed on a flat surface towards untested rice and check for attraction. Mail immediately for further tests and instructions. Some item holders get some duplicate RP's so be careful, during testing SEE THAT THE ITEM HOLDER(SELLER) DOES NOT TOUCH THE ITEM AFTER WASHING IT THOROUGHLY WITH SOAP ETC , HE SHOULDN'T TOUCH IT IN BETWEEN THE TESTS ALSO.
[name removed at writer's request Aug. 04]
- Hyderabad, India
---
(2005)
DEAR SIR I want to know more about LEBBON or LIBBO IRIDIUM COPPER COINS 1616 (one anna) as one such coin is avilable with my friend.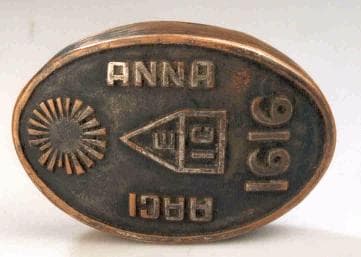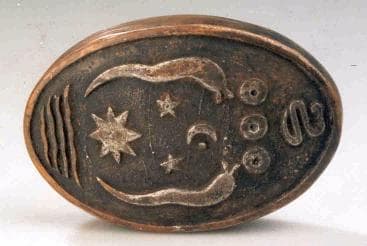 Please let me know the buyer and the probable price of this item. The usage of this miracle LIBBO metal also be informed. Please send the message immediately thanking you jagadeesh
JAGADEESH KAYALI R
- THRISSUR, KERALA, INDIA
---
Dear Jagadeesh,
At last, a picture of the illusive copper/iridium rice pulling coin, wonderful! Nice investment casting, lousy patina job. I'm sure this will fool some retard. Be sure to keep it wrapped in carbon paper.
Regards,
Jim Sivertsen
- Alden, New York, U.S.A.
---
Dear Jim Sivertsen if you don't know the importance and use of this item you please keep silent. don't misunderstand others ok....
Jagadeesh
- India, Kerala, India
---
Jim is merely pointing out that people with experience can tell even from a photograph that this coin was very recently cast and is most certainly not from 1616. Why should he 'shut up' and help perpetrate this scam which rewards the dishonest?
The only reason this letter was ever printed was as an amusement, as an April Fools' joke in an international journal of metal finishing, Jagadeesh. The fact that the scammers are still posting here is the funniest part of all :-)
Ted Mooney, P.E. RET
finishing.com
Pine Beach, New Jersey
---
Dear Jagadeesh,
I take it that you disliked my critique of your version of a 1616 copper/iridium rice pulling coin. In pulling off a proper scam you need to pay more attention to detail. You need to look closely at old copper base coins observing the wear patterns and patina. A 387 year old coin would have a very different patina and wear pattern. You may want to look at the very old English pennies as an example. I know it's hard to get good experienced help these days but you really need to get a good craftsman to properly make your fraudulent coins. It is doubtful that you will find some fool to shell out 70 to 100 crore rupees for your poorly aged coin. You might be better off getting together with Mr. Ceeyen and get into the copper/iridium suppository business. You could make an info-mercial with all kinds of claims on late night T.V. Who knows, you might even put Preparation H out of business.
Regards,
Jim Sivertsen
- Alden, New York, U.S.A.
---
---