60,000 Q&A topics -- Education, Aloha, & Fun
topic 1217
Formulation & use of Dichromate Seal for Anodized Aluminum
A discussion started in 1998 but continuing through 2019
Sodium dichromate vs. potassium dichromate
1998
Q. I have a job for Anodize per Mil-A-8625 [link is to free spec spec at Defense Logistics Agency, dla.mil] Type II Class 1 with Potassium Dichromate seal. We currently use Sodium Dichromate seal where required. Does anyone know of any benefits of potassium dichromate or are the two interchangeable?
David A. Kraft
- Long Island City, New York
---
1998
A. Hi Dave,
Potassium is a slightly smaller atom than sodium and is a little faster thru a diffusion layer. I seriously doubt if there is any difference from a functional standpoint between the two when used as a seal.
You will have to get a customer "buy off" to be legal to cert it to the Mil Spec. You can ask the controlling agency to make it sodium or potassium. You have a reasonable case. It will take them about a year to process the change. Civil servants are not interested in making work for themselves and have to have lots of industry people to agree before they dare make a decision.
James Watts
- Navarre, Florida
---
1998
A. Chemically speaking, the two are nearly identical. Both the sodium and potassium donate a single + charge to the bath.
Gerald Janssen
coil anodizing - Streamwood, Illinois
---
1998
A. MIL-A-8625E, 25 April 88, under 3.8.1.1, states in part, that you can use sodium dichromate, boiling deionized water, or other suitable chemical solutions. Potassium dichromate is suitable in my book, because we called for it in our process specification at Bendix. If your customer calls for it, I would say that it is suitable.
Tom Pullizzi
Falls Township, Pennsylvania
---
---
2003
Q. HI!
WE ALREADY HAVE A SMALL SET-UP FOR ANODIZING AND WE LIKE TO DO DICHROMATE SEAL ON PARTS (LOOKS LIKE GREEN-YELLOW).
WHERE DO I CAN FIND INFORMATION ABOUT THIS PROCESS?
THANK YOU,
STEVE POUDRIER
- Victiriaville, Quebec, Canada
---
---
Want black anodize but dichromate seal is greenish
2004
Q. I have a problem receiving aluminum parts that should be black but actually have a greenish tint to them. Our application is such that the parts must be black...no greenish tint allowed. My finish process is Anodize TY 2, CL 2 Black per fed std 595, 37038 and dichromate sealed per Mil-A-8625 [link is to free spec spec at Defense Logistics Agency, dla.mil]. Each plater seems to have a different reason for the problem but sometimes parts are black, sometimes green tint. How can I achieve a consistent black finish? Is my finish callout sufficient?
Thanks!
Scott Higgins
mfgr - Orlando, Florida, USA
---
2004
A. A semi educated guess is the black out put is a metal based dye and the green output is an organic based dye that the chromate is reacting with. Switch to a nickel based seal and you should have good results and a black finish with both dyes, plus you have eliminated a source of hex chrome which makes many tree huggers happy.
James Watts
- Navarre, Florida
---
2004
A. Dichromate Seals are ALWAYS yellow-greenish tint if properly applied. Dichromate Seals leave the best corrosion protection. Dichromate Seals should never be used on dyed work: not just because it changes the color of the dye but also because Dichromate Seals are for maximum corrosion protection and ALL dye slightly lowers corrosion protection. So why would you want to put on Black dye to lower corrosion protection and then discolor it with dichromate which raises corrosion protection? Or just shooting yourself in the foot !

Robert H Probert
Robert H Probert Technical Services

Garner, North Carolina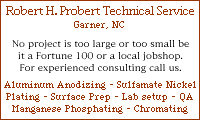 ---
2005
A. Hi, read Mil-a-8625f section 6.11 it will explain duplex seal nickel seal then dichromate. Also 3.5 last sentence.
John J. Crowell
- New Port Beach, California
---
---
Formulation of Dilute Chromate Seal?
2007
Q. I am having trouble locating makeup information on a dilute chromate seal tank. I have the DI water and the Cr flake, but I know there is something else involved in the makeup. If anyone could supply the recipe for a 841 gal tank, I would much appreciate it. Thank you for your time and attention.
Derek McCasland
Chemical Analyst - Camden, Arkansas
---
2007
A. 1. A dichromate seal for conventional Type II anodizing on aluminum would be 100 gm/Liter (13.333 avoir. oz./gal) of either sodium or potassium dichromate, 200-212 °F, pH 5.0-6.0 adjusted with Sodium or Potassium Hydroxide and acetic acid.

2. A seal for Type I Chromic Acid Anodizing would be Sodium Dichromate 6 to 8 oz/gal, pH 5.0-6.0 with NaOH or acetic acid, 194-212 °F

3. However, if it is Chromic Acid Anodizing for Boeing then use: in 100 gallon: 26 grams of chromic acid and 26 grams of either sodium or magnesium chromate, pH 3.2-3.8, 180-200 °F.

Robert H Probert
Robert H Probert Technical Services

Garner, North Carolina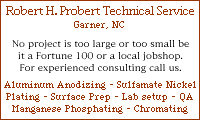 ---
---
Potassium dichromate seal leaves a green powdery finish
May 5, 2014
Q. Hi all,

We are facing some problem when sealing the aluminum 2219 material with potassium dichromate. The finishing turns greenish powder. We have checked the sulphuric anodizing tank and the process is stable without powder. The powder only appears after sealing. The required thickness conform except for the powdery surface.

Initially we thought the potassium dichromate has been exhausted after continuous top up for few years but after a new mix, the powdery surface is still existing. We need help here with some professional ideas. Thank you.
HL Yap
- Penang, Malaysia
---
May 23, 2014
A. Hi HL,

It sounds to me that you are over-treating the parts, leaving them in the seal too long. Simple solution is to reduce the time in the seal.
Brian Terry
Aerospace - Yeovil, Somerset, UK
---
---
March 26, 2015
Q. Sir, my question about dyeing Aluminum Anodized Parts is whether there is an alternative for potassium or sodium dichromate as these chemicals are highly carcinogenic due to Cr VI content. Can organic Green dyes be used instead of such carcinogenic chemicals?
Hammad Abdul Haseeb
- Islamabad, Pakistan
---
March 2015
A. Hi Hammad Abdul. The majority of anodized parts are probably free of Cr VI content. So yes, green dyeing followed by a different type of seal is theoretically possible.
But please don't keep the question abstract. Instead, please try your best to describe your actual situation: Who are you (specifier, anodizer, etc.) ... who is writing the specification ... what is the specification ... what are the parts ... how are they used ... etc. To simply answer the question of what is theoretically possible might mislead you rather than help you :-(
Regards,
Ted Mooney, P.E. RET
finishing.com - Pine Beach, New Jersey
Aloha -- an idea worth spreading
---
March 27, 2015
Q. Sir, my question about carcinogenicity of Potassium dichromate (Cr VI Source ) is during dying when dipping anodized parts in that dye, continuously heating to boiling point and evaporating Cr VI. Not the question about anodized part after sealing in potassium dichromate in which the dye is enclosed then in pores not open and also reduced to some extent I think to Cr III(non-carcinogenic), if I can explain my question as above for you Sir,

I am student in NUST university working on anodizing project nanoporous structure and also on its dyeing with some some safe chemicals in search; it's a simple question if have some idea about dyeing in safe chemicals please.
Regards
Hammad Abdul Haseeb
[returning]
- Islamabad, Pakistan
---
March 2015
A. Hi again. As previously noted, yes, parts can be dyed with organic dyes, and usually are. I've personally never even heard of this process of dipping anodized parts in boiling Cr VI to dye them. Why are you specifying dipping them in hexavalent chrome instead of green organic dye?
Regards,
Ted Mooney, P.E. RET
finishing.com - Pine Beach, New Jersey
Aloha -- an idea worth spreading
---
April 2, 2015
A. Hi Hammad,

Sealing anodizing in Cr(VI) solutions is normally carried out to improve corrosion resistance. The resultant yellow/green color is a by-product of the process, dichromate seals are not actually there to impart color.
If you only want a color then use organic dyes, many commercially available dyes can be used, I have even used clothes dyes before successfully (not ideal, but right conditions and it will work).
Brian Terry
Aerospace - Yeovil, Somerset, UK
---
April 2, 2015
Q. Sir,
Again the question stays whether the Sealing solutions Potassium or sodium Dichromates are CrVI sources that are carcinogenic or not?
Hammad Abdul Haseeb
[returning]
- Islamabad, Pakistan
---
April 2015
A. Hi again Hammad. Yes, potassium or sodium dichromates are CrVI sources that are carcinogenic -- just as you yourself said in your first posting. A possible source of confusion on this though is that, for practical purposes, government regulations rather than God's knowledge determine what we call "carcinogenic". For example, a couple of decades ago they were called 'possible carcinogens' or 'probable carcinogens' ... the actual facts regarding carcinogenicity didn't change in that period -- knowledge and laws changed.
Regards,
Ted Mooney, P.E. RET
finishing.com - Pine Beach, New Jersey
Aloha -- an idea worth spreading
---
---
February 27, 2018
Q. Is it possible to dye the part that needs to be black after sodium dichromate seal?
Might the seal be dyed black, or at least more black than the light green grey color we have now?
Thank you
Bob Hulchanski
Machine shop - Bridgeport New York USA
---
April 9, 2018
A. Hi Bob,
The way the vast majority of anodizing dyes work, by deposition in the pores of the anodized surface and then permanently set in place during the sealing process- you just aren't going to have success trying to dye OVER a seal. Nor would I try to tint the dichromate seal bath, as it is unallowable under the spec, and I would not trust the seal- adding an azo dye to what will ultimately be the surface layer kind of defeats the purpose of using such a robust seal method to begin with. I am going to assume that you are using dichromate seal because there is a customer callout for it, and you would be failing to provide the coating as called out by messing with the seal bath composition.
A black dye under nickel seal is pretty standard and doesn't shift the color, if the customer is okay with nickel seal instead.

As an aside, there is a lot of mention in this thread of 'powdery' surface finish on dichromate sealed parts, and running at pH 6.6, which is higher than the generally agreed target, but acceptable within the spec, has worked very well for us, both in terms of visual results and salt spray.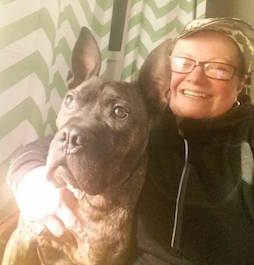 Rachel Mackintosh
Plating Solutions Control Specialist / Industrial Metals Waste Treatment - Brattleboro, Vermont
---
---
August 30, 2019
Q. The customer specification calls for the boiling point of the Dichromate sealing bath to be >= 98 °C. Being situated in Bangalore, our Dichromate sealing bath is boiling around 94 °C. Would putting plastic balls in this bath increase the boiling point by limiting evaporation?
Debashish sheel
Mach Aero Components Pvt. Ltd. - Bengaluru, Karnataka, India
---
September 2019
A. Hi Debashish. I don't think plastic balls will actually change the boiling point. The boiling point of water should be 94 °C up to an elevation of about 5600 feet (1700 meters), which I believe is higher than Bangalore -- have you checked it with several thermometers? But it does seem that the boiling point of water in Bangalore would indeed be lower that 98 °C.
The chromic acid should raise the boiling point, but probably not by much (I can't easily find a chart for dichromate). Can you give us a specification number so we can get a better understanding of this requirement?
Regards,
Ted Mooney, P.E. RET
finishing.com - Pine Beach, New Jersey
Aloha -- an idea worth spreading
adv.