60,000 Q&A topics -- Education, Aloha, & Fun
topic 11972
Recipe for red patina on brass and copper
Q. Hi,
I am a sculptor working in beaten copper and am looking for recipes to get red and golden yellow patinas. I wonder if you will be able to help me in getting these recipes. This is for my private work, as I am trying to add colour to my copper sculptures. Awaiting your reply eagerly!
Thanks a lot,
Abir Patwardhan
- Pune, Maharashtra, India
---
A. Hi,
I stumbled on your posting and was wondering if you got any good responses for a red patina applied cold. I specialize in patinas and would be happy to share knowledge if you are still inquiring.
Dan Romo
- Oakland, California, USA
----
Ed. note: There are a hundred readers for every writer, Dan. On any given day someone out there is waiting for your advice! Thanks :-)
---
A. You can try this recipe (for brass)!
200 gm copper carbonate
100 gm sodium hydroxide
1 lit water
Cold immersion! Golden yellow-orange-dark red Pranam!
Red patina for copper:
100 gm potassium ferrocyanide
1 lit water
Goran Budija
- Zagreb, Croatia
---
June 10, 2008
-- this entry appended to this thread by editor in lieu of spawning a duplicative thread
Q. How can I patina the copper I use to make jewelry a nice deep uniform red? I can heat treat it but it gets black at the same time from the blow torch and when I drop it in the "pickle" (sulfuric acid) it clears the black plus the red away again. Is there a relatively simple chemical solution that allows the red to stay?
Tian Juul
Jeweler - Copenhagen
---
May 12, 2011
-- this entry appended to this thread by editor in lieu of spawning a duplicative thread
Q. I am a sculptor in Kenya and currently doing metal casting in my backyard.I use scrap metal mainly brass and bronze and I'm keen on doing red patina on brass and bronze.Please help.
Gerald Olewe
- Nairobi, Kenya
---
June 2, 2013
Q. Hi I am a small manufacturer at India of Brass Statues, currently our competitors have started providing reddish patina (Image attached) over statues. Please help me out in getting this finish on my Brass Sculptures, I will be highly obliged.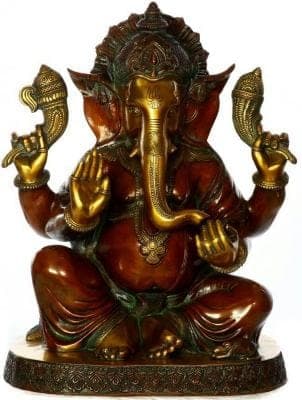 Mohit Agrawal
- Aligarh, INDIA
---
June 12, 2013
A. I've done a similar red finish on copper and brass using a similar process to a Rokushō patina.

Rokushō patina:

15 g copper acetate
15 g copper sulfate
0.5 L solution of white vinegar diluted 5-12% with water

How I made the ingredients:

Copper acetate can be made by mixing equal parts hydrogen peroxide and distilled white vinegar, boil it for a moment or two then let it cool down a bit, I let mine simmer on low. Throw in some copper, doesn't matter what, just so long as it's copper and reasonably pure, wire, tubing, sheet, whatever, doesn't need a whole lot 20-30 g will do fine. Let it simmer and react, you'll get bubbles and it will slowly turn a blue green color. Keep it on low and it will slowly evaporate leaving you nice copper acetate crystals.

Copper sulfate is much easier to make. Most of your big box home improvement stores will carry copper sulfate as a root killer for septic systems, read the ingredients and you should be able to find it without too much problem.

The following are pictures of my test pieces, the first one is brass and the second is copper.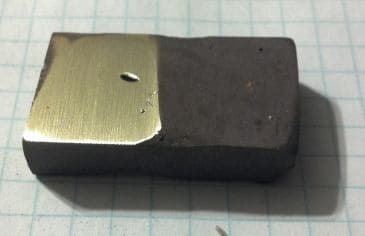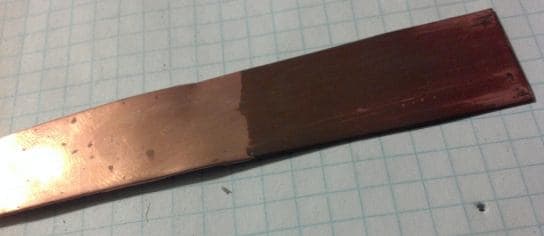 You can adjust the final coloration by varying temperature, individual chemical concentrations, and the overall concentration of the chemical bath.

Now, for the warning:
All of the chemicals I've used in this have the potential to be toxic and dangerous. Read through the MSDS for all the stuff used to make sure you can keep yourself safe.
Marc Banks
Blacksmith - Boone, North Carolina, USA
---
---
Procedure for doing patinas on Indian brass handicrafts
November 24, 2013
Q. Please suggest where to buy patina chemicals, how to apply these patinas, and other related things.

Especially - Shiny antique Gold patina,
Moradabad lacquer antique and shiny patinas,
Brown and gold shade patinas
Black Finishes
Normal Brass antique finish
White antique finish
24K Gold Finish
Silver finish

Thanks & Regards,
Sankar G
- Bangalore, India
---
November 25, 2013

Hi cousin Sankar. Are you asking which University to enroll in to major in this subject? :-)
Your questions are the work of entire shelves at libraries rather than something anyone could respond to in a public forum. Some of these topics are the subject of a dozen long threads on this site alone. But if you focus on a detailed formula and application method for any one finish, I'm sure a reader can offer you a starting point. Best of luck.
Regards,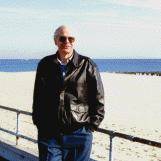 Ted Mooney, P.E.
finishing.com - Pine Beach, New Jersey
Striving to live Aloha
---
---
November 17, 2014
-- this entry appended to this thread by editor in lieu of spawning a duplicative thread
Q. Hello.
I would like to corrode some copper sheets as home decor. I have seem this done with wonderful blues and red finishes. What are the different techniques/chemicals to achieve various colors? Thank you.
Miguel Snyder
- Durham, New Hampshire USA
---
November 2014
A. Hi Miguel. There are two general approaches to coloring copper: chemical patinas and flame coloring.
As a general rule, chemical patinas give you the strong saturated colors, and flame coloring gives you more diffraction coloring of the rainbow/oil slick type. We have many threads here on each approach.
Regards,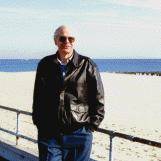 Ted Mooney, P.E.
finishing.com - Pine Beach, New Jersey
Striving to live Aloha
---
---
Need cold golden patina for bronze
February 25, 2015
Q. Client has a fixed bronze table on site. Patination made complicated. Need a cold golden patina recipe!
Appreciated
Dirk
Dirk Jooste
- South Africa
---
---
Staining brass to make it red
December 10, 2015
-- this entry appended to this thread by editor in lieu of spawning a duplicative thread
Q. We have a manufacturing process where we currently paint part of a arsenical brass (AS/NZS 1567 / C35200) spindle prior to assembly. Unfortunately some of the paint often gets chipped off as part of the assembly process. Is there a way to give a red colour to the brass? It would need to be an economic process that could be done on a commercial scale.

We currently only colour a small portion of the spindle, but if there is a reliable and cost effective method to colour the whole spindle, that may be an option. Thanks.
Bruce Willis
product designer - Brisbane
---
December 2015
A. Hi Bruce. It is possible to patinate brass to a red color, and it probably isn't cost prohibitive. However, this too is a surface finish which can be harmed by your assembly process, or perhaps wear off in use. I would not patinate under paint, as it is difficult enough to get robust adhesion on brass. Good luck.
Regards,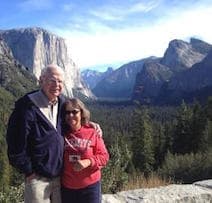 Ted Mooney, P.E. RET
finishing.com - Pine Beach, New Jersey
Aloha -- an idea worth spreading
---
December 11, 2015
A. Good day Bruce.

Given that you are a product designer, I have a silly question.
Does the paint exhibit "elastic" properties when cured?
Just a thought.

Regards,
Eric Bogner
, Lab. Tech
Aerotek Mfg. Ltd. - Whitby, Ontario, Canada
---
---
Preparation of Rokusho patina
December 20, 2016
Q. I would like to patina copper tubes I'm using to make a wind chime. The dark red "Rokusho patina" and the recipe described by Mark Banks of Boone, North Carolina on June 12 2013 appears to be a very nice color and also easy to prepare.

Something which is not clear however is what must the container be made of in which the hydrogen peroxide and distilled white vinegar are boiled? What is not acceptable and would negatively affect the chemical process?

Thank you,

Nick
Nick Zambatis
Hobbyist - Nelspruit, Mpumalanga, South Africa
---
December 2016
A. Hi Nick. Any non-exotic metal is at risk of being attacked by this. High temperature glass, like Pyrex, sounds ideal.
Regards,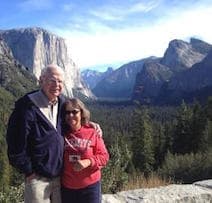 Ted Mooney, P.E. RET
finishing.com - Pine Beach, New Jersey
Aloha -- an idea worth spreading