Where the world gathers for
plating, anodizing, & finishing Q&As since 1989
-----
Recipe for red patina on brass & copper
February 5, 2022
Q. In your post talking about getting a red color on brass you said that copper nitrate is dark blue but everything I see is light blue. And all the copper sulphate [adv: item on eBay & Amazon]I find is dark blue.

I'm trying to turn red brass or silicon bronze a bright red.
Brock woodson
Knife maker - Colbert Washington
A. Immerse objects in a boiling solution of 6,25 gm copper sulphate and 1,25 gm copper acetate/ 1 lit water. Red colour on copper ... Hope it helps and good luck!
Goran Budija
- Cerovski vrh Croatia
February 9, 2022
---
---
↓ Closely related postings, oldest first ↓
---
---
2001
Q. Hi,
I am a sculptor working in beaten copper and am looking for recipes to get red and golden yellow patinas. I wonder if you will be able to help me in getting these recipes. This is for my private work, as I am trying to add colour to my copper sculptures. Awaiting your reply eagerly!
Thanks a lot,
Abir Patwardhan
- Pune, Maharashtra, India
---
"The Colouring, Bronzing and Patination of Metals"
by Hughes & Rowe
from Abe Books
or eBay
or

(as an Amazon Associate
& eBay Partner, finishing.com earns from qualifying purchases)

2002




A. Hi,

I stumbled on your posting and was wondering if you got any good responses for a red patina applied cold. I specialize in patinas and would be happy to share knowledge if you are still inquiring.

Dan Romo




- Oakland, California, USA




----
Ed. note: Thanks Dan! Readers with the same needs as Abir view this thread every day; if you're willing to share knowledge, please simply offer a quick tip. Thanks :-)
---
2003
A. You can try this recipe (for brass)!
200 gm copper carbonate
100 gm sodium hydroxide [affil link]
1 lit water
Cold immersion! Golden yellow-orange-dark red Pranam!
Red patina for copper:
100 gm potassium ferrocyanide [affil link]
1 lit water
Goran Budija
- Cerovski vrh Croatia
---
---
Artist wants easier way to "redden" copper
May 12, 2008
Q. I am an artist currently coloring my copper red by heating and quenching. I lacquer the finished product. I get great results this way, but am trying to find a less time consuming method so that I can mass produce some of these parts for wholesale distribution. Is there some way to dye a natural copper red to achieve an opaque or translucent finish, or is paint the only way?
Tracy Maisl
artist - Apache Junction, Arizona
---
May 15, 2008
A. Try Hughes/Rowe book "The Colouring, Bronzing & Patination of Metals" [adv: item on eBay, Amazon, AbeBooks]
--there you can find many other ways how to colour copper or copper alloys red. There is also very good old book on colouring of metals by A.Hiorns at internet archive web site, and download is free! Hope it helps and good luck.
Goran Budija
- Cerovski vrh Croatia
---
July 1, 2008
A. The best way to mass color copper, bronze or brass red is to boil it in a mild copper nitrate [affil link] solution. do this in a stainless pot or old stainless sink placed over a gas burner, the solution will corrode any other common metal container so must be stainless.

To find copper nitrate [affil link], look at artist supplies as it is a very common Patina chemical used in art foundries. it is a very deep blue crystal not to be confused with copper sulphate a light blue or sky blue crystal.

It is easy to make but requires handling strong nitric acid and will produce a brown vapor that is toxic so not recommended for novices.

The red oxide produced is the reddest I have ever seen on brass or bronze by any other means and the oxide compound is so stable that it does not require waxing to keep the color. varying the time and strength of solution will very the color. Best reds are from weak solutions boiled over a longer time, several hours.

A point to consider when using this process is that when a cold object is placed into the solution and boiled any gas or air trapped in porosity or internal closed cavities will heat up and expand. this part is no problem but if the object is left in the solution to cool down then this air pocket will contract it will pull into it the solution. this solution now inside the metal surface will bleed and cause problems later. the way around this is to always remove the objects from the boiling solution while it is still boiling and wash immediately in clean water. this way as it cools and contracts only clean water will be drawn into any closed cavity in the object.
-----------------------------------------------

The following I only mention for research purposes only as it involves a molten solution hotter than boiling point of water and if any water , wet object is placed in this molten solution. rapid expansion of water to steam, steam being 2000 times the volume of water, will cause an explosion as the steam is generated rapidly at these temperatures. potentials for dangers aside the results are beyond any other color range achievable by any other chemical process, typically for small objects only .
--------------------------------------------------

There is one more method that is used to produce the most amazing range or red yellows and orange colors that cannot be seen in any standard Patina book. and that is to boil the object in a molten salt of potassium nitrate or Sodium Nitrate [affil link] or mixtures of both. The dry crystals will melt at around 200 °C. It is done in a cast iron retort. The salts are super oxidizing agents and at molten temperature strange reactions on the surface of copper, brass, iron, bronze, stainless, etc. will occur.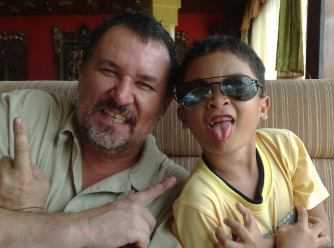 Dave Mune
mfgr of decorative concrete - Cebu, Philippines
---
---
June 10, 2008
Q. How can I patina the copper I use to make jewelry a nice deep uniform red? I can heat treat it but it gets black at the same time from the blow torch and when I drop it in the "pickle" (sulfuric acid) it clears the black plus the red away again. Is there a relatively simple chemical solution that allows the red to stay?
Tian Juul
Jeweler - Copenhagen
---
---
May 12, 2011
Q. I am a sculptor in Kenya and currently doing metal casting in my backyard.I use scrap metal mainly brass and bronze and I'm keen on doing red patina on brass and bronze. Please help.
Gerald Olewe
- Nairobi, Kenya
---
---
June 2, 2013
Q. Hi I am a small manufacturer at India of Brass Statues, currently our competitors have started providing reddish patina (Image attached) over statues. Please help me out in getting this finish on my Brass Sculptures, I will be highly obliged.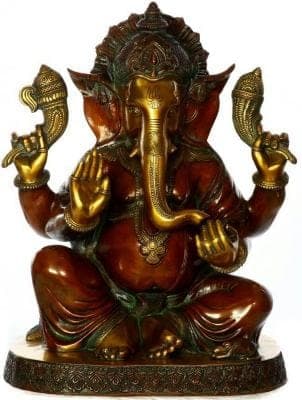 Mohit Agrawal
- Aligarh, INDIA
---
June 12, 2013
A. I've done a similar red finish on copper and brass using a similar process to a Rokushō patina.

Rokushō patina:

15 g copper acetate [affil link]
15 g copper sulphate
0.5 L solution of white vinegar [adv: item on eBay & Amazon] diluted 5-12% with water

How I made the ingredients:

Copper acetate can be made by mixing equal parts hydrogen peroxide and distilled white vinegar, boil it for a moment or two then let it cool down a bit, I let mine simmer on low. Throw in some copper, doesn't matter what, just so long as it's copper and reasonably pure, wire, tubing, sheet, whatever, doesn't need a whole lot 20-30 g will do fine. Let it simmer and react, you'll get bubbles and it will slowly turn a blue green color. Keep it on low and it will slowly evaporate leaving you nice copper acetate crystals.

Copper sulfate is much easier to make. Most of your big box home improvement stores will carry copper sulfate as a root killer for septic systems, read the ingredients and you should be able to find it without too much problem.

The following are pictures of my test pieces, the first one is brass and the second is copper.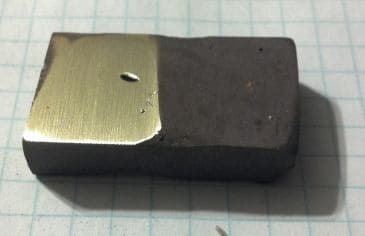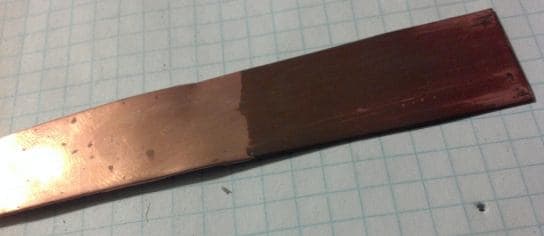 You can adjust the final coloration by varying temperature, individual chemical concentrations, and the overall concentration of the chemical bath.

Now, for the warning:
All of the chemicals I've used in this have the potential to be toxic and dangerous. Read through the MSDS for all the stuff used to make sure you can keep yourself safe.
Marc Banks
Blacksmith - Boone, North Carolina, USA
---
---
November 24, 2013




Q. Procedures for doing patinas on Indian brass handicrafts:
Please suggest where to buy chemicals, how to apply these patinas, and other related things. Especially - Shiny antique Gold patina, Moradabad lacquer antique and shiny patinas, Brown and gold shade patinas, Black Finishes, Normal Brass antique finish, White antique finish, 24K Gold Finish, Silver finish

Thanks & Regards,

Sankar G




- Bangalore, India




Ed. note: Hi cousin Sankar. Please ask a highly specific question like Mohit above, and you'll probably get a great response like he did. But info which fills entire shelves at libraries and constitutes the lifework of artists isn't realistic to ask for; that's what books and university majors are about :-)
---
---
November 17, 2014
Q. Hello.
I would like to corrode some copper sheets as home decor. I have seem this done with wonderful blues and red finishes. What are the different techniques/chemicals to achieve various colors? Thank you.
Miguel Snyder
- Durham, New Hampshire USA
---
November 2014
A. Hi Miguel. There are two general approaches to coloring copper: chemical patinas and flame coloring.
As a general rule, chemical patinas give you the strong saturated colors, and flame coloring gives you more diffraction coloring of the rainbow/oil slick type. We have many threads here on each approach.
Regards,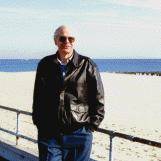 Ted Mooney
, P.E.
Striving to live Aloha
finishing.com - Pine Beach, New Jersey
---
---
Staining brass to make it red
December 10, 2015
Q. We have a manufacturing process where we currently paint part of a arsenical brass (AS/NZS 1567 / C35200) spindle prior to assembly. Unfortunately some of the paint often gets chipped off as part of the assembly process. Is there a way to give a red colour to the brass? It would need to be an economic process that could be done on a commercial scale.

We currently only colour a small portion of the spindle, but if there is a reliable and cost effective method to colour the whole spindle, that may be an option. Thanks.
Bruce Willis
product designer - Brisbane
---
December 2015
A. Hi Bruce. It is possible to patinate brass to a red color, and it probably isn't cost prohibitive. However, this too is a surface finish which can be harmed by your assembly process, or perhaps wear off in use. I would not patinate under paint, as it is difficult enough to get robust adhesion on brass. Good luck.
Regards,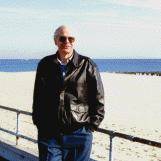 Ted Mooney
, P.E.
Striving to live Aloha
finishing.com - Pine Beach, New Jersey
---
December 11, 2015
? Good day Bruce.

Given that you are a product designer, I have a silly question.
Does the paint exhibit "elastic" properties when cured?
Just a thought.

Regards,
Eric Bogner
, Lab. Tech
Aerotek Mfg. Ltd. - Whitby, Ontario, Canada
---
---
Preparation of Rokusho patina
December 20, 2016
Q. I would like to patina copper tubes I'm using to make a wind chime. The dark red "Rokusho patina" and the recipe described (above) by Mark Banks of Boone, North Carolina on June 12 2013 appears to be a very nice color and also easy to prepare.

Something which is not clear however is what must the container be made of in which the hydrogen peroxide and distilled white vinegar are boiled? What is not acceptable and would negatively affect the chemical process?

Thank you,

Nick
Nick Zambatis
Hobbyist - Nelspruit, Mpumalanga, South Africa
---
December 2016
A. Hi Nick. Any non-exotic metal is at risk of being attacked by this. High temperature glass, like Pyrex, sounds ideal.
Regards,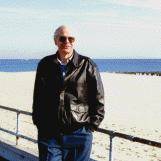 Ted Mooney
, P.E.
Striving to live Aloha
finishing.com - Pine Beach, New Jersey
---
---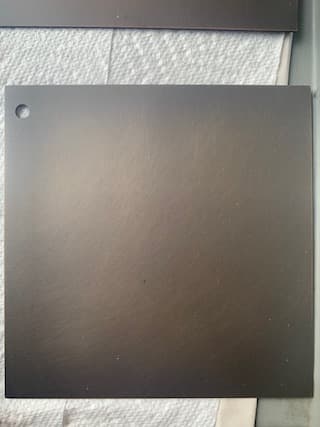 August 12, 2021
Q. Hi,

I'm working on a large brass panel project and trying to achieve a brown patina with copper undertones. We use Jax Brown [affil link] for the brown for the darkening but trying to figure out a way to bring in some warmer copper tones to the brass
Chris Anna
- West Hurley NY
---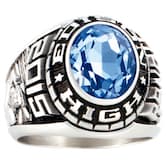 (To show dark vs. relieved areas)
Courtesy: Balfour.com
August 2021
A. Hi Chris, I'm no artist but if you look at high school or college rings, you'll never see one where the high spots are dark and the recesses bright -- it's always the reverse, what will tend towards occurring naturally. So you might be able to lightly relieve the high spots of your panels (either the centers OR the edges & corners) back in the direction of coppery/brassy. In fact the pic looks like you have relieved the center.
Luck & Regards,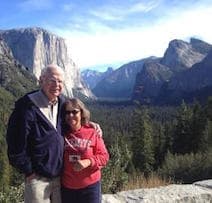 Ted Mooney
, P.E. RET
Striving to live Aloha
finishing.com - Pine Beach, New Jersey