topic 11827
Removing stains from stainless steel sinks in rental apartments
I have stainless steel sinks in 2-3 hundred rental units. The tenant often either pours or maybe cleans the sinks with a solution which causes stains in the metal. I have tried most stainless cleaning products, but cannot get the stains removed.
Michael R. Houghton
- Green Valley, Arizona
---
Michael!
First of all, please go to the archives and have a gander at #6637.
In short, you sure 'ain't' the first to ask this question and will NOT be the last!
If your sinks are in bad repair, visually I mean, then maybe using citric acid [linked by editor to product info at Amazon] (or nitric ... but ALWAYS take care when handling acids) you should get some improvement. Anyhow many proprietary products 'off-the-shelf' are somewhat diluted due to the vicious attack of strong acids.
The alternative is to use the professional approach ie. 3M's Scotchbrite pads ... in your case a quite a few!
Happy Scouring!
Freeman Newton
White Rock, British Columbia, Canada
(It is our sad duty to
advise that Freeman passed away
April 21, 2012. R.I.P. old friend).
... plastics background (40 years too many)
---
Michael,
I'd like to add a rider to my last reply.
Seeing that you have a heck of a lot of sinks to 'fix', it seems that citric acid, the store variety, according to Stellar Solutions, will do a quasi job but if the sinks are heated,(a rather impractical solution in this instance)this chemical might work far better especially in removing rust removal (yes, stainless can 'rust'!).
Hence, I suggest you consider going to the 'horse's mouth' for their CitriSurf brand, a specially formulated citric acid which they claim they sell world wide... which you can get data on from Stellar Solutions.
I hope this helps ... and if this works out OK, how about letting 'us', the readers of finishing.com, know how you made out.
Freeman Newton
White Rock, British Columbia, Canada
---
There is no "quick fix" for this type problem as the "stains" are usually caused by etching of the stainless by household products. Scotchbrite is the only way to go, and it can be done easily with a power drill or Dremel [linked by editor to product info at Amazon] type flexible shaft and a purpose built pad. You can "blend" the original scratch finish using this method. No amount of citric acid will repair etched stainless.
Dan Weaver
- Toccoa, Georgia
---
Advertisement:
Scratch-B-Gone to the rescue here once again! All that is missing is my blue spandex costume. As the developers of Scratch-B-Gone, we tackle these types of problems everyday with 100% success. This Stuff WORKS!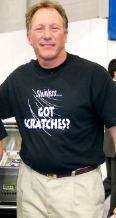 Barry Feinman
BarrysRestoreItAll
Carlsbad, California


This public forum has 60,000 threads. If you have a question in mind which seems off topic to this thread, you might prefer to Search the Site