topic 11421
Anodizing Aluminum Convex Shapes (cubes, pyramids, etc.)
Is there a recommended way to anodize die-cast aluminum (alloy 518.2) convex shapes such as cubes, pyramids, etc?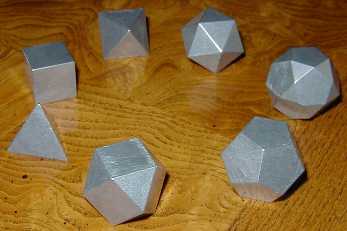 Rack marks must be minimized - should / could a rack be built that would contact the shapes along the corners or edges? Or is there a better way?
The first run will be for 1,250 of each shape. Each shape is 3.2 cm (about 1.25") in diameter.
Jeff Tupper
- Toronto, Canada
---
You can certainly have racks made for these parts, or you buy "adjustable" titanium racks. Rack marks can be minimized by grabbing the part on a spot along an edge. Depending on end use and customer spec, it is often acceptable to cover a tiny rack mark with a magic marker or other cosmetic approach.
If you contact a skilled bulk anodizer, it is perhaps possible that these parts could be bulk anodized to your satisfaction (which would be much less labor intensive).
Ted Mooney, P.E.
finishing.com
Pine Beach, New Jersey
---
We usually use titanium racks with pointed clips for most parts that we anodize. You are right- contacts are usually at the edges or corners to minimize marks. This is the best way we know.
Dado Macapagal
Scarboro Ont - Toronto, Ont


This public forum has 60,000 threads. If you have a question in mind which seems off topic to this thread, you might prefer to Search the Site