Where the world gathers for
plating, anodizing, & finishing Q&As since 1989
-----
How to color aluminum and its alloys
Dear Sir,
I am a teacher at Institute of Technology in France. So, my students (who learning Mechanical Engineering) ask me how color the small aluminum pieces like cogs, rear... I have some money to build a project but I don't know exactly what I need!
I am not sure of the whole process.
- etching in NaOH (soda)
- electrolysis in H2SO4 (concentration ?, current ?, voltage ?) is battery loader sufficient ?
- dyeing (organic pigment ?)
- hot water to close pores (how long ?)
Could you please send me by e-mail or post some documents in order to achieve my project ? We want to color pieces in red, blue and yellow. Thanking you in advance.
Best wishes,
ALDON Laurent
Institute Universitaire de Technologie - NIMES, France
---
We like to see this site used as a shortcut to where to find information, and to help people quickly get off a wrong track and onto a right track, Aldon. But we don't like to see people try to use it as an authoritative source for how to do a particular operation because there is no realistic way that every letter can be prefaced with all the necessary safety and environmental warnings, and we often don't know the degree of experience of the inquirer, so we don't know where to start.
But in view of the fact that you are an instructor at a technology institute, we will be specific:
First the parts have to be clean, which is usually done in a non-etching alkaline cleaner. After rinsing they are then etched. The etching serves a number of functions, but a light etch to discourage finger-printing should suffice. After rinsing, it may be necessary to desmut unless the aluminum is very pure and the etch is very light; desmutting removes the copper and other alloying ingredients left behind by etching. After rinsing, the parts are anodized. 10 percent by volume sulphuric acid, 20 amperes per square foot, probably about 9 volts will be required. A 12-volt battery can be used, but is a blunt instrument. Fabric dye is good enough for school use; special dyes are available for industrial use. Sealing is in boiling water for a minimum of half of the anodizing time and preferably equal to the anodizing time. Good luck.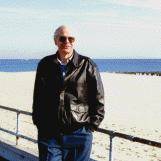 Ted Mooney
, P.E.
Striving to live Aloha
finishing.com - Pine Beach, New Jersey
---
Hello Aldon!
I would also suggest you surf on over to Metal Finishing magazine's superb Guidebook pages. Go to www.metalfinishing.com and click on the "metal finishing guidebook" button on the left. Charles Grubbs has written a nice introductory article on anodizing, which will be worthwhile reading.
Good luck!

Lee Gearhart
metallurgist - E. Aurora, New York
Ed. note: The Metal Finishing Guidebook was available as an on-line reference for only a brief period in 2001. But follow this link for hardcopy.