Where the world gathers for
plating, anodizing, & finishing Q&As since 1989
-----
Electroplating gold onto silver bracelets or chess pieces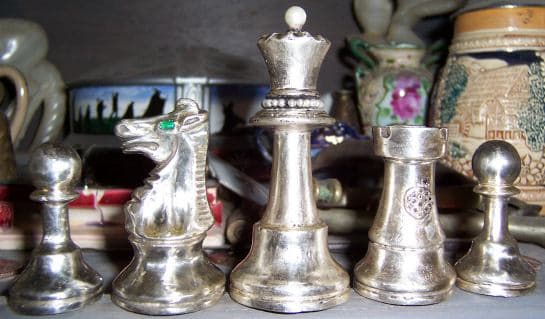 Ted Wyman's solid silver chess set
---
I would like to take my old wedding ring (widower now) and electroplate a silver bracelet. I had thought this would be as easy as determining a conductive solution, hooking a battery anode to the gold and the cathode to the bracelet and sit back and wait. Is this wrong?
Aaron Morris
- Marietta, Georgia
---
Hi, Aaron. Electroplating as a science project is rather easy (see our FAQ: "How Electroplating Works"), but practical electroplating often isn't.
Please don't waste your ring this way. Besides, you need more than just a conductive solution, you need a solution that can support the dissolution of gold ions -- you can't ionically transport gold and plate it out until you can dissolve it. Thus, mild conductive solutions things like vinegar and saltwater won't work.
As far as I know, for gold plating you'd need either a cyanide-based solution (forget that idea as Homeland Security will be knocking on your door) or an aqua regia solution (please forget that idea unless you have hazmat training) or a special solution with strong proprietary complexors (in this case the gold would be in the solution; it wouldn't come from your ring). And there's more to it than just ionically dissolving the gold, too -- brighteners, alloying metals, the need for a nickel strike bath first, activation of the silver, etc.
If you want to start at the beginning with science class level projects, our FAQ will help you; if you want to do practical gold plating, please see a plating text like the Electroplating Engineering Handbook after trying the science class stuff. At that point I think you'll realize that you need to buy a proprietary gold plating solution rather than trying to make it yourself from a gold ring. Best of luck!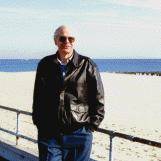 Ted Mooney
, P.E.
Striving to live Aloha
finishing.com - Pine Beach, New Jersey
---
So what is the answer to the question? I am making a solid silver chess set and would like to plate one side of the set with gold and the other with palladium. Instead of a solution, where the actual gold content cannot be assessed, I was under the impression that I could essentially use a weighed strip or coin of gold in a solution and through the anode/cathode method transfer the gold to the set. My set will have 6.6 pounds of silver and incorporate precious and semi-precious stones when finished, which is why I would like to say that X amount of precious metal was incorporated in its creation.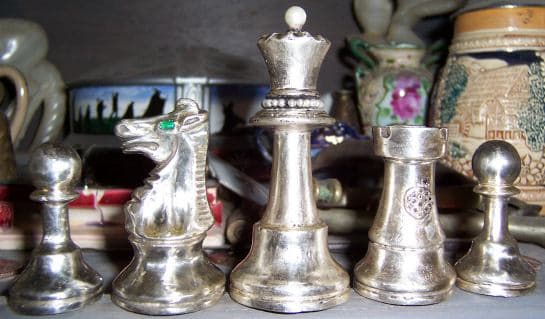 I have proper hazmat credentials and respirators as well as means of hazmat disposal if that's what it takes to do the job. The will is there...I need the method. Any suggestions?
Ted Wyman
- Fort Worth, Texas
---
Ted, you are building a beautiful chess set, but the best answer may be to send it to a plating shop.
The basic problem is that electroplating is an industrial process. Smarter men than I wrote: "Electroplating is probably one of the most complex unit operations known because of the unusually large number of critical elementary phenomena or process steps which control the overall process." People spend their whole lives in electroplating and learn only a piece of it; entire aisles of technical libraries are filled with books about electroplating.
But, perhaps misled by an experiment from chemistry class, we sometimes expect to do a complex industrial process in a kitchen, while adding impediments that an experienced industrialist wouldn't dream of, like using a wedding band or coin as the anode instead of electrolytically purified anodes, using a battery as the power source instead of a high quality power supply, and using no pH control, no temperature control, no hull cell analysis, no solution agitation, and no facilities or instrumentation for chemical analysis.
One of the marks of precious metals is that they are strongly resistant to corrosion, i.e., difficult to dissolve. If you can't dissolve the metal into solution, you can't plate it out of that solution. The chemicals you need to dissolve it are often impractical for various reasons -- it is impossible to plate out of aqua regia; no responsible supplier will sell cyanide to an individual consumer for shipment to a home; suppliers who have developed specialty sulfite-citrate baths after years of research will sell you the solution, but not give you you the synthesis procedures to manufacture it.
Heavy thicknesses of some metals like palladium can't easily be achieved even in an advanced laboratory with exotic patented chemistry :-)
Industrial plating is done from proprietary solutions, with proprietary alloying metals, brighteners, levelers, wetting agents, and accelerators. It is done in multiple steps, with one vat of solution for the required gold strike step, and a different one for the heavy gold plating. All under careful chemical control and with limited expectations about plating thicknesses that are possible before stresses, impurities, and solution exhaustion cause trouble.
A plating shop can use an ampere-hour meter to deposit a very exact amount of gold for you. Palladium is probably not a suitable plating; after many years of experience AT&T's Nassau Labs (since spun off) developed a palladium plating suitable for electronics but not for jewelry. Instead, your other pieces might be nickel plated, but then topped with rhodium plating. If you see our "must have" book list and borrow a couple of those books from the library you will see the issues that you are up against. Sorry that it's not easy, but best of luck with it whether you farm it out to a plating shop, or decide to do it yourself! Again though, if you do it yourself I strongly believe you'll need to buy proprietary formulas rather than formulating the solution yourself.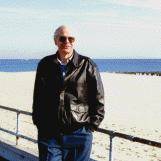 Ted Mooney
, P.E.
Striving to live Aloha
finishing.com - Pine Beach, New Jersey