topic 10962
Parkerising Formula
Hi,
I am looking for some pakerising formulas. Anyone out the have any recipe's they are willing to share, I sure would appreciate it.
Terry Strode
Milspec Coatings NZ - New Zealand
---
Parkerizing is an iron phosphate, differing from Coslettizing by the addition of an oxidizing agent and catalyzer, usually magnesium oxide.
In Coslettizing, a ferrous phosphate solution made from iron filings, and 1% phosphoric acid and water are boiled together for about 2 hours.
From the Metals Handbook, 1948.
Tom Pullizzi
Falls Township, Pennsylvania
---
Manganese oxide, rather than magnesium oxide?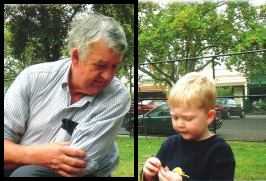 Bill Reynolds
consultant metallurgist
Ballarat, Victoria, Australia
We sadly relate the news that Bill passed away on Jan. 29, 2010.


If you have a question in mind which seems off topic, please Search the Site