topic 10620
Bearing polishing in tumbling machine or in vibrator
We have a washer for thrust (ball) bearing of size 60 mm dia, thickness 5mm, inner hole 30 mm, our washer is case hardened at hardness of 60. We want to polish its surface at all sides (edges) as bright polish with out any coating or electroplating, now we are polishing it on a local tumbler machine own made. Its surface is near to light polish but not give us bright shine polish our machine dimension a tub of 2/3 radius of 18", vibrating at 2800rpm motor of 1 hp, 3 phase. We fix the motor below the tub & tub is fixed by a frame with 6 nos of springs using the sand as media it revolves 1/5 rpm & twist very low. Is it right processing or not? If any other solution please tell us about that. How can we solve our problem?
Thank to you,
Shan-ul-Haq
- Lahore, Punjab, Pakistan
---
I am not familiar with a tumbler machine, unless you are talking about a barrel tumbler. However, 2800 RPM's is way to fast for a barrel system. As a point of reference, vibratory is faster, but we process all bearing type parts in centrifugal systems . See answer #10618. You did not mention anything about material or RMS. I assume you are talking about carbon steel. To get a bright finish can be different from a smooth surface finish; therefore, you may need at least a 2 step operation. Then again, this part may lend itself to a one step chemically accelerated process using porcelain media.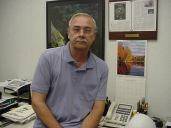 AF Kenton
Nova Finishing Systems Inc.
Hatboro, Pennsylvania


This public forum has 60,000 threads. If you have a question in mind which seems off topic to this thread, you might prefer to Search the Site