World's #1 on-line resource since 1989
-----
"Finger Prints" on Titanium Nitride Coatings
Hi guys,
I'd like to know how to eliminate / reduce "finger print" marks on Titanium Nitride coatings. Is there any parameters to be changed. We use Sputtering technology to deposit Titanium Nitride. Kindly help to solve the problem.
Regards,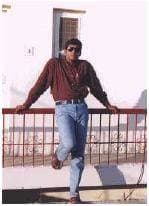 Vasudevan Swaminathan
- Chennai, Tamil Nadu, INDIA
---
It is much cheaper to wear clean white gloves and prevent the fingerprints than it is to remove them.
James Watts
- Navarre, Florida
---
The only solution to your problem is to prevent fingerprints using gloves in the first place. You may try polishing the surface and redepositing some more TiN. The fingerprints result is different crystal orientation and structure of the deposited layer at the contaminated site, does not matter what material you deposit. This phenomenon is not just limited to PVD.
Mandar Sunthankar
- Fort Collins, Colorado
---
I think if you handle your components with finger stalls or banian hand gloves you won't get that problem.
Regards,
Venkat Raja
- Kitchener, Ontario, Canada
---
PVD coating, when applied properly, will mimic the surface finish of the substrate. If you cannot remove the marks with acetone, then the part was not properly cleaned before coating. There is a possibility that the areas not correctly prepared will have a weaker bond than other areas. You should be able to strip the parts and recoat.
Color is not always a good indication of the actual bond. There are several techniques to apply PVD, variations can occur when the parts are not subjected to ion bombardment in an equal fashion.
Blair Woodring
- East Petersburg, Pennsylvania, USA
---
Dear Mr.Blair Woodring,
Thanks for your reply and yes the Finger print marks could be removed by using acetone. We could get a Hardness of around 2200 Hk @100 grms load and Adhesion of around 100 Newtons. Is this hardness and Adhesion Value OK? Also I came around TiN coating of some imported Tools and I could not find the finger print marks on them! Is there any finishing process required or done after TiN coating? e.g like lacquering or any other thin transparent film like coating can be done to avoid the finger print on the coatings?
Kindly suggest..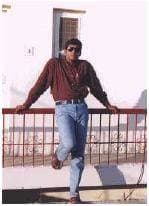 Vasudevan Swaminathan
- Chennai, Tamil Nadu, INDIA
---
The fingerprints should be removed before sputtering TiN in the precleaning process otherwise it would give a faulty deposit.I would suggest that it should be prevented by using good set of gloves while handing your component before plating at all steps.To get a good hard coating ,u can increase the Nitrogen flow during deposition which would also darken the color of coating.
Nagalakshmi Thogulava
- India
---
In PVD coating of TiN, particularly deposited by arc evaporation, the layer builds up in a columnar fashion. The cross section of the coating seen under very high magnification will show peaks and valleys corresponding to the column and the interspace between columns. The recesses act as receptacles to the sweat of the fingers leading to the finger print marking on the surface.
The problem can be overcome by resorting to the following:
(a) Ionic bombardment towards the end of the coating cycle in a magnetron sputtering equipment helps to level of the microscopic peaks and produces a smoother coating that has better reflectivity.This will minimise the retention of sweat on the surface.
(b)As mentioned in an earlier reply posted, cleaning with Acetone [affil. link to info/product on Amazon] will help to remove the stain. Of course, needless to say, the coated workpiece needs to be handled with clean gloves.
(c) Coating with a lacquer is a temporary solution, but it needs to be removed before use.
(d) Some go for a gold flash on top of the TiN to overcome the problem. However this is limited to decorative application.
Dr.N.Krishnaraj
- Chennai, India
---
Since the fingerprints can be removed by acetone it sounds like the reason that you get fingerprints is that the coating is porous and adsorbs grease, etc. The porosity can be decreased using ion bombardment during deposition (ion plating) to densify the film. The color has more to do with stoichiometry than with hardness or adhesion.
Donald M. Mattox
Society of Vacuum Coaters
Albuquerque, New Mexico
Ed. note: Mr. Mattox is
the author of -->
---
To remove finger-print, use disposable plastic gloves after cleaning of substrate (item to be coated) is completed. Handle the item with this gloves while loading in the coating chamber.
Kiran Shimpi
- Umargam, India
---
2006
I had a similar problem. There were finger prints even after cleaning the surface and the marks were visible even after coating. I tried ultrasonic cleaning of the sample in acetone and it worked. However make sure that there is no oxide formation on the surface(especially along the finger marks) before it goes into acetone as this would aggravate the surface further.

The general procedure I follow is to strip the protective coating in an acidic solution. And then immersing in water (3 diff beakers in sequence) to isolate any acid and then immediately into Acetone [affil. link to info/product on Amazon] assisted with ultrasonic cleaning (couple times is fine also)to isolate any water on the surface. It is important to prevent any drying of the sample surface while transferring between diff beakers since an active surface in air can oxidise quickly.

The sample can be air dried at the end of the acetone cleaning.
Pravahan
- Cincinnati, Ohio
---
November 25, 2009
You can use nano coating and depending upon the material or the base material this can be fired or non firing type.
Dr.Rajiv verma
- new delhi, India
---
---
What to use on gold plated surfaces to avoid fingerprints & grease?
January 30, 2020
Q. I am a business owner, trying to make my products better.
Beata Adams
shop owner - London, UK
^- Privately contact this inquirer -^
---
January 2020
A. Hi Beata. As Dr. Verma notes, there are nano coatings which discourage fingerprints. You can google for them. But you should wear gloves until sale or shipment, and no nano-coating will be quite as nice as real gold on the surface :-)
Regards,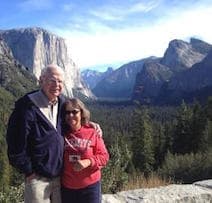 Ted Mooney
, P.E. RET
Aloha -- an idea worth spreading
finishing.com - Pine Beach, New Jersey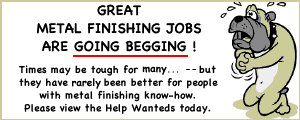 Plating Shop Manager [Salisbury, MD]
Junior Quality Engineer [Santa Clara, CA]
Plating Process Engineer [Wenatchee, WA]