topic 10392
What to plate new Aluminum Kitchen Appliance with?
October 15, 2016
Q. Hello! I have a question and would love to get some of your advice. I have been reading a lot of your posts and learning a lot.

I have a piece of kitchen equipment that my brother and I invented for food processing. We have have tested various coatings including nickel plating and passivation. With passivation we put the component in the dishwasher within 1-4 wash cycles it would turn dark grey/black. Right now we have nickel plated coating on there that works well for dishwasher safe, looks beautiful, etc, but it is a very expensive process and we have a lot of defects/scrap.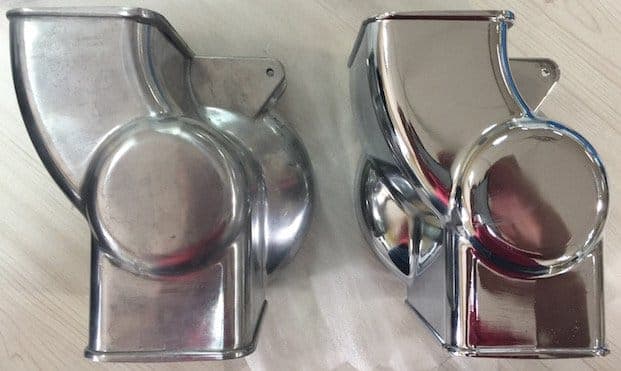 If you were using aluminum for a food preparation product, would you recommend anodizing or perhaps even a "hard anodizing". I was reading some prior posts and hard anodizing might be an option for us to test. If we did anodizing or hard anodizing, would it be dishwasher safe? From one of the posts it seemed like eventually anodized coating would run out as well and also yet another post said it would not be dishwasher safe.

Any other recommendations? The other thought is to go with anodizing and make clear labeling to show the parts are not dishwasher safe.

Chris
Chris Vaisnoras
Inventor, Engineer - Chicago, Illinois
---
October 15, 2016
Q. I really appreciate your response and guidance. We will continue to work with the supplier to improve quality.

The issue they have is just with this 1 part (out of 5). The coating on the inside is where they run into problems. The test I am going to conduct with them next is to polish the inside of this component prior to coating it. I believe that will improve the results.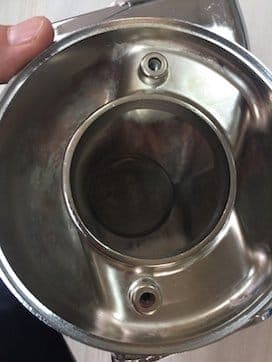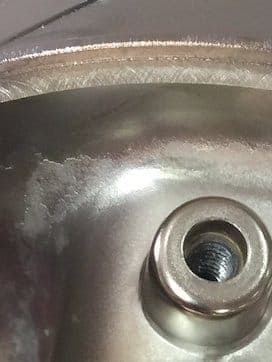 Any other thoughts or tips on how to fix this problem that comes up from time to time?
Chris Vaisnoras
[returning]
- Chicago Illinois
---
November 8, 2016
Q. So I met with a coating company here in Chicago and they stripped the part down. They are guessing with the brightness of the part, how the coating came off in their process, and the copper base they felt they saw.... that this part was never electroless nickel plated but that it was electrolytic nickel plated.

When they recoated (without doing any surface treatment), the inside coated perfectly... And the outside coated ok but not shiny because it wasn't polished.

Any ideas? Tomorrow we are testing their EN Process on an original polished part, and an stripped part that was polished. What they are concerned is that they won't get the brightness that our originals have.
Chris Vaisnoras
[returning]
- Chicago, Illinois USA
---
---
Poor coverage on interior of nickel plated Aluminum Casting
December 9, 2016
Q. I posted this question earlier. I thought our supplier was doing Electroless Nickel but they are doing a Nickel Chrome (copper base). Basically they handled everything, it came out totally perfect for last 4 years, and they went out of business and a new supplier took over and now we have a big problem. So I apologize for my newbieness. I have learned a LOT in the last 6 weeks...

So... here is where we are at.

Problem - black spots, and red type spots on the internal dimensions of a part. The outside coats completely fine, the inside has defects like you see in Photo #1. This is a photo only of the inside of the part. Our previous supplier that went out of business did them perfect as you see on the left and I have never been involved because of this.





Current process - See the photo below, Photo #2. This is how they are being fixtured for the process.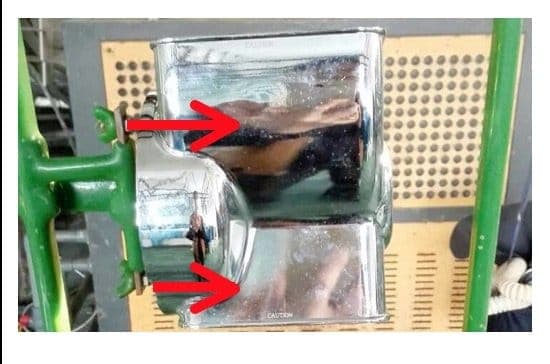 I spoke with 2 different coating people. They suggested that either we add an "anode" to the inside of the process or we do something where we add additional current to the inside of the part. They felt the inside had enough space where there should be enough solution/flow to just try adding 2-4 more touch points of current. Basically there would be a bar that extends into the middle of the part and then 2 copper wires that extend from it to touch the part in 2 locations where the trouble spots are. This ideally creates enough current to plate it properly.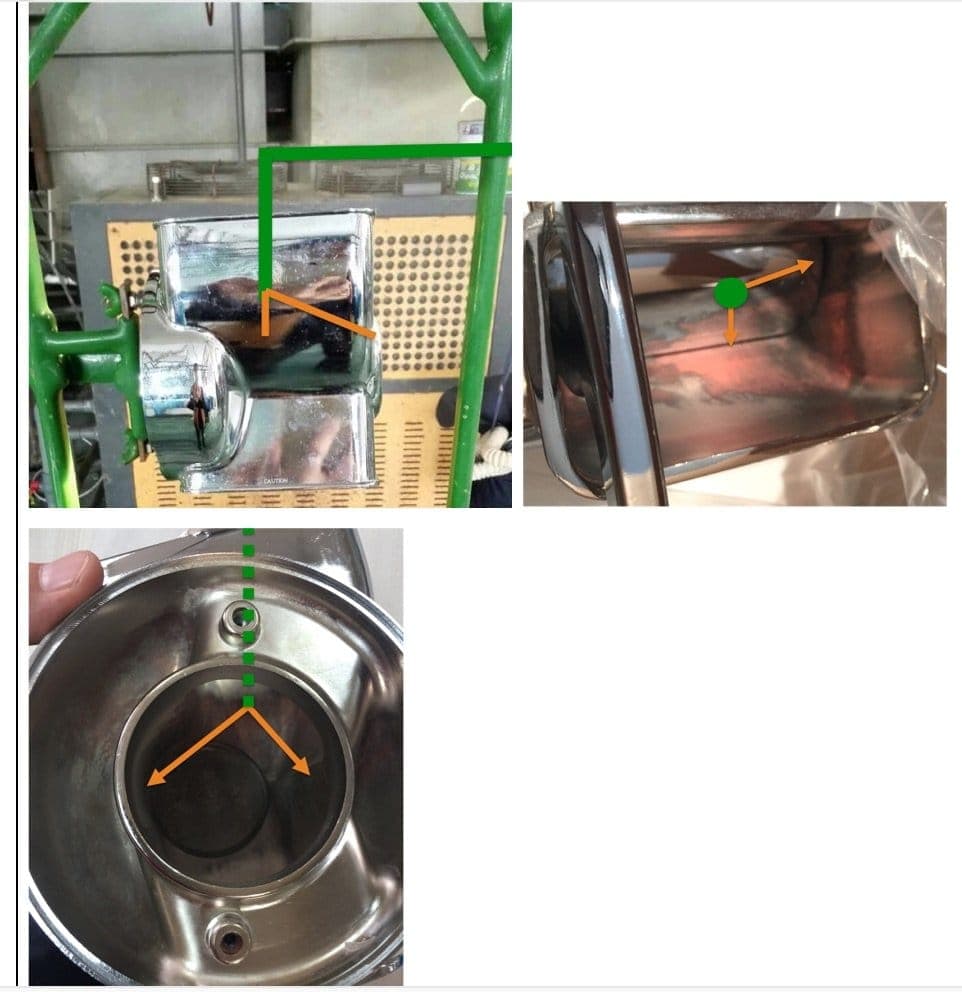 Please comment to make sure I am in the right direction. I meet with the plating supplier on Monday and hope to look like I know what I'm doing and proposing the best solution to test out. The next solution would be to put an anode but that seems more complicated with the part geometry.
Chris Vaisnoras
[returning]
- Chicago, Illinois
---
December 10, 2016
Q. Got it. So for the ultra novice learning at the moment that will need to run a test this coming week.... what should my anode look like, be made of, and how should it be hooked up? Anything I should be careful of?

I did some searching, google learning, etc and I believe it should probably be a nickel anode and something insulated so it doesn't touch the part but also exposed to the solution. Then it should be large enough so that it can create the desired effect on the inside of the hopper.

Any thoughts or guidance would be well appreciated. The supplier I am working with is not so cooperative but since I'm here on their doorstep, they are working with me to sort this out.
Chris Vaisnoras
[returning]
- Chicago, Illinois
---
---
Spec for copper-nickel-chrome plating?
February 23, 2017
Q. So, yes, we took your advice and what we are actually going to do is find another supplier.

All that said, does anyone have a pretty standard Nickel Chromium specification that I can send/add to my print for my parts that I can use to send to a number of prospective suppliers that would do this? I'm hoping this is something pretty standard and easy...
Chris Vaisnoras
[returning]
- Chicago, Illinois


If you have a question in mind which seems off topic, please Search the Site