topic 10313
Seeking Dow 19 Mag Treatment Chemistry
RFQ: I am trying to locate a source of DOW 19. It is called out in a repair of a magnesium alloy gearbox case for a helicopter. I have used it before on the West Coast (room temp brush-on ... it turns the bare repaired area a brassy color) but no longer have access to that source. I believe it was a two part mixture of Chromic Acid and one other chemical.
Mark Spencer
- Johnstown, Pennsylvania
---
A. Dow 19 is 1 oz. Chromic Acid, 1 oz. Calcium Sulfate (plaster of Paris), and water to make one gallon.
Chris Jurey
, Past-President IHAA
Luke Engineering & Mfg. Co. Inc.
Wadsworth, Ohio
---
A. I have also searched for DOW 19 to pre treat Magnesium control surfaces as required by Allied Signal and Raytheon. I have located the ingredients to make it, and their instructions. They are as follows.
Mix 1.3 ounces of chromic acid (flake) and 1 ounce of calcium sulfate with enough water to make 1 gallon of solution.
Stir vigorously for at least 15 minutes to ensure saturation of the solution with calcium sulfate.
Maintain solution at 21 °C to 32 °C (70-70 °F).
The ingredients can be found locally almost anywhere.
Shawn Sayle
- East Alton, Illinois
---
December 15, 2008
Q. "1.3 ounces of chromic acid (flake) and 1 ounce of calcium sulfate..."

Is this by weight or by volume?

Chris
Chris Kuyoth
custom cockpits - Lake Orion, Michigan
---
December 16, 2008
A. Hi, Chris. That would be by weight. Although cooks might measure solids by volume for kitchen convenience, in the laboratory solids like chromic acid flake are invariably measured by weight rather than volume. Good luck.
Regards,
Ted Mooney, P.E.
finishing.com
Pine Beach, New Jersey
---
May 25, 2009
A. You could try an old Lycoming piston engine mix I have used for years:
Magnesium Treatment
Selenious acid, hydrated selenium dioxide
Molecular formula: H2SeO3
10% W/V Selenious Acid 100 ml
10% W/V Chromic Acid +(0.1v/v H25.4) 100ml
----------
Make touch-up solution in the following manner:
Prepare a solution of sodium di-chromate by mixing 3/4 lb. sodium dichromate with 1/2 gallon water;
Prepare a nitric acid solution by combining 3/4 lb. nitric acid (sp. g. 1. 42) with 1/2 gallon water
Combine the sodium dichromate solution and the nitric acid solution.

Coat the newly machined or cleaned surfaces with dichromate touch-up solution.
Apply the solution with a brush or cotton swab and allow to stand for one minute
Wash solution off with water or wipe off with a damp cloth.
Be careful not to allow dichromate solution to come in contact with eyes or skin
Malcolm Cassels
- Lismore Australia
---
July 29, 2009
!! We stopped using selenious acid many years ago for health reasons. Symptoms of selenium poisoning can occur several hours after exposure, and may include stupor, nausea, severe hypotension and death.
Dow 19 is still hazardous but better than the selenious acid mix.
Malcolm Gale
- Bristol, UK
---
January 21, 2013
A. I believe you are looking for Mil-M-3171 [link by ed. to spec at TechStreet] type IV (Brush-On)

DOW 7 is TYPE III
DOW 19 is TYPE VI
Elliot Page
- Surrey, BC, Canada
---
---
Resistivity data for Dow #19 and #23 coatings
2000
Q. I'm looking for electrical resistivity data on Dow 19 or Dow 23 treated ZK60A magnesium? This is for an aerospace application requiring corrosion resistance for ground storage/handling and high electrical conductivity for microwave performance. Thanks,
rich f
[last name deleted for privacy by Editor]
aerospace - newton, Pennsylvania usa
---
---
Magnesium Alloy Products with Dow 19 Impregnation
2003
Q. Sir,
I wanted to repair a pulled out insert by filling the weld material on a Magnesium Alloy housing. What are the chances of success ? I know that the Dow 19 impregnation applied during manufacturing of such a housings. What are the chances of distortion? -- and will all the voids be eliminated?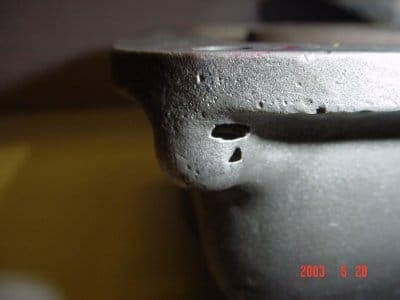 Thank You,
Saleem Uddin
aerospace company - Mississauga, Ontario, Canada
---
2003
A. Unfortunately, I cannot answer all of your questions. The first one regarding the chance of success is extremely difficult to answer without knowing all of the product requirements. What I can tell you is the weld repair of castings is regularly performed, and some distortion may occur as a result. You should have the Dow 19 coating removed prior to welding. Discuss this with your coating vendor.
Based on the photo that you provided, I doubt that you will be able to seal all of the porosity, unless you apply weld metal over a large portion of the boss, which will likely result in distortion. If the cost to scrap the casting is significant, then you probably should attempt the repair, and be prepared to grind the weld back to the desired shape. Small porosity can be sealed by a suitable resin, such as one of the products from Loctite.
Good luck,
Toby Padfield
- Troy, Michigan
---
2003
A. Vacuum impregnation will seal microporosity in the casting. The large holes, as Toby pointed out, can be "macro-sealed" using a 2-part air curing epoxy such as a Loctite material or other impregnant (there are a number of manufacturers). Weld repair of porosity is not entirely possible since there is always gas produced that must escape, thus creates a leak path around the weld. Vacuum impregnation (ref. Mil-276 [link by ed. to spec at TechStreet], Method B) can repair swiss cheese castings and hold up under pressure or vacuum.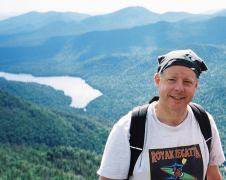 Milt Stevenson, Jr.
Anoplate Corporation
Syracuse, New York
---
May 10, 2011
Q. Hello,

Regarding the "macro-sealing": after the use of such products like Loctite, is it possible to paint the part?

regards
Yohands Rey
- Chihuahua, Mexico
---
---
What to do with anodizing, Dow 19, chromic acid solutions we found?
(2005)
Q. INQUIRING MINDS WANT TO KNOW. WHILE CLEANING OUT A STORAGE AREA, WE HAVE BECOME THE OWNERS OF: AIVODIZING SOLUTION, DOW 19 SOLUTION, CHROMIC ACID, CALCIUM SULFATE, AND ROMIC ACID? USES FOR THESE WOULD BE GREAT TO KNOW ... THANKS, RED
RED L
[last name deleted for privacy by Editor]
WELDING CONTRACTOR - NEW BRAUNFELS, Texas
---
(2005)
A. "AIVODIZING" is probably "anodizing" and "ROMIC ACID" is probably another container of chromic acid.
If these are waste products rather than new unopened containers, the person or entity who occupied the building before you is probably liable for proper disposal despite anything that may have been said in the sale papers about "including all contents". I am not a lawyer, but I understand that there is a principal that contract terms are automatically void which are "contrary to public policy" -- and in the USA today the generator of hazardous wastes is responsible for hazardous wastes from "cradle to grave".
If I were you, I'd talk to my attorney about the possibility of enforcing that policy rather than thinking you can use these chemicals, because you probably can't. Good luck.
Ted Mooney, P.E.
finishing.com
Pine Beach, New Jersey
---
---
Need Dow 1 & Dow 19 Conversion Coating Chemicals
November 14, 2011
RFQ: We are an aircraft maintenance facility, and have need to treat magnesium housing prior to paint on an occasion. We need a small quantity of Dow 1 and Dow 19 conversion coating. We have mixed our own solutions before, but I was wanting to purchase ready made. Less than a quart of each is needed.
Thomas Hudak
Aircraft Maintenance - Vienna, Ohio, USA
---
December 9, 2013
A. Dow 19 is also available from Beechcraft. It is used on their magnesium control surfaces. I have made it in the past from the chromic acid and calcium sulfate recipe but I have found it easier to procure from Beechcraft than purchasing chromic acid from a chemical supplier.
Chuck McKenney
- Mount Ida, Arkansas, USA


This public forum has 60,000 threads. If you have a question in mind which seems off topic to this thread, you might prefer to Search the Site