60,000 Q&A topics -- Education, Aloha, & Fun
topic 10153
Sedgwick Residential Elevators Parts and Maintenance
A discussion started in 2001 but continuing through 2020
2001
Q. I own a home that has a residential elevator (drum type). It is a Sedgwick brand elevator, and I have been unable to find any information on this brand. Most elevator maintenance companies in my area (Phila.) typically refuse to do maintenance on elevators that are not their own or are limited to the brands that they install. I can use some help on any information on parts or companies that handle old elevator parts.
I appreciate any help!
William Vogt
- Media, Pennsylvania
---
2001
A. Hi William.
This site is primarily about industrial metal finishing, so it tends to cover finishing and refinishing of elevators rather than parts and service--but here is your inquiry and we'll see if anyone can help. Good luck.
Ted Mooney, P.E.
finishing.com - Pine Beach, New Jersey
Striving to live Aloha
---
2003
Q. I have one too and have the exact same problem. It takes no.2 worm gear oil in the transmission. Where can I get the oil? Where can I get it inspected? Please let me know if you get any info. Thanks. Steve.
Stephen Salzer
- Greenwich, Connecticut
---
2003
A. Try the major elevator companies. Otis, Shindler, ThyssenKrupp Elevator.
Frank Daly
- West Babylon, New York
---
2003
A. There is a reason that the major elevator companies won't maintain that equipment. I STRONGLY recommend you get a new elevator installed.
Michael Ellis
- Fairfield, New Jersey
---
2003
A. If anyone has a Sedgwick, you may want to try contacting Peelle. They bought Sedgwick.
Carl Zoll
- Foley, Alabama
---
2005
A. Sedwick Machine Work was sold by Peelle to Quality Elevator Products, Inc. located at 7845 North Marrimac Avenue, Morton Grove, Illinois.
Kristof Okulewicz
Precision Elevator Corp. - New York
---
2006
A. If you can provide me with more information (pictures,plans,brief description) maybe I can give you any advice about what you have to replace or repair in your elevator.
JULIO E MOLINA
Chief Elevator Inspector, City of Miami - Miami, Florida
---
June 11, 2008
A. Sedwick elevators are just like the rest. The main thing is that you should have a set of electrical drawings present.
Most parts are interchangeable with other manufacturers and service is minimal.
Any real elevator person can generally service and repair your units.
If you lack drawings-Look for a contract # inside the main controller and contact Quality elevator for assistance.They can get you a copy of your original prints with that contract #
Randy Arnott
- Santa Clarita, California
---
November 16, 2011
A. We service and repair many brands, including yours. Call us.

Lee
Lee Wiggers
Wiggers Family Enterprises - Fort Lauderdale, Florida USA
---
December 7, 2014
A. I had a Sedgwick elevator in my former home & it was serviced by Arrow Elevator from Brooklyn NY USA
Anne Brasino
Homeowner - Hastings-on-Hudson NY USA
---
August 16, 2015
A. I worked for Sedgwick Lifts when The Pelle Co. owned them. I can help locate parts for them.
James Ringwood
- Poughkeepsie, New York. USA
---
September 19, 2016
Q. I have an old Sedgwick hydraulic elevator. It got stuck on second floor. It won't come down even the power is on. I can't lower it manually either although it has an emergency lower knob. Anyone knows how to lower it manually?
TOM NG
- SAN FRANCISCO, California
---
---
September 23, 2016
Q. I have Sedgwick elevator- 87-16187. My programmable controller- SYSMAC S6 is showing CPU- ERR. What should I do. Can I get a Sedgwick programmed S6. Where can I get Schematic Drawings. My elevator guy said- replace the entire Control Unit. Sounds crazy and expensive. Please help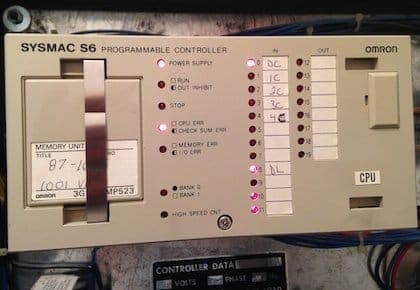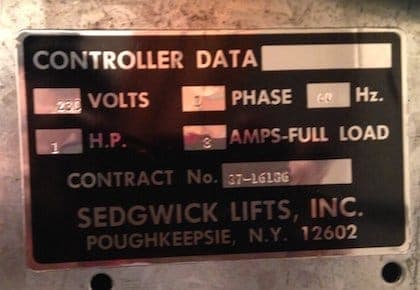 Joe Gupta
- Highland Park, Illinois
---
January 1, 2017
A. Hi Joe,
Omron made the Sysmac S6 and you can buy used units online inexpensively. I have a copy of the schematics and manual and would be happy to email you a copy. You can alternatively try downloading from
http://www.omronkft.hu/nostree/pdfs/plc/s6/w010e32_s6_user_manual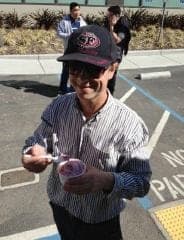 Blake Kneedler
Feather Hollow Eng. - Stockton, California
---
January 16, 2017
Q. We are looking for the schematics for a two-floor roped Sedgwick elevator installed at the church in late 1991. Does anyone out there have a copy?
Carl Brodt
Lutheran Church of the Cross - Berkeley, California, USA
---
January 2017

Hi Carl. With luck you'll find out in which farmer's field of haystacks you should look for that needle. Sorry, but it doesn't sound promising :-(
Regards,
Ted Mooney, P.E. RET
finishing.com - Pine Beach, New Jersey
Aloha -- an idea worth spreading
---
---
February 15, 2018
Q. Hi. Our church is being asked to prove (for city fire inspection) that we have a Lift vs an elevator, We have the schematics for our Sedgewick LULU LIFT but they are difficult to read. The Microprocessor Controller was installed in 1988 ,model #88-16504. In our records the term "elevator" is generically used. I tried calling the Poughkeepsie , NY numbers but they are out of service. I do have the contract number on the schematics. Any help would be greatly appreciated.
J. Booth
First Presbyterian Church - Plattsburgh, New York, USA
---
February 2018
A. Hi J. I would have expected the State to have clear guidelines for what constitutes a lift vs. what is an elevator, rather than relying on which piece of slang a vendor employs -- because sellers will use whatever words make something easier to sell in each individual situation :-)
My community clubhouse has a vertical device, open to the air from waist height or so, that can take a person or chair up or down one floor. As an amateur, I think of this clearly as a lift because a person could climb out in an emergency, and even if the person were disabled they would be visible, not trapped out of sight. My understanding is that LULA means Limited Use Limited Application, and is actually acknowledged as a hybrid between a wheelchair lift and a commercial elevator, rather than being either one or the other.
You and I aren't fire inspectors, are untrained and unfamiliar with fire hazards, and we certainly would not want to feel guilty if there were an accident, so I'd say let the trained fire inspector figure out what inspections are prudent but non-burdensome based on what he sees :-)
Good luck, and regards,
Ted Mooney, P.E. RET
finishing.com - Pine Beach, New Jersey
Aloha -- an idea worth spreading
---
---
January 28, 2020
Q. Looking for controller print for Sedgwick contract #85-16105. Does anyone know how I could get one? I work as elevator tech; can't trouble shoot properly without it. Thanks
Robert Cartlidge
- RONKONKOMA, New York
^- Privately contact this inquirer -^