topic 10035
Black Stains when Brass electroplating onto plastics
Q. I have problems to plate plastics with brass. First I plate copper to the plastics and then the brass, but after I plate with brass there are many black spot on the product. Does anyone have opinion for this case?
Kusuma P
[last name deleted for privacy by Editor]
- Bandung, West java, Indonesia
---
---
Decorative Brass Plating on plastics or resin query
July 1, 2016
Q. To Forum members and experts,

I have inherited a plating line in a company I now own and it currently plates in copper, nickel , silver and gold. They do a decent job of it and the quality is acceptable for the spec that is requested by the customers.

We now need to do brass plating and the long time head of the plating dept has left the business due to personal circumstances before my time and recently was in a auto accident and was killed and none of the current staff seem to know or understand how to set up a bath for brass plating.

My question is would anyone be able to advise or guide me on the recipe for that bath, and/or any other specifics in order to plate brass. I can not find any recipes or instructions on line that a layman can understand like myself . Further they have done and still do some plating on fiberglass by spraying copper powder on the part (it literally comes off on your fingers) then putting a copper strike onto that, then proceeding with nickel plate the gold or silver. I know this cannot be a good method; I would presume adhesion is poor though it appears that they have gotten away with it for some time, so I might also ask what is proper way or material needed to plate on fiberglass or resin parts, to make them conductive.

I would appreciate any guidance or advice from the forum.

Regards,
edward

edward sasser
owner - Morganton North Carolina USA
---
July 4, 2016
Q. Thanks and, yes, their silver bath is the nasty stuff but they pay a firm to dispose of it properly and respect it carefully in the plating plant. Look forward to any and all advice ... which book is a good choice ? Thanks --Ed
edward sasser
[returning]
- morganton North Carolina USA
---
July 31, 2016
Q. Hi Everyone,
I have attached some photos of a workpiece I am trying to end up plating in brass. The first two shots show it with the antique finish applied. The third shot shows it before buffing it out or in raw state . You can see where inside the form the area that did not plate ... it's kind of grey-ish color or white up in the shadow of the piece.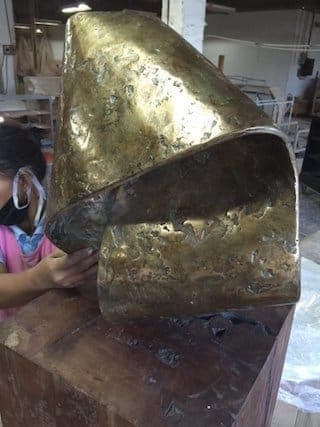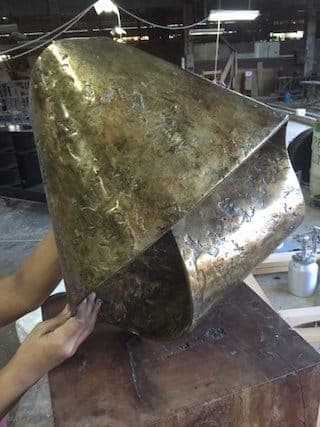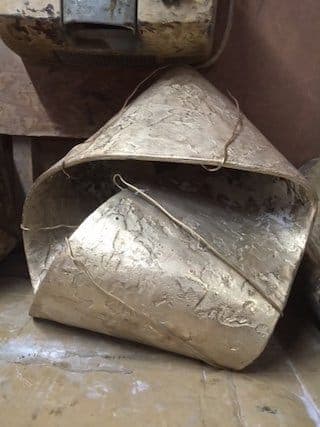 The shape is causing us a real headache ... first, the piece is fiberglass and sprayed in copper paint as was previously suggested. It plates well enough on outside and 70% of the inside but a few areas inside will nor plate. The piece is about 16 inches tall and wide and about 8 inches deep (my staff's hand can be seen to give a better idea of scale).
Any ideas, advice and /or comments, etc. are welcome.
Thanks
Ed
edward sasser
[returning]
- morganton North Carolina USA
---
August 1, 2016
Q. Wow, thanks Mr Mooney ... great idea will try ASAP. Since the piece is in motion or being agitated normally when plating, I assume I would use that anode in the interior position inside while still to get the plating on first, then run it as normal? I have to do over a 140 pcs so I am eager to try.
More comments welcome!
Cheers ED
edward sasser
[returning]
- morganton North Carolina USA
---
August 1, 2016
Q. Hi Mr Mooney , I don't think I was clear on my system. I plate in copper over the copper paint, or the copper plate first; then buff and smooth out the copper plate if need be (it's normally a bit rough); then nickel plate and then brass plate. So i was bit confused on your last comment of using steel ... would that not mean the steel is plating onto the copper paint? I am currently plating copper with big copper solid round bar as the anodes, nickel the same and bars of extrusion stock for brass plating. Any comments here?

As a side query, I like the idea of plating in steel over the fiber glass too like I am doing the brass. What kind of recipe for the bath is needed for that? I assume too the same process, metallic copper paint first on fiber glass, then copper plate , then nickel, and then the steel?

Starting to have real fun with this....

thanks ED
edward sasser
[returning]
- Morganton North Carolina USA


This public forum has 60,000 threads. If you have a question in mind which seems off topic to this thread, you might prefer to Search the Site