topic 1065
Color Fading of Anodized Aluminum
(1998)
Q. I do LASER engraving on anodized aluminum for botanical plates that are used outside. My supplier says that this material is for exterior use. However, after a few years the color on the plates seems to fade, especially on the ones facing south. I would appreciate your thoughts. Could this be UV rays causing the problem, and is this normal for anodized aluminum? I've sent a sample to my supplier for evaluation.
Thank you,
Bill Kramer
LECOR Enterprises, Inc.
---
TUTORIAL FOR NEWBIES:

Although anodized aluminum can be left natural color (the color of aluminum), it is very common to dye/color it. When aluminum is anodized, the anodized coating contains millions of tiny "drill hole" pores extending from the surface almost to the raw aluminum. The most common way to color or dye aluminum is to put this freshly anodized aluminum into a tank of dye, absorbing the dye into the drill holes, and then "seal" it with boiling water or other processes which hydrate/swell the aluminum to close off the pores.

Although some dyes are more stable than others, all organic dyes are subject to fading. So, for architectural anodizing intended for outdoor use, it is common to color the metal (usually in champagne to bronze colors or black) by filling those pores with metal-based coloring via processes called integral color anodizing or two-step anodizing.

Yet another variation is "overdying", where an inorganic dye is applied by two-step anodizing, then an organic dye is employed before sealing, in an attempt to give both a freedom from fading and a wider color choice.
(1998)
A. Sir,
Every anodize dye has a different lightfastness rating, meaning how well it hold up to outdoor light. Some dyes are not suitable at all for outdoor use.
Also, a poor seal could cause color fading.
David A. Kraft
- Long Island City, New York
---
(1998)
A. Bill,
You may want to look into electrolytic or the 2-step color anodizing. Light fastness is excellent.
Paul Davis
---
(1998)
A. Anodizers specializing in architectural applications will be most likely able to help you. They will need a 2-step (anodize then inorganic dye) process. The organic dyes just don't last as long in UV light.
F.A. Sandy Donaldson
- Minneapolis, Minnesota
---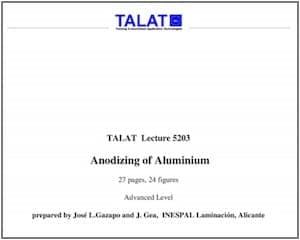 TALAT Lecture 5203: Anodizing of Aluminium
(1997)
A. Colors can only come from two sources; chromophores in organic chemicals that results from double bonds or triple bonds or a few other special bonds; in inorganics they come from metal ion complexes. UV light adds sufficient energy to break double or triple bonds so organic dyes are more susceptible to sunlight degradation. Try the inorganic metal dyes for outside use.
Dave Fairbourn
- Sandy, Utah
---
(2000)
Q. Accelerated test of light fastness of colored anodized aluminium seems to be made by ISO 2135 [link by ed. to spec at TechStreet]
The Blue scale for evaluation is not easy to find anywhere and it is different from that one used for textile light fastness Could somebody tell me where can I find this special Blue scale to make this ISO 2135 test?
Many thanks G.Rizzotti
Gianmarco Rizzotti
- Busto Arsizio -Italy


This public forum has 60,000 threads. If you have a question in mind which seems off topic to this thread, you might prefer to Search the Site