World's #1 finishing resource since 1989
No login needed: Chime right in
topic 1046
Microstructure of electroplated bronze
1998
I am looking for any papers or other research that has been performed on the examination of the microstructure of electroplated bronze.
Specifically, I am looking for the mechanisms of intermetallic formation, and how to avoid the formation of the low melting point intermetallics in electroplating bronze.
Thanks...Louis
Louis Morin
- Westaim
---
1998
I am not sure whether you are talking about electroplating of copper-tin alloys (bronze) onto other substrates or plating other metals onto bronze substrates. Your question would be easier to answer if we knew specifically what plating materials onto what substrate materials you are interested in.
There are numerous references for the formation of intermetallics when tin and other metals are electroplated on to copper alloys. Most of this work is related to solderability problems in the electronics industries. Intermetallics inhibit solderability due to their high melting temperatures. Low melting temperatures are typically due to eutectic compositions of alloying elements.
Let me know what alloys you are interested in, and I will respond with some references.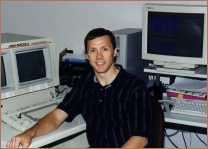 Larry Hanke
Minneapolis, Minnesota
---
1998
Look in Brenners Electrodeposition of Alloys. He talks about microstructure of bronze electroplated coatings. Chances are you will have to find the books at a local university library. Also try Safranek's book available through AESF.
Tom Sivula
plating shop - Harbor City, California
---
1997
informacio de chapa de oro
carlos rivas cardenas
- italian tradicion joyera - mexico