Where the world gathers for
plating, anodizing, & finishing Q&As since 1989
"Blackening, coloring, and other finishes for stainless steel chainmail"
-----
1998
Q. I'm in the process of making a "Chain mail" (that's a type of medieval armor) shirt using spring tempered 302 stainless steel. What I want to do is turn the whole thing BLACK! (or as black as I possibly can ... deep deep blue is acceptable).
Now here's my problem:
I don't know ANYTHING about how to do Blackening, not to mention how to do it to stainless steel without weakening the steel!
What I'm looking for a simple way of blackening it, or someone who can blacken it for me at a low cost, without degrading the steel's strength, temper, or corrosion resistance!
PLEASE HELP!
My thanks in advance for your assistance with my project problem.
Sincerely,
Andrew
[last name deleted for privacy by Editor]
---
1998
A. Hi, Andrew. Your 2nd option is probably the more practical one for your circumstances. Blackening processes usually involve very hot (240 °F+) Caustic Soda [affil link] , plus nitrates, perhaps sulfides. They are not really for the person who "doesn't know anything" about metal finishing. Hopefully a supporting advertiser that does blackening of stainless will respond in private and offer to process the chain mail for you at a reasonable cost. If not, check plating shops in our Jobshops Directory, or your yellow pages. Good luck.
Readers: this forum is only possible because supporting advertisers pay the costs. Responses should be limited to technical issues, not commercial issues like recommendations for particular shops. Thanks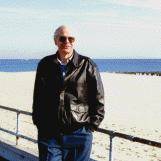 Ted Mooney
, P.E.
Striving to live Aloha
finishing.com - Pine Beach, New Jersey
---
1998
A. Andrew,
The cost of setup would exceed the cost of commercial black. It is a significant safety concern also.
Black oxide will be the cheapest. Find a shop that does it on stainless (it is a different chemical than plain steel). Normally it is oiled. A sprayed on black wax over the black oxide will give it a very nice deep black high gloss finish.
James Watts
- Navarre, Florida
---
1998
A. Our company manufactures the water features and fountains that you see at places like Disneyland, Universal Studios, etc. To blacken SSTL hardware, we use a matte black patina process
Bill Newton
---
2001
A. Andrew, look into gun blue (Birchwood-Casey Gun Blue [affil link]). You can buy it relatively cheap and it works great. I suggest soaking the mail in the stuff for at least an hour, while stirring the mail around so that everything gets covered. You can buy the stuff in the little bottles and try it out, and if you like, then just search online and get a bigger bottle. Best of luck. Hunter
Hunter Jones
- Nashville, Tennessee
---
2002
A. You will find that gun bluing does not work on stainless steel although gun smithing suppliers offer some options. Personally I would suggest unless you have experience with these coatings that you have it professionally done or do lots of practice on scraps.
Sean Duval
- Yuma, Arizona
---
---
Decorative Chrome Plating of Chainmail Fashion Accessories
2003
Q. Hi. I am currently doing Chainmail using Stainless Steel Rings. What is the best way to Decorative Chrome Plate my work? I want to add more luster to my finished chainmail fashion accessories? Can you give suggestions to the process? Plate rings or the finished products? thanks.
Francis Garcia
- Davao City, Davao del Sur, Philippines
---
2003
A. Hi Francis. It is probable that just electropolishing the stainless steel will give you plenty of shine. You could send a few rings to a jobshop for electropolishing and see what you think of them.
I am not too familiar with chainmail but believe it is a whole sheet of fabric made of interlocking rings. If that is the case, I think it would prove quite difficult to insure that every ring is under sufficient tension to insure good contact, and that therefore you will probably have to electropolish or chrome plate the individual rings.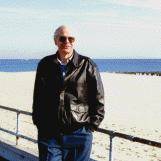 Ted Mooney
, P.E.
Striving to live Aloha
finishing.com - Pine Beach, New Jersey
---
---
Formulation of electropolishing solution for stainless steel?
2003
Q. What are the different electropolishing solutions for stainless steel and their chemical formulary? what are the different methods? would the complex shape of chainmail rings and pieces hamper the polishing process?
Francis Garcia
[returning]
- Davao City, Davao del Sur, Philippines
---
2003
A. Hi, Francis. Electropolishing should work easily on individual rings. On assembled chainmail it might be hard o get current to every link; I'm not sure.
The Electroplating Engineering Handbook lists a number of different formulas, as does the Metal Finishing Guidebook and ASM Metals Handbook Vol. 5. Good luck.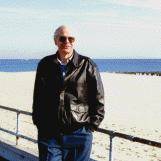 Ted Mooney
, P.E.
Striving to live Aloha
finishing.com - Pine Beach, New Jersey
---
---
2002
Small manufacturer of fashion products made from stainless steel mesh [chainmail] is Looking for processes or products to color or stain the mesh.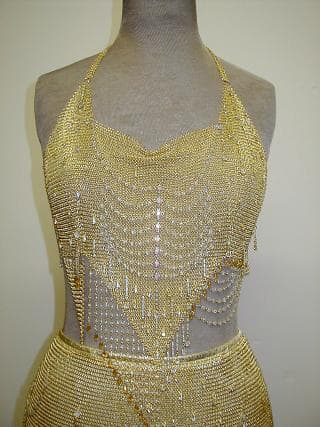 Anthony Ferrara
- Mansfield, Massachusetts
---
---
2005
Q. I am soon to acquire a shirt of chainmail armor that I would like to color black. Essentially it is a ring mesh which consists of individually welded grade 304 stainless steel rings with an outer diameter of 0.21" (5.3mm) and a wire diameter of 0.025" (0.64mm). You can see a picture of exactly what I mean at http://www.azoncorporation.com/Body_Armor/IMAG0010.JPG.

I was looking into hot black oxide processes, but it's been suggested that I should consider black nickel or black chrome instead. I am not well versed in finishing techniques, so am open to suggestions on the best way to accomplish this. My concern is that the rings of the mesh naturally rub against one another quite a bit, so whatever finish is used must be extremely durable, preferably something that embeds in the metal rather than simply being a surface coating (though I gather this is difficult with stainless).

If it helps, I'm not picky about whether the color is a perfect "jet black" so long as it is reasonably close (i.e. at first glance looks more "black" than "blue" or "brown").

Any and all suggestions on what the best finishing process to consider would be appreciated, even if not from a shop local to me, although of course I'd be most happy to find someone nearby to have the work done. "Local" in this case meaning southern NH where I live, or central MA where I work, either way. Your help is most appreciated!
Eric Garbos
Medieval Recreation Enthusiast - Nashua, New Hampshire, USA
---
---
Stainless chainmail turns my neck black
2003
Q. Hi,
I hope You can help me. I just bought a chainmaille choker and wonder if there is something I can coat it with to keep my neck from turning black from the stainless steel.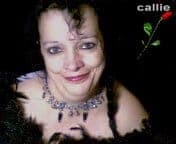 callie starr
- Saint John, New Brunswick, Canada
---
2003
A. Hmm... sounds like your stainless choker might be galvanized steel. Most chainmaille is made out of galvanized because it's much cheaper, and ages quickly into a more "authentic" look (true maille is from straight low carbon steel and rusts anyways). Galvanized turns the skin black really quickly -- not much you can do about it. You could have it plated, etc., but the cost isn't justifiable. If it's a true stainless steel you should have no to very little discoloring of the skin. Next time you buy a piece ask them what grade of steel it is. They should use a 300 series steel for best results. (I use 316 in the rare pieces I make, which has no discoloring and is hypoallergenic to like 99% of us).
Jason Aube
- Flint, Michigan
---
---
2006
Q. I would like to make my shiny stainless black. Why would I want to do that you may ask? Well, I'm an amateur chainmailer, yes like medieval chainmail. I'm going to be making a bracelet and I want shiny and blackened rings, because it looks better. I've found 2 different ways to do this, heat the stainless to 1200 °F or use a bluing agent, something like they use to color gun barrels. The heating up part I can probably do, if a propane torch can reach that high. The bluing agent, well, I wouldn't need that much, or I think I wouldn't. any help would be appreciated.
Nicholas Fuller
Student - Bullhead City, Arizona