topic 0937
Anodizing Titanium Alloys in Gold and Other Colors
A discussion started in 1997 but continuing through 2018
(1997)
Q. What is the best solution for anodizing titanium alloys? Also, what current and voltage ranges are appropriate to achieve a gold color.
Robert R
[last name deleted for privacy by Editor]
---
(1997)
A. I have seen these beautiful objects, and perhaps there are several solutions that can be used. Do you have the facilities to run some tests
Tom Pullizzi
Falls Township, Pennsylvania
---
(1997)
A. I have heard that the color changes with the voltage rather than the amperage. The exact alloy will very probably make a large difference in the exact voltage. Try 10-15% sulfuric.
James Watts
- Navarre, Florida
---
(1997)
A. A bath that can be used for anodizing titanium is:
phosphoric acid 80 w% Room temperature
sulphuric acid 10 w%
water 10 w%
The bath is controlled, as mentioned by James Watts, by the voltage. The voltage is critical.
Good luck.
J.H. Pennings
TNO INSTITUTE OF INDUSTRIAL TECHNOLOGY - Netherlands
---
(1997)
A. I have been coloring Ti for decorative use (on a small scale ) using Coca - Cola and stainless steel cathodes, powered from my anodising rectifier at ± 60 volts . The trick is in how long you dip it, the longer the darker. A couple of seconds is normally enough. It's a great party trick. By the way, the color is dependent on the lighting and finish of the part -- it is caused by diffraction of the light waves.
Dave Brackenridge
aerospace plating - Germiston, South Africa
---
(1997)
A. Oxalic Acid, Phosphoric Acid (Coke Cola) Sulfate of Ammonium (Fertilizer), TSP (trisodium phosphate [linked by editor to product info at Amazon])
All of the above mentioned chemicals will anodize refractory metals.
I have been anodizing refractory metals for the past 17 years and have not added sulfuric acids to my solution. Keep it simple and friendly
Bernie Wire
wire works
---
(1997)
A. Color anodizing titanium for appearance (not functional) can be achieved in most any sulfuric anodizing or hard anodizing bath by first cleaning the titanium in a nitric/hydrofluoric bath (25-35% nitric with 2-4 oz/gal hydrofluoric) for about 10-30 seconds. You then anodize the parts by slowly raising the voltage from the starting voltage. Color changes occur about ever 2-4 VDC. Color changes occur much like octaves on a piano - as you increase voltages the color changes will proceed thru several octave ranges. When you achieve the color you are seeking, record the voltage and anodize subsequent lots at that voltage - no need to raise the voltage slowly once it has been determined. If you don't like the coating, strip in the nitric/HF bath and try again. Good luck.
Kent Backus
Fort Worth, Texas, USA
---
(1998)
A. Robert,
I use a trisodium phosphate [linked by editor to product info at Amazon] solution (3% to 5% by weight) to anodize titanium and niobium. This solution is quite safe and gives excellent colors in a small scale operation. The quality of the color achieved depends on the surface finish of the part and its cleanliness, (free of dirt and all oils). Current should be low: I use about 2 amps on small parts. The bath should be kept below 80 °F. If the bath is too hot or the current too strong, the part will be etched and turn grey. The part must then be polished and anodized again. The voltage is what determines the color. I use a range of 20 to 75 volts. If I remember right, yellow occurs at about 42 volts. Also, I have read that it is best to use a cathode of the same material that you are anodizing.
Howard Bailey
---
---
(1998)
Q. I would like to build a rectifier for anodizing titanium. I know it should be DC but the only ones I have seen go up to 200 V DC which seems quite a lot. Do I need something this powerful and are there any other specifications I should know about?
Adam Wittig
metal Merchants
---
(1998)
Q. I an using TSP mixed with water to color small titanium parts and would like to know around what voltage would I need to get a gold color,, I'm using 3-4 9 volt batteries and have only got a really nice blue or purple. please help! What would it take to get "GOLD"
Mike wilson
- California
---
(1998)
A. Keep adding batteries in series until you get a goldish color. From a test piece on 0 to 200 volts, gold is near the middle. Unfortunately, 1 or 2 volts makes a difference in the exact shade that you get, so you will have to take what ever is near. As the batteries age, you will not get the exact color that you once did.
James Watts
- Navarre, Florida
---
---
(1998)
Q. When coloring titanium, what would be a better solution to use, TSP, or Sulfate of ammonium (Fertilizer)? or would a combination of the two work better? It's for little titanium parts. with 9 volt batteries being my power source. Please give me any information on the topic.
Thank You
Mike wilson
- California
---
(1999)
Q. Dear sir: What is the best specification to make spinning fishing reel's bail spring? Is it possible to have black or gold color? Best regard Paul Tse
Paul Tse
EKONG INTERNATIONAL COMPANY
(1999)
---
A. Dear Mr. Tse: I don't know whether titanium or stainless is a better spring material for you, although stainless steel seems much more common. Either can be effectively colorized, but I don't think that the typical decorative anodizing processes will give you consistent homogeneous gold or black. They are not among the typical diffraction (rainbow) colors; and while there are proprietary processes for obtaining it in both titanium and stainless, I personally don't know of any generic way.
Ted Mooney, P.E.
finishing.com
Pine Beach, New Jersey
---
---
December 29, 2011
Q. I used to anodize titanium with H2SO4 1M. To achieve Gold color I worked around 50 Volts. Now, I would like to know how I can produce hard anodizing. I tried to anodize with NaOH 1M and 10 M with pH 13, but I think that I could not achieve the dark gray that I wanted. Please, if somebody has a trick to give me about voltage, current or something to develop that process, I appreciate.
Guillermo Rueda Martinez
- Bucaramanga, Colombia
---
January 4, 2012
A. Hi, Guillermo. I personally haven't heard the term "hard anodizing" applied to titanium. But what you are calling "hard anodizing", I have heard called "alkaline anodizing". It is described in specification AMS 2488 [link by ed. to spec at TechStreet], which will give you some good information about the process. The exact conditions for good anodizing seem to be held as trade secret, so it is hard to find hints in print. If you search the site for "alkaline anodizing of titanium" or "Tiodize" (which is a company famous for this process), however, you will find many threads from which you can glean some info. Good luck.
Regards,
Ted Mooney, P.E.
finishing.com
Pine Beach, New Jersey
---
---
April 5, 2012
Q. Hi guys!

I've been anodizing aluminum for few years now and have started anodizing titanium few months ago and have been trying all kinds of different solutions and anodization methods. I came across this Ti anodization effect recently: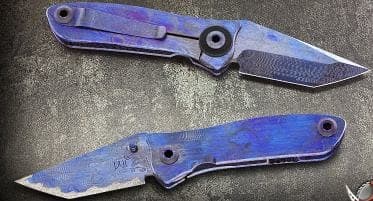 source: i.imgur.com/hRwJO.png
[Believed to be hand made by Warren Thomas]

Does anyone know how this was achieved? Any tips/pointers?

Thanks in advance!

Dave
Dave Jonas
- Toronto, Ontario, Canada
---
April 7, 2012
A. If the objects are titanium then you can anodize at 24 - 30 v,10 % phosphoric acid electrolyte (or any other electrolyte, even Coca-cola can be used). If objects are low alloyed steel then you can heat them to 300 ° C (with hot air gun). If objects are stainless steel then you can anodize them in potassium dichromate/sulphuric acid electrolyte. Good source of infos can be next download free booklet: attachments.wetpaintserv.us/ZLSnLKosv0l3CnE9hGDi7w488720
Hope it helps and good luck!
Goran Budija
- Zagreb, Croatia
----
Ed. note Jan 2017: Although wetpaintserv.us was a legitimate site when Goran posted it, it now appears to be a malware site. Don't go there!
Goran has been kind enough to upload his booklet to https://www.finishing.com/library/budija.pdf.
---
April 10, 2012
A. The item on the picture is a folding pocket knife handmade by Warren Thomas. If I'm not mistaken, it is made of a layered compound of titanium and other metals, called "Timascus" for its similarity to Damascus layered steel.

So, that effect you see is not achieved through anodization alone - the purple-violet shade is anodized titanium, but the ripples and swirls on the surface are in fact the edges of layers made of other metals. That effect is also known as "mokume" or "mokume gane".

That knife also has carbide on the edge of the blade to make it harder and longer-lasting.
David Lopez
- Madrid, Spain
----
Ed. note: Thanks for the terrific explanation, David. Thanks also for sourcing the picture so we can credit it (the pic was on a photo sharing site and we couldn't find notes of where the photo came from).
---
---
September 23, 2017
Q. Hello,

You mentioned that coloring Ti "black" is proprietary. Is the chemistry/technique available for purchase for someone on the market? If so who?
We use Niobium as a material for coloring. Can that be blackened as well?

Thanks,
Paul
Paul Lubitz
Holly Yashi - Arcata, California
---
September 2017
A. Hi Paul.
adv.
One vendor who I believe licenses this process is Russamer Lab [a finishing.com supporting advertiser]
Regards,
Ted Mooney, P.E. RET
finishing.com
Pine Beach, New Jersey
Striving to live "Aloha"
---
---
April 16, 2018
-- this entry appended to this thread by editor in lieu of spawning a duplicative thread
Q. I want a kind of anodizing process, will you suggest me to how can I do anodizing effect of titanium in precious metal gold.
Raj Verma
Saravsava jewels - Surat,India
---
April 20, 2018
A. According to Oppi Untrachts book Jewelry Concepts and Technology 5 -10 volts must be ok. Any electrolyte must work ... Hope it helps and Good Luck!
Goran Budija
- Zagreb,Croatia


This public forum has 60,000 threads. If you have a question in mind which seems off topic to this thread, you might prefer to Search the Site