topic 0911
Aluminium coating polymers
(1998)
I would like to know if I could coat rubber films (approx. 0.5mm thick) of natural rubber, pvc and polyurethane with a thin layer of Aluminium.
If so I would like to talk to people who can produce samples for me.
Tim Tickner
---
(1997)
The solvent would evaporate in the vacuum process. You can aluminum coat a very thin film of selected plastics and then apply the glue. There are several tape manufacturers doing similar right now. If you need an actual thick layer of aluminum, it would be a specialty manufacture. Not knowing what it needs for performance, no one can give you any more than a "probably" answer. Look up tape vendors and ask several.
James Watts
- Navarre, Florida
---
(1998)
G'day
I'm actually after the opposite. I need to find information on coating aluminium, so as to prevent incentive sparking in an underground coal mining situation.
Cheers,
Andrew
Andrew Ritchie
Mine Technik Australia
---
(1999)
Do you know the book The Surface Treatment & Finishing of Aluminum and its Alloys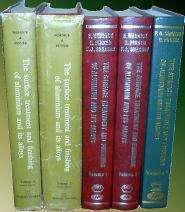 ? The authors are WERNICK, S., PINNER, R. and SHEASBY, P.G. The publisher is ASMI.
Danielle Tremblay
Aluminium R&D Centre of Quebec - Chicoutimi, Quebec, Canada
---
(1999)
All kinds of polymers, including rubber, are routinely coated with polymers by PVD processing. One application is EMI (Electromagnetic Interference) coatings. Andrew, phosphating generates an electrically conductive coating on aluminum.
Donald M. Mattox
Society of Vacuum Coaters
Albuquerque, New Mexico
Ed. note:
Mr. Mattox is
the author of -->
---
(2000)
I WOULD LIKE TO KNOW WHETHER ALUMINIUM IS COATED ON ANY OF POLYMER/PP/BO PP/POLYESTER/HDPE/PVC/. IF THIS IS POSSIBLE THEN WHAT TYPE OF MACHINERIES IS REQUIRED . PLEASE SEND ME FULL DETAILS REGARDING THIS. THANKING YOU YOURS SINCERELY K. LADHA
MR. K .LADHA
- CALCUTTA, INDIA


This public forum has 60,000 threads. If you have a question in mind which seems off topic to this thread, you might prefer to Search the Site