The world's most popular metal finishing site, and the internet's friendliest corner
topic 0476
Alkaline non-cyanide zinc plating vs. acid zinc
A discussion started in 1996 but continuing through 2019
1996
Q. We are working introducing cleaner technology in the Malaysian Industry - especially in the SMI's here. We are currently working with a plating shop who uses conventional "alkaline and cyanide" zinc plating.
We know the acidic cyanide free process, but is there any information on alkaline processes without cyanide ?
Shamsol Efendy
SIRIM
---
1996
A. All major supply houses have non cyanide alkaline zinc plating process. They are used for years and they are easy to operate. I don't know the suppliers in your place but Enthone-OMI and Mcgean-Rohco sell this process.
Sara Michaeli
chemical process supplier
Tel-Aviv, Israel
---
1996
A. There are 3 principal types of zinc plating: cyanide, acid, and alkaline non-cyanide.
The cyanide processes are the oldest technology, but cyanide processes are relatively easy to operate, versatile, and forgiving. Cyanide is a potent, fast-acting, poison and it is certainly a good idea to reduce its use.
Acid zinc is usually brighter, and is well suited to barrel plating, so that the great majority of barrel zinc platers use acid zinc. While acid zinc can also be used for rack plating, it lacks the throwing power of cyanide zinc, so it is often not a satisfactory substitute for chassis, and parts with crimped, staked, or spot welded features.
Alkaline non-cyanide zinc is reported to have good throwing power, so it is a better substitute than acid zinc for parts that require good throwing/covering power.
In substituting either alkaline non-cyanide or acid zinc to replace cyanide processes, remember that cyanide is "the world's best cleaner", and you may need to improve the pre-cleaning in order to make a satisfactory transition. Also remember that all zinc plating processes involve organic brighteners that can interfere with chromating, so that changes to the chromating procedures may be necessitated as well.
Ted Mooney, P.E.
finishing.com - Pine Beach, New Jersey
Striving to live Aloha
---
---
2001
Q. 1. What is the ratio of Alkaline vs Cyanide zinc plating installations in the world?
2. What are the advantages/disadvantages of alkaline vs cyanide zinc plating?
3. Is it true that surface preparation is more critical in case of alkaline zinc plating?
4. Is there a web page from which I can learn more about alkaline zinc plating and the defects associated with this process?
Kripa Venkatesh
- MH, India
---
2001
A. Hi Kripa.
1. I don't know, and doubt that anyone knows authoritatively. 10 years ago I would have said there were many more cyanide zinc plating installations in the U.S. than alkaline non-cyanide. Today, I am fairly confident that the reverse is true. But cyanide solutions are non-proprietary and have no vested advocate, whereas alkaline non-cyanide solutions are proprietary and promoted by vested interests; thus you would see more journal articles, more presentations, and more chatter about alkaline non-cyanide even if it were the less prevalent technology :-)
2. Cyanide solutions are non-proprietary and thus less expensive; the vendors of alkaline non-cyanide solutions claim that this is more than offset in waste water treatment costs, however. In performance there is probably little difference.
3. Cyanide is a very powerful cleaner, and decades ago the transition could be difficult because the parts got to the plating tank somewhat soiled; but a properly designed line doesn't rely on the plating tank offering cleaning ability anyway, and it's been a long time since last I saw a plating line for steel parts that lacked an electrocleaning tank.
4. The Metal Finishing Guidebook has a pretty good defects guide.
Ted Mooney, P.E.
finishing.com - Pine Beach, New Jersey
Striving to live Aloha
---
---
To minimize your searching efforts and to offer multiple viewpoints, we've combined some threads into the dialog you're viewing. Please forgive any resultant repetition or failures of chronological order.
---
---
Acid vs. non-cyanide alkaline zinc plating for fasteners
2002
Q. Hello Everybody,
For zinc plating of fasteners, alkaline zinc plating is having the faster deposition rate or acid - ammonium chloride process?
Regards,
Santosh Zope
wire - Dubai
---
2002
A. Depends on what thickness you finally want. If the thickness for barrel jobs you need is under 5 microns,then stick to Chloride zinc. If you want 10+ microns use alkaline zinc.
Khozem Vahaanwala
Saify Ind
Bangalore, Karnataka, India
---
2002
A. Dear Santosh,
Plating of Non Cyanide Alkaline Zinc is quite difficult process with regard to cost and maintenance. It require good quality attention to manage plating line. Its always better to have Acid Zinc line for fasteners. Since non cyanide zinc plating has bit of poor reception of passivation what I have observed.
Regards,
Nandkumar Barhate
- Mumbai
---
2002
A. Hi Santosh,
I would also recommend acid zinc but for a different reason: modern acid zincs can handle temperatures up to 40 °C quite well - alkaline zincs cannot. Acid zincs with potassium chloride are not as corrosive as the old ones and are very easy to run.
All the best,

Trudy Kastner
electroplating service - Durban, KZN, South Africa
---
June 10, 2008
A. If you really desire a good plating use duplex Zinc. i.e. First layer of Acid Zinc Followed by Alkaline Zinc. Alkaline Zinc because of it's columnar hollow microstructure receives good passivation layer thereby offering excellent corrosion resistance.
Abhay Bhagli
- Pune, India
---
June 16, 2010
A. Acid Zinc has the drawback of corrosion of machinery due to higher chloride content. But hydrogen embrittlement on high tensile fastener plating is the minimum among the various zinc plating processes.
Alkaline zinc can reduce neutralisation additives in ETP whereas rinsing should be very good; probably you need to have a hot water rinse after plating (especially for lower operating temperatures). If rinsing is not sufficient addition of chromate film will pose problem. In all the process needs to be monitored closely.
My suggestion is to go in for acid Zinc for fasteners.
Sundar Ramaswami
- Bangalore, Karnataka, India
---
December 15, 2010
A. Sir,
Alkaline zinc plating gives more NSS life than acid zinc plating but its process control requires more attention than acid zinc plating. I think productivity is less in alkaline zinc. So, in fasteners acid zinc is better than alkaline zinc for productivity.

Rameshwar Roy
fasteners - Bhiwadi, Rajasthan

---
---
To minimize your searching efforts and to offer multiple viewpoints, we've combined some threads into the dialog you're viewing. Please forgive any resultant repetition or failures of chronological order.
---
---
Comparison - Acid and Alkali Zinc Plating
2004
Q. Can anybody tell me the difference between Acid Zinc plating and Alkali Zinc plating? What are the modifications that I need to make in the m/c, bath and other setups to convert Acid to Alkali Zinc plating?
V S Magesh
engineer - Chennai, Tamil Nadu, India
---
2004
A. Hi V S Magesh,
The biggest improvement will be the plating rate in the low current density. I am not sure if this is the case with all alkaline zincs but it is with the product we use. The acid zinc plant is fine for alkaline zinc plating, however it is recommended to have a separate zinc anode dissolution tank off-line. The only disadvantage are the 5 additives, which take a little getting used to.
Good luck!

Trudy Kastner
electroplating service - Durban, KZN, South Africa
---
2004
A. Mr Magesh,
Alkaline cyanide-free Zinc will function as follows.
- A throw of 1:1 LCD to HCD.
- The plating uniformity will provide improved SST.
- A filter is necessary for continuous good result. Some people still don't use filters.
- The current will pass at lower volts saving some electricity.
- There are two regular additives and 2 auxiliary additives i.e., - a Purifier and a conditioner. . One fume suppressant. Easy to use.
- Process is summer-proofed, works up to 50 °C.
Good luck,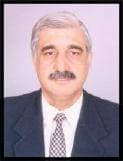 Asif Nurie
- New Delhi, India

With deep regret we
sadly advise that
Asif passed away
on Jan 24, 2016
---
---
February 15, 2016
-- this entry appended to this thread by editor in lieu of spawning a duplicative thread
Q. Sir,

I want to know the advantages of Alkaline Non Cyanide Barrel Plating over Acid Barrel plating for Zinc plating.
ARIJIT DAS
- JAMSHEDPUR, JHARKHAND, INDIA
---
February 2016
Hi Arijit. We appended your inquiry to a thread on the subject. Letter 34321, "Differences between chloride (acid) and alkaline zinc plating" offers additional perspectives, and patient use of the search engine will yield still more. But if you detail exactly what kind of parts you wish to plate, and the application, people can probably offer a specific recommendation. Good luck.
Regards,
Ted Mooney, P.E.
finishing.com - Pine Beach, New Jersey
Striving to live Aloha
---
---
Which zinc plating is best for cast iron, acid or alkaline
November 3, 2017
Q. Sir,

We are doing zinc alkaline plating on cast iron components. After a few hours black corrosion is developing in the casting surface. How to avoid this issue? Which process is best acid or alkaline?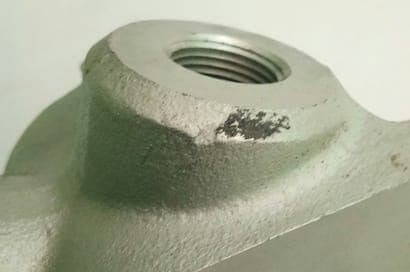 Sakthivel S
- Coimbatore, Tamilnadu, India
---
December 14, 2017
A. Hello,

Stick with Chloride Zinc.

Minimize Acid pickling and resultant carbon enrichment of the surface.

regards,
Khozem Vahaanwala
Saify Ind
Bengaluru, India
---
---
April 4, 2018
Q. Why throwing power is better in alkali zinc bath bath as compares to acid zinc bath, and efficiency is less in alkali zinc bath as compared to acid zinc electrolyte?
girish chandra
- bangalore, india
---
April 16, 2018
A. Hi Girish,

For throwing power, it is because of the form (and chemical functions) of the carrier involved in the plating process. In cyanide zinc, the carrier was the cyanide ion with a leveler of medium to high molecular weight, nowadays it is something with almost the same behaviour without the cyanide because of its hazard level. Alkaline conditions make zinc behave differently than in acid plating baths: zinc is dissolved in form of a hydroxy-complex instead of a lone plus-charged ion.

For efficiency, in alkaline conditions it is very difficult to avoid or diminish hydrogen production in the cathode. Brighteners and levelers maintain hydrogen overpotential high and the kinetics of this reaction slow, but from 1 to 30% of the current goes to hydrogen production. In alkaline conditions, it is very difficult to maintain less than 10% of hydrogen production, so efficiency is lower in this case. Acid zinc plating baths have a nominal efficiency of 99% and hydrogen overpotential can be maintained very high.

Hope it helps! Best regards,
Daniel Montanes
TEL - N FERRARIS - Canuelas, Buenos Aires, Argentina
---
---
February 15, 2019
Q. We were earlier using cyanide zinc and have recently shifted to alkaline zinc for plating springs made of high carbon steel. The issue we are facing is that after some time the zinc starts fading and gets dull with time. Is it something related to the dip we are using or is alkaline not suitable for high carbon steel?

Thanks & Regards
Akshay sharma
- Ghaziabad, India
---
February 22, 2019
A. Hi Akshay,

You say that the parts get dull with time, which would indicate that the process is suitable, as you have conforming product at the beginning.

Do you carry out any hull cell analysis? It may be you are depleting your brightener rather quickly. Try adding some to your hull cell and see whether the dullness moves further toward the low current density area (away from the anode). Also, check the bath chemistry, to make sure all the components are in the correct proportions.

Alternatively, take a sample and send to your chemical supplier (assuming you are using proprietary chemicals), they will be able to tell you whether the tank is in balance.
Brian Terry
Aerospace - Yeovil, Somerset, UK