60,000 Q&A topics -- Education, Aloha, & Fun
topic 0283
Finishing of Kenrick 19th Century Cast Iron
A discussion started in 1996 but continuing through 2019
1996
Q. I have a question regarding the finishing of 19th century cast iron. I have numerous items of Kenrick cast iron door furniture (knobs and knockers etc) manufactured between 1860 and 1895 in West Bromwich. They are of variable condition and if possible I would like to restore their original finish. I know that "bronzing" (if someone could define this in relation to cast iron I would appreciate it) was sometimes used as a finish in the late 1800's but I guess this was not the manufacturers original protective finish. Some of my items have a brown coating (not rust) over the cast iron that appears to be a finish that may have discolored.
Any information would be greatly appreciated.
J.Welch
---
A. In looking at "The Chemical Formulary", Volume 5, Chemical Publishing Co., Inc, 1941, Brooklyn, New York, it seemed to me that the original brown finish could be:
antiqued bronze plating ( electrolytically plate a clean iron surface with a copper-tin alloy, and dip in something which forms a brown surface (perhaps a sulfur compound) or they could have been bright bronze which weathered to the brown finish.
an organic coating. The one I would have you try first is British Patent # 494,963:
Heat

Tung Oil

[paid link to product info at Amazon]

200 gals. for 15-20 min. at 340 C. until it approaches gelatinous stage and then add sardine oil 20 gal. cool and then add whale oil 60 gal., sardine oil 200 gal. and 1/2 percent by volume of manganese cobalt drier. (If you get this on your clothes, don't bother going home)
Maybe a cadmium coating with some kind of post treatment, but you don't want to use this one, even if it is original. Cadmium is too poisonous, as it turns out.
So I think an antique bronze or bright bronze from a modern electroplating bath may be the best bet, depending upon how valuable these items are. I bet it would cost you US $20 or $30 a piece to deoxidize, strip, buff, plate, and antique these things to a nice finish.
Being into documentation, I would recommend that you describe the proper treatment for restoring the pieces, to try to avoid someone dissolving them away in the first pickle bath in which they are immersed. I'm not saying platers are stupid, but this kind of thing has happened before. Besides, do a good story on this, and we will publish your article on these pages. A scientific study of restorations makes for the most interesting reading. You know; before and after pictures, a photo op for some laboratory in a big corporation, charts and tables, a picture of you in some old library, blowing the dust off of some tome, it breaks up the dull day.
I would try to find some interested metallurgist in a materials lab who might do an Auger analysis, or somehow find out the composition of the coating and base metal. Armed with an analysis, you might get some plating consultant to write up the procedure to replate them.
Tom Pullizzi
Falls Township, Pennsylvania
---
2002
RFQ: I live in an old stone terrace house with old cast Iron bath in very small bathroom, the tub is 2 inches shorter than normal bath so replacing is not an option; it has been re-Enameled before but is now badly stained and turning brown but in good condition, but I am having trouble locating somewhere to purchase Enamel from, Can you help me? Any info would be appreciated.
Mr Neil Waters
- Wales, U.K.
---
A. The thing is, Neil, that the original enamel was probably porcelain enamel, applied something like how glass is made--with a ceramic frit that is melted and fused at extremely high temperature onto the cast iron. You can't do that, sorry, so you're restricted to paint (which just isn't as good).
Ted Mooney, P.E.
finishing.com - Pine Beach, New Jersey
Striving to live Aloha
---
March 21, 2013
Q. Hi,
could anyone help me in my quest to find information on a 19th century cast iron horse head / horseshoe door knocker which has the following wording on the back- REGD NOVR.1884 CARTER FOUNDRY No 484. Not having much success in my research at all so any help at all would be great.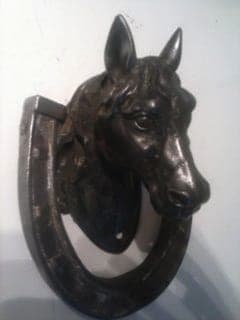 Many thanks

Gordon
Gordon Leavy
- Scotland
---
July 2, 2015
A. To my knowledge the finish on the "standard" Kenrick door knocker is not documented but porcelain enamel fills the bill, both from my observations of well preserved knockers and because its "hardness" is a real advantage. Whatever the finish used it was essential to prevent "rusting" in the English climate. I don't believe it was a "clear" lacquer or even a "coloured" lacquer [gold, bronze, etc.], which while the latter was used for brass microscopes, magic lantern lenses, etc., it would not able to survive the travails of the weather facing the outdoor knocker. With regard to Kenrick door knockers 2 additional finishes were offered in some cases, namely Berlin Black and French Bronze, at six pence extra [nearly an 30% more than the "base" price for the knocker]. This latter French Bronze finish is not uncommonly seen on late 19th century knockers causing vendors to refer to them as "brass". Incidentally, a local company [?], Porter's Original Paints, now supply a similar product called Liquid Bronze, which can be buffed to a similar finish. On some knockers a true brass component could be ordered -- e.g., the door plate mount --- but given the different moulding/casting procedures required for the separate pieces in cast iron and bronze [different chillers for example], the added expense was substantial. For example Kenrick No. 365 had a base price of 1 shilling and three pence but this became 5 shillings and six pence if supplied with just a brass centre rather than the cheaper cast iron.
Finally, sorry to be so boring, but not all cast iron is the same formulation with a higher carbon content [and hence more malleability for superb casting] was used on door knockers [given their "first impression" status] compared with cast iron boot scrapers. But I could be wrong. It would be important knowledge to have as wherever possible the original finish should be preserved.
But for heavily rusted items or those with multiple coats of paint I use a caustic paint-stripper to remove most paint [not always effective, but I haven't used a heat gun, yet] then any paint remaining using a brass wire brush. The final finishing I do with a 3000 Dremel and a Dremel 428 steel wire brush, and a final buff with a cotton Dremel brush. I like to feel that this is how the knocker looked coming out of the mould, so I do nothing more, just keep them free of moisture [hygroscopic crystals] in a display cabinet. Who says collectors are obsessive?
Garry Scroop
- Adelaide, South Australia
---
July 3, 2015

Hi again. Just an update on my previous answer. I supported Ted Moodey's comment about porcelain enameling as a likely finish on cast iron products of the 19th century. I now have some harder evidence to support him. In 1846 Timothy Kenrick of Kenrick and Sons at the West Bromwich Foundry was granted a patent for "the glazing and enameling of cast iron which led to investment and the growth of home and overseas sales"

I think all in all dear friends, that's a QED.
Garry Scroop
- Adelaide, South Australia
---
---
April 16, 2019
Q. Hello, I am not at all knowledgeable about this topic and would appreciate any input.
Recently purchased a door knocker from eBay that says Kenrick and No 313 on the back. It appears brass colored with dirt and other dark discolorations . Did Kenrick make brass colored knockers? From reading this thread seems like they made wrought iron. Is this correct? If so does anyone know if this can be a genuine Kenrick or a knockoff?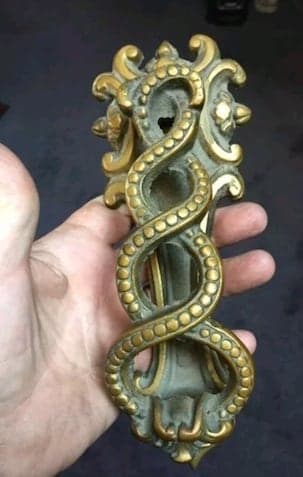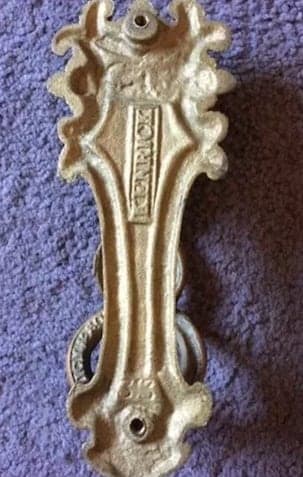 If anyone could tell me what best to use to restore it, would be very thankful.
Ross Mathew
- Stamford, Connecticut, USA
---
April 2019
A. Hi Ross. It doesn't look to me like it needs any restoration; I think the recessed areas are supposed to be blackish. A magnet will quickly tell you whether it's cast iron or (as I suspect) cast brass.
On the one hand, 'knockoff' can mean a recently made item built by a reputable outfit but in the general style of older traditional items; and on the other hand it can mean "counterfeit". Reputable outfits would certainly not cast the word "Kenrick" into their items; and, although your item is very beautiful and you should enjoy it, I doubt that it is so valuable as to inspire counterfeiting.
Regards,
Ted Mooney, P.E. RET
finishing.com - Pine Beach, New Jersey
Striving to live Aloha
---
April 19, 2019

Thank You Ted Mooney! Saw a 350$ diff. in price between mine and others online in 1st dibs, etc., hence the concern. Either way, like you said, will certainly enjoy.
Roshan Mathew
[returning]
- Stamford, Connecticut, USA
finishing.com is possible thanks to our supporting advertisers, including this shop: