topic 9905
Brush finishing of aluminum
(2001)
We are in the aircraft interiors business and frequently use anodized aluminum parts. We would like to know what is the best way to obtain a brush finish on the aluminum surface prior to anodizing. We have been experimenting with various types of steel brushes but are there any standard brushes available for this sort of work.
Salil Taneja
aerospace and aviation - Bangalore, India
---
(2001)
I have a question for you. Why do you want a brush finish on aluminum parts that are going to be anodized anyway? Normally the smoother the finish the more even the treatment. Unless it is for appearance sake, I don't understand the logic. Also, most anodizing works best with a surface finish of 12 to 18 RMS which is easily achieved using most mass finishing systems. If you want a textured finish, you might want to consider a rougher finish than 18 or a dry organic process after anodizing.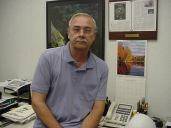 AF Kenton
Hatboro, Pennsylvania
---
(2001)
You might try wheels or pads made of ScotchBrite material. Because the abrasive medium is non-metallic, there is a greatly reduced chance of pitting corrosion during anodize. I do not know where you might obtain these locally, but an internet search should provide you a source.
Sjon Westre
- Minden, Nevada
---
June , 2008
Hi, Salil. Sjon is correct. Brush finishing is usually not actually done with brushes, but with sandpaper (or scotchbrite, of course). Usually a large belt sander, sometimes called a Timesaver, is used for this. It's usually more of a quick "scritch" than a slow brushing. Good luck.
Regards,
Ted Mooney, P.E.
finishing.com
Pine Beach, New Jersey


This public forum has 60,000 threads. If you have a question in mind which seems off topic to this thread, you might prefer to Search the Site