topic 9886
Final Finishing Problems
2001
Dear Friends,
I am representing a few importers in US, Europe and closely associated with about 200 different manufacturers in India who are directly involved in export of various Metal products related to Gifts, Home Furnishing, Accessories, Kitchen, Bathroom, Garden, Christmas, Hotel ware, Bar ware, Decoratives, Furniture etc.
The above products are made of Brass, (also Silver/Nickel/Chrome plated), Copper, Aluminum, stainless Steel, Iron(Steel), Sterling 925 Silver.
The items which are basically known as Indian Handicrafts are manufactured by the process of Hand crafting, Sand Casting, Stamping, Die Casted, Hand Forging, Precision manufacturing etc.
For your information China has been a great competitor for India and they are far away in technology, quality and pricing issue because of various factors.
In order to compete at least from quality point I am facing certain problems as mentioned below for which I would like to find a solution on each point raised below.
1. Our Manufacturers are never able to achieve a mirror like finish on Brass/Silverplated products and we can always see the brush/buffing marks on the pieces in the form of long lines the way the product has been moved the wheels. The polishing are done manually and not on automatic machine. Do you recommend one Semi-Automatic or any other type. Any idea of Cost?
2. On sand cast Brass/Silverplated/Silver products we normally see White spots (like small dots) appearing and this normally happens on Sand Casted Brass products after plating etc.
3. We are not able to achieve a smooth finish on the Steel (iron) products. We also do not have a technique for silver plating on Steel like we do on brass that gives a very shiny smooth mirror finish after plating as well as after lacquering.
4. The details like embossing, figurines, engraving/etching, are never crisp and clear when the final product is made. This is basically on Sand Casted Brass and Aluminum products. Further on the embossing designs we find a very rough patches that we are unable to clean or correct it. In other words any the areas between the embossing designs need to very crisp and clean to give a very good look. You can these embossing designs very cleanly on plastic plated products or some other metal products. We also see pit marks, pinholes, foreign particles etc on brass/aluminum products.
5. On the some unusual curved products we are not able to put a stamp or company logo very neatly. Is there any method available to do on all metal products specially on Iron, thin metal etc.
6. On Wrought iron items we have tremendous problems of Welding/Soldering marks appearing in big bubbles when we try to join different pieces.
7. What is the best quality composition, alloy for Brass and Aluminum for Sand Casting and Sheet items to give a very good look after plain polishing or plating.
8. We know there is a method to plate on Aluminum with different finishes.(both sand casted and sheet items). What is the best method to do plating on sand casted/sheet aluminum to give similar kind of finishes that normally we see on Brass plated or Solid Copper or Copper plated. What are other metal finishes that can be achieve by plating on Aluminum. If we lacquer Aluminum after the above type of plating is the finishing going to be same.
9. In India when we use lacquer on plated or solid metal items the color tends to fade and the shiny polish is not retained. Why is that happening and what is the method to retain the same shiny polish even after lacquering.
10. What are best soldering/welding material that can join the above metals to each other except the precious ones.
Thanking you in advance for all your help.
Vishwanathan Visweswaran
- Delhi, Delhi, India
---
2001
A lot of questions! I can only address 1 or 2. Regarding long marks on metal prior to plating, you might want to try non-woven wheels to get a more even smooth finish using existing equipment. However, if you have a lot of volume, you should look into mass finishing equipment. You have a lot of choices. I suspect you are looking at a 5 cu.ft. capacity machine system. That can run anywhere new from $3,000 to 10,000. What you put into this equipment will determine what you get out of it. Meaning you do not want to mix ferrous and non-ferrous metals in the same media and that also determines what abrasives you need. Shape and composition of the media is also determined by part size, configurations and existing RMS surface finish. More than likely, you will need more than one media to obtain a good acceptable surface finish for plating. You will need approx. 500 lbs. of media for above equip. and cutting media price is anywhere from .75/lb. to $1.50. Burnishing media can be any! where from $2.25 to $8.00/ lb.
Hope this helps a little.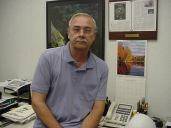 AF Kenton
Hatboro, Pennsylvania
---
2001
For the silver plating of the silver items made of steel, do you have a silver strike? - see any general finish hand book about these. The other option is to start the silver plating by putting a thin layer of copper on the part first - this is called a copper flash.
Martin Trigg-Hogarth
surface treatment shop - Stroud, Glos, England
---
July 24, 2011
As Martin Trigg has suggested I have done the same process, but the copper flash was immediately removed in vibratory polish.
Prakash Kajave
- Kolhapur, Maharashtra, India


If you have a question in mind which seems off topic, please Search the Site