topic 9864
Best Corrosion Resistant Finish for Black Powder "Old Ironsides" Muzzleloader?
2001
I have a 1/4 scale cannon barrel, a new muzzleloader. It will fire Fg or cannon grade black powder. The barrel comes from the manufacturer unfinished. Normally they use a black powdercoating sprayed on finish. Instead I wanted some sort of nickel coat without the tarnish problems. I've pondered over 2 coats of electroplate nickel followed by 2 coats of electroplate chrome, corrosion protection covered by a more durable finish.
What other finishes can give the corrosion resistance needed from black powder use plus long term durability of its finish with such appealing looks? What are the corrosion resistance properties of black chrome compared to nickel/chrome?
The barrel is 23" long with a 4" breech. It is a copy of the "Old Ironsides" naval gun on a naval carriage, the barrel weighs 65 lbs. What would be the best method to polish the barrel since it was turned on a lathe to prep it before finishing?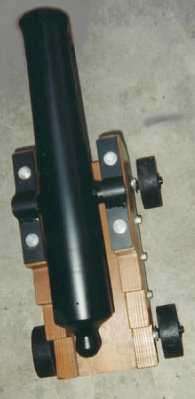 Robert Andrews
- Stone Mountain, Georgia




If you have a question in mind which seems off topic, please Search the Site