topic 9836
Surface Finishes On Stainless Steel
2001
We need to determine the surface finish on 304 S.S. parts after a vibratory de-burring operation. When left up to the subjective nature of individuals, it's only a guess. Is there an inexpensive method (or machine) available to do this? A comparator standard will only work with fairly course finishes. Maybe an optical device of some type?
W. George Barchenger
precision manufacturing - Grand Junction, Colorado
---
2001
There is a relatively inexpensive stylus type device called a profilometer that is commonly used to measure RMS surface finishes.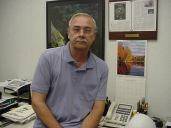 AF Kenton
Hatboro, Pennsylvania
---
2001
Hello George!
Among the references you want to see are the 112 page book titled "Surface Texture (Surface Roughness, Waviness, and Lay)" published as ANSI/ASME B46.1 [link by ed. to spec at TechStreet], which has been adopted by the ANSI. It is superb, and discusses just about all you'll need to know on the measurement of the topic. I'm sure it is available through ASME or ANSI.
You will also want to get your FREE copy of Publication 9012, on Finishes for Stainless Steel from the Nickel Development Institute. Surf over to www.nidi.org and fill out the on-line form, and they'll send one to you. While you're at it, pick up a copy of 9014- it too is superb.
The best on-line info I've found on the topic is at www.predev.com/smg/, a web page of a firm that makes surface metrology equipment. This gives a condensed version of the much more complete B46.1. If you consider their wares, let them know where you got the tip, so they'll consider supporting Ted's fine site.
If you decide to get someone to measure a few surfaces for you (as a lab service), give Larry Hanke, a guy I can recommend without hesitation, a call at Materials Evaluation and Engineering, Inc.
Good luck!

Lee Gearhart
metallurgist


If you have a question in mind which seems off topic, please Search the Site