topic 9823
Enquiry for burnishing method
(2001)
We are engaged in manufacturing of mild steel products which are bright chrome plated. We want to enquire about a mechanical preparation process to be carried on our products that is fast enough and repeatibility is good. Currently we are carrying the self tumbling of the products in steel barrels. To achieve the desired finish the tumbling process is too long. The mirror type finish is desired on to the parts prior to plating. Volume of parts to be finished is up to 600kg per day.
Please suggest a method that is cost effective with the minimum no. of machines to be carried in.
Amit Bansal
metal works - Amritsar, Punjab, India
---
(2001)
You have a couple of options. 1. If you are using a tumbling barrel, you can possibly add either porcelain or steel ball media to speed up processing. 2. Vibratory systems are 10 times faster than barrel systems. 3. High energy centrifugal disc or barrel systems are 10 times faster than vibratory systems. Costs of equipment is also almost a factor of 10 based upon the same capacity. Can't recommend equipment size until we know size of part and current surface finish.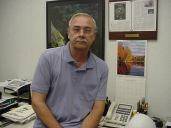 AF Kenton
Hatboro, Pennsylvania


This public forum has 60,000 threads. If you have a question in mind which seems off topic to this thread, you might prefer to Search the Site