topic 9743
Finishing Oak Plywood
2001
Q. I stained a piece of oak plywood and the grain was beautiful in its natural color. Then I stained it and the grain didn't hardly show it looked like maple. I bought the wood at Home Depot.
Would I have better luck buying oak ply at a lumber yard or is there a product I can use to fix this problem?
Thank you,
Tom N
[last name deleted for privacy by Editor]
- San Jose, California
---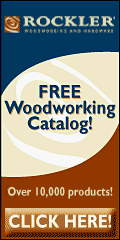 2001
What did you do differently between the first and second staining... the second stain that made the grain disappear just an additional coat? I'm very interested because I'm on the verge of staining a project made from Home Depot oak plywood..
Thanks!
Al S
[last name deleted for privacy by Editor]
- Rochester, Minnesota
---
(2003)
A. I recently purchased a 4 x 8 sheet of 3/4" plywood from Lowe's Home Improvement to make a stand for a big screen TV. I am not a skilled craftsman, but the finished product could match any fine furniture in terms of texture, grain, color, and touch. I used Minwax Provincial Stain [linked by editor to product info at Amazon] and Minwax Satin Polyurethane [linked by editor to product info at Amazon]. I would not hesitate to use the oak ply for any home project. [Don't forget to lightly sand with the grain and use a tack cloth to remove fine dust.]
Joe Maranto
- Baltimore, Maryland
---
February 2, 2010
A. You have to sand plywood (or any wood) before staining. This is necessary to make the grain more uniform and avoid splotching.

Remember that plywood has been stacked in heavy pallets, and exposed to vibration during shipping. This will create areas of wear (compressed fibers) and non-wear, depending on the variations of thickness across the sheet. These areas of wear will not absorb stain as well as areas that are still fresh from the mill's sander.

There are other possible reasons for splotchiness (bad sanding at the mill, dirt/oil during storage, your greasy hands, etc.) but sanding should solve all those.

To remove dust after sanding, I prefer a vacuum with a bristled brush head. A tack cloth can work too, but since the cloth is waxy, you can accidentally seal the wood with the wax if you rub too hard. Also, I personally think a vacuum gets rid of more dust, and faster too.
Chris Janicki
- Boston, Massachusetts


If you have a question in mind which seems off topic, please Search the Site