topic 9715
Patches on Hard Anodized Cooking Pan
(2001)
Dear sir,
I am writing you one small problem in anodizing field as you are the expert in this field. I hope you will find some time to go through this.
Recently our customer had faced a problem of patches in irregular pattern on the back side of the hard anodized cooking/frying pan at manufacturing stage. It's produced from a hard aluminium alloy (Alloying element Mn). According to our investigator, since there is no typical pattern of such patches, these patches may be due to anodizing problem. We are facing such a problem for the first time. Normally any surface defects related to differential metal structure or pick up during hot rolling comes in the form of "greyish streaks" or "structural streaks" after anodizing rolled sheets. On as cold rolled surfaces such defects are not visible.
However, are highlighted when anodized. But such defects are long in nature & are oriented in the direction of rolling. This lead to the conclusion that the defect might have originated during anodizing.
I request your comments on this defect.
Can you kindly suggest any tests which can identify the possible source of such defect.
I request you to also suggest me some literature (Books) on "DEFECTS IN ANODIZING".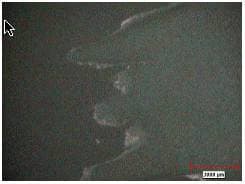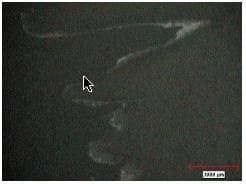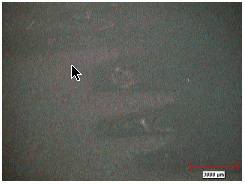 With due respects & warmest regards,
Shankar Nayak K M
-India
---
July 8, 2008
Hi, Shankar.
I agree with you that it looks to be a wet processing defect. You can see a normal side and a discolored side, but the discoloration is fairly obviously "outlined" in the typical "scum line" way that most water-related phenomena are. The easiest explanation may be that these particular pans were not properly dried, or became rewetted in storage.
A good book would be Arthur Brace's "Anodic Coating Defects", but it's out of print and very hard to find.
Regards,
Ted Mooney, P.E.
finishing.com
Pine Beach, New Jersey


This public forum has 60,000 threads. If you have a question in mind which seems off topic to this thread, you might prefer to Search the Site