topic 9651
Powder coating grows "spikes" after curing first coat
(2001)
We are powder painting metal products with two coats, the first one is a Eco Dorman base coat and the second is a Eco clear coat. Our problem is on the first coat with the "spikes" that comes after cure.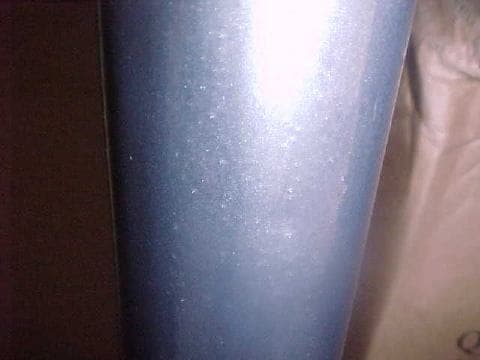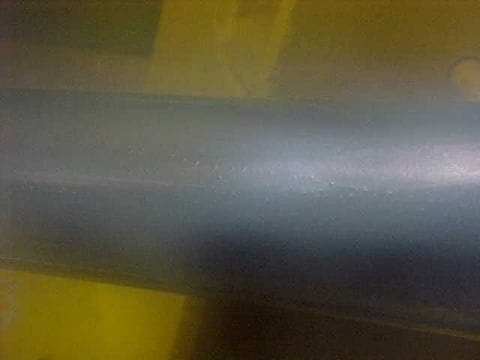 Juan Carlos Muniz
bicycles - Laredo, Texas
---
(2001)
Juan, the spikes in your photos look to be what is call pinholes or outgassing. Typically this type of defect is caused by a volatile material in the powder coating or the surface of the part. During the curing process, there is enough heat to boil/vaporize this material and this causes the defects you see in your first coat.
To locate the source of the problem, you may want to hand clean some steel test panels and powder coat them with the problem color coat. If the panels develop pinholes, it is likely the problem is with the powder coating. You could then try the same experiment with fresh powder to see if the problem is with that batch of material. Your powder coating supplier should be able to help you trace down this problem.
Roy Nuss
Trevose, Pennsylvania, USA
---
(2001)
Juan,
I have seen similar defect to the defects that are displayed in the pictures you posted. It looks like a common problem experienced by most powder sprayers at some time. The defects are caused by powder building up at the end of your gun the being deposited on to the workpiece in lumps. There are a number of possible reasons for this occurrence, of which the most common is that your guns kV is set too high. A lot of people spray at 100kV when there is no real need and this can cause these defects, try turning down the kV to 70.
Other possible causes are poor fluidisation of the product or water in your airline (Spray the air into a clean handkerchief to test this.) One other possibility is if the powder you are spraying is metallic. In this instance it is the metallic particles which accumulate at the end of your gun, if this is the case you will need to turn the kV down even lower that 70, there is no real text book value but I would suggest a good starting point is 50kV.
I would also make sure that the substrate is thoroughly clean before spraying.
Hope this helps,
Drew Devlin
- Lincolnshire, UK


This public forum has 60,000 threads. If you have a question in mind which seems off topic to this thread, you might prefer to Search the Site