topic 9598
Need Red Chromate
(2001)
Q. Does anyone know of a way to get a conductive/protecting coating on aluminum like yellow chromate except with a red color?
Patrick Kelly
- Manchester, New Hampshire
---
First of three simultaneous responses -- (2001)
A. Patrick:
If you are currently using a yellow chromate, the protective/conductive coating that is provided by your chromate can be dyed red. The process of coloring aluminum chromate conversion coatings is quite simple and not that expensive.
Mark Huff
- Monroe, No. Carolina
---
Second of three simultaneous responses -- (2001)
A. You can get dyes for chromate coatings - try your supply house.
Martin Trigg-Hogarth
surface treatment shop - Stroud, Glos, England
---
Third of three simultaneous responses -- (2001)
A. I'm only familiar with Alodine brand conversion coatings. I suspect you may be using the Alodine 1200s product which yields this degree of color if the solution concentration is high, and/or the immersion time is too long. You may obtain the resulting color you wish by varying immersion time.
Dado Macapagal
- Toronto, Ontario, Canada
---
(2001)
A. A manufacturer of anodize dyes, Clariant Corp., also makes dyes for chromate. The ones we have tried have not worked very well for our purposes, but you may want to try yourself.
David A. Kraft
- Long Island City, New York
---
December 19, 2012
A. Update! This dialog pre-dated RoHS requirements and the widespread adoption of trivalent chromates. If you wish to comply with RoHS, you must use trivalent chromates or non-chromate conversion coatings. Some of these may be dyed to red color, but if you must also comply with military spec Mil-DTL-5541, you are currently stuck -- because the approved NAVAIR-developed trivalent coatings (TCP) cannot be dyed.
Regards,
Ted Mooney, P.E.
finishing.com
Pine Beach, New Jersey
---
---
December 18, 2012
Q. While refinishing hardware on my own, generally electro-deposited zinc with various color trivalent chromates, I managed to come across a handful of nuts that are red. Seems the restoration community believes these to be red dichromate. I have managed to find black, OD, yellow and clear blue, I have no had any luck finding a red.

Is it possible red does not exist and that perhaps the red color is something else?

If it does, is it available in a trivalent or hexavalent form?

Any idea who may carry it?

Attached are 2 photo's, one of the original components with the red coating, and the second with what a supplier currently issues as correct. Could you please clear up if this is really a red chromate or really just a dye of some sort as I have not come across any red chromates.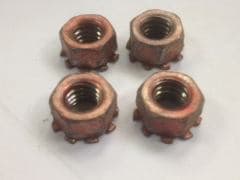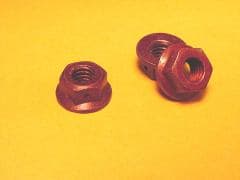 I must admit that I only need to cover about 8 nuts, so unless I can find a small quantity, it may not be cost beneficial.

Thanks for the help
Lew Bisbing
hobby - Mesa, Arizona, USA
---
December 19, 2012
A. Hi Lew. To my knowledge there is not and never has been a red chromate, so any red color you are seeing is dye. Different people may justifiably expect a different look.
I doubt that you will easily find a plating shop with both an installed red dye and a willingness to process 8 nuts. Since this appears to be a non-critical hobbyist desire, I think I'd try a red indelible marker on yellow chromated nuts. Good luck.
Regards,
Ted Mooney, P.E.
finishing.com
Pine Beach, New Jersey
---
December 20, 2012

Thanks Ted, I'll find a suitable dye to replicate the finish, knowing their is no red chromate will enable me to end my hunt for a product that doesn't exist.
Lew Bisbing
- Mesa, Arizona, USA


This public forum has 60,000 threads. If you have a question in mind which seems off topic to this thread, you might prefer to Search the Site