topic 9418
Pitting corrosion on pure copper under high salty environment
(2001)
I am looking for information on pitting corrosion on pure copper under high salty environment, i.e. sea water. I am hoping to gather the pourbaix diagram and etc as well.
Thanks,
John Hubert
- New York, USA
---
(2001)
Hi,
I'm doing a research for the same thing. If you have any info (books, journals, websites) about copper pitting corrosion please let me know.
Thanx,
Aditia Hermawan
University of Indonesia - Jakarta, Indonesia
---
(2005)
Finding compilation of copper data in one book is nearly impossible (try ASM).
At any case, Uhlig's Corrosion Handbook on page 1183 describes how to build a pourbaix diagram. All you need is the knowledge of Nernst equation and some good reference or lab data (i.e. CRC) Fonta Corrosion Center at Ohio State and NACE do have some pourbaix data on copper but I cannot forward them to you.
For copper pitting issues, the best book is Pitting and Crevice Corrosion by Z. Szklarska- Smialowska.
Always remember, over 95% of Pourbaix diagrams are constructed at 25 deg C..It is only good for thermodynamic evaluation and kinetics are never taken into consideration.
Here some data that should help. Majority of Cl-Cu pourbaix will look identical.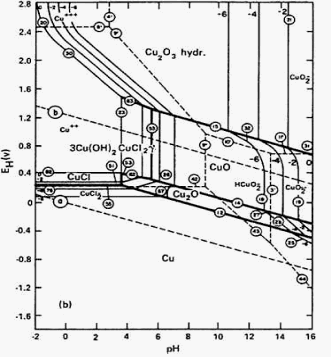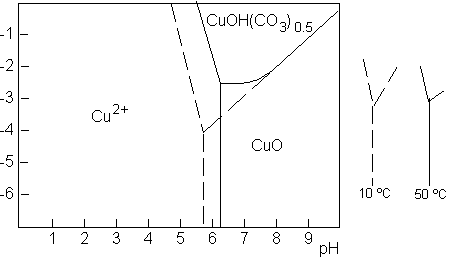 Kam Dianatkhah
- Dallas, Texas


This public forum has 60,000 threads. If you have a question in mind which seems off topic to this thread, you might prefer to Search the Site