topic 9342
Green Anodize has "Dull Finish"
2001
We are a Job Shop in Central Virginia. Some of the parts we manufacture from 6061 aluminum require Green Anodize which we sub-contract. We are having trouble determining what surface treatment/preparation we need to do in our shop to insure these parts come back looking "Bright" with a "consistent" color. Most of the parts have some welding and we use a compatible filler rod. The weld itself looks good but is the heat causing problems elsewhere? Some parts have spots, some are dull (probably from Scotch-brighting), some are light, some are dark. These are tubular parts made from pipe or tubing 4" to 8" I.D. X 6" to 28" long.
Bill Leech
precision tooling - Lynchburg, Virginia
---
2001
Bill,
Bright is a function of smoothness or RMS surface profile. The smoother the surface, the brighter the parts and the lower the RMS. Normal range for "bright" could be anywhere from 8 to 18 RMS. Your spotting problems seem to be coming from somewhere else. Either it is a pre-treatment cleaning or chemical problem.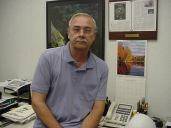 AF Kenton
Hatboro, Pennsylvania


If you have a question in mind which seems off topic, please Search the Site