topic 9220
Removing rust on stainless steel
2001
I am wondering if anyone knows what the easiest yet fastest way to remove rust off vault stainless steel safe deposit box lids would be?
Thanx.
J.D. Stone
- Sunray, Texas
---
2001
Try dissolving citric acid crystals (available in most health food store additives section) in hot water, then using gloves to wipe the mix onto your surface liberally. Keep the solution hot. A good test to see if your mix is acidic enough, is to dip a penny into it and it should instantly become corrosion free. Then rinse the steel with cool distilled water. This should "passivate" your stainless steel to inhibit your rust problem.
Jeff Swayze
- Kelowna B.C., Canada
---
(2005)
For removing rust from stainless steel, you can use pickling gel which are very easy to apply on any surface ( even vertical SS surface ) and keep there for some 10 - 20 min. or even less depending on initial condition of surface. And then wash with water. You will totally get rid of rust, scales, discoloration, corrosion spots , annealing black scale etc. from the surface without wire brushing or grinding process.

Hope this will answer to your problem.
Vinay Golwala
- Mumbai ( Bombay ), India
---
(2007)
I USED AN ORANGE BASED GREASE REMOVER ON MY STAINLESS STEEL STOVE TOP. IT LEFT A LOT OF RUST SPOTS ON IT. IS THERE ANYTHING I CAN DO TO REPAIR THIS DAMAGE? THERE MUST BE A WAY TO BUFF IT OUT AND THEN SOME KIND OF FINISH OR PAINT TO FIX IT WITH, I JUST DON'T KNOW WHERE TO START. SOMEONE PLEASE HELP ME WITH THIS PROBLEM IF YOU CAN.
DAN FRIESSEN
CONSUMER - DALLAS, Texas
---
(2007)
Barkeepers Friend
[linked by editor to product info at Amazon]
liquid worked wonderfully on my rust stains on a stainless steel sink.
Brian Wideman
Retired - Waterford, Michigan
---
December 6, 2009
Scratch-B-Gone quickly and safely removes rust and chemical stain, as well as scratches from Stainless surfaces and leaves a protective barrier behind to protect against future problems.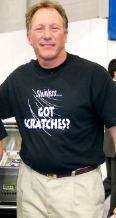 Barry Feinman
BarrysRestoreItAll
Carlsbad, California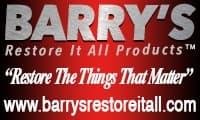 If you have a question in mind which seems off topic, please Search the Site