topic 9065
IMPURITIES IN NICKEL PLATING BATH
2001
Q. We want to know the best method to test nitrate content in nickel plating bath and in nickel sulphate. What is the maximum impurities of nitrate allowed in nickel plating bath? How to remove nitrate from nickel plating bath?
Please suggest.
G.VIJAYKUMAR
- COIMBATORE, TN, INDIA
---
2001
A. Dear Vijaykumar,
The Blue ring end point test using .......... as an indicator is the simple test for Nitrates in Nickel solutions..
The best indicator to determine whether the bath is usable is to plate a hull cell at 1 amp for 10 minutes at the usual pH od 4.2 o 4.5. If Pits are seen in profusion you need to make up a new bath.
The tolerance of different proprietary processes to Nitrate varies very slightly but a safe tolerance could be less than 10 ppm.
The bath can be sold to a maker of Nickel salts for the value of Nickel it Contains.
If you have time and patience boil the nickel solution in SS 316 containers for 30 minutes ( BOIL..like making tea ) and it is possible to drive off the Nitrates as the oxide. No laughing matter I assure you.
You need carbon treat thereafter, make up the brighteners and carriers. Take care of the Nitric acid in your factory next time and ensure it is only Sulfuric used to adjust pH.
Good luck.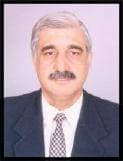 Asif Nurie
- New Delhi, India

With deep regret we
sadly advise that
Asif passed away
on Jan 24, 2016


If you have a question in mind which seems off topic, please Search the Site