topic 9061
Stainless steel laser etch and passivating
An ongoing discussion from 2000 through 2015 . . .
2000
Q. Hi,
I am having trouble passivating small laser marked components made of 420F free machining stainless steel. When I receive the parts from the vendor that does the marking, the marks are dark and smooth (just the way my customer wants them). Unfortunately, upon passivation one or more of the following problems often occur:
a. The darkness (from the carbon that the laser brought out of the alloy?) fades or disappears.
b. Rust appears at the marks.
c. Stains appear elsewhere on the parts.
d. Surface damage to the part occurs from acid attack.
I rarely experience any problems with 420F parts that are not laser marked.
My passivation process is as follows:
1. Ultrasonic cleaning @ 140 °F in a 5% solution of Loctite "Natural Blue" for 30 minutes.
2. Rinse in R.O. water.
3. Soak in a 5% sodium hydroxide solution, 30 min. @ 170 °F.
4. Rinse in R.O. water.
5. Soak in a 50% nitric acid solution , 30 min.@ 130 °F.
6. Rinse in R.O. water.
7. Soak in a 5% sodium hydroxide solution, 30 min. @ 170 °F.
8. Rinse in R.O. water.
Any ideas out there that won't cost a small fortune? Thanks,
Mike Kiser
- Bloomington, Indiana, USA
---
---
To minimize your searching efforts and to offer multiple viewpoints, we've combined some threads into the dialog you're viewing. Please forgive any resultant repetition or failures of chronological order.
---
---
Should I Passivate Before or After I Laser Mark my Low Grade SS Parts?
2000
Q. Should I passivate before or after I laser mark my low grade SS parts, or not passivate at all?
The steel I have is such a low grade of Stainless that technically I can't call it stainless. I'm told it might be close to a 400 series.
We received our first parts with a brown laser mark and have found some rust on the laser marks.
If I passivate the parts after laser marking will that solve my problem, will I loose the laser marking after passivation? Thanks for your help Gary
Gary Gillis
- Howell, Michigan, USA
---
---
To minimize your searching efforts and to offer multiple viewpoints, we've combined some threads into the dialog you're viewing. Please forgive any resultant repetition or failures of chronological order.
---
---
2001
Q. I am a designer of Medical devices/instruments. The primary material in use is stainless steel, 17-4 PH heat-treated to H-900 condition.
After laser etching part numbers, we have the instruments passivated for corrosion resistance.
After passivation, our laser etching is all but non-existent. If we laser etch before passivation, the area of laser etch corrodes after autoclaving.
Any suggestions on how to finish for corrosion or laser etching with reference to technical documents would be appreciated
Anthony Rubino
- San Diego, California
---
---
2004
Q. We are currently in disagreement with our customer over whether the brown oxide from laser etching on 17-4 Stainless Steel should remain after Citric Acid Passivation to a surgical company's spec. Tools are used to tighten and place screws and pins into the human body. We say etching should be clean after processing, customer wants lettering to be visibly dark.
Process; (1) Glass bead tools to mil spec. (2) Customer picks up parts and sends out to laser etch letters and numbers onto parts. (3) Parts are returned to us for Citric Acid passivation and test per Koslow [a finishing.com supporting advertiser] method. Surgical company specs say to specifically test spot near working tip and on lettering. Parts fail Koslow test on lettering, in fact the test itself removes some dark lettering. Customer takes parts without certs. because project is running late. Last load 80% of smut was removed from lettering and we are now blamed for ruining the parts! Other than smut removal, part has not changed dimensionally or surface texture wise.
It is our opinion the glass bead blast before etching is to provide a contrasting background for the lettering after passivation. Also when parts pass Koslow test no smut is visible in lettering, etching is shiny compared to glass beaded surface. We do not want to lose this customer but he is dictating his needs contrary to the spec. and will not allow parts to form passive film before testing. Wants them now!
Paul Szymanowski
plating - Erie, Pennsylvania, USA
---
---
(2005)
Q. We are a medical manufacturer of instruments and implants. We typically laser etch 17-4, 440C, & Titanium.
We have a reoccurring problem with etching. The etched surface will corrode (rust) after nitric passivation treatment. Re-polish /buff, cleaning and laser etching again does no good.
Does anyone have any knowledge on this issue dealing with laser etching and passivation?
Gene Christman
Medical Manufacturer - Fort Wayne, Indiana USA
---
---
October 23, 2010
-- this entry appended to this thread by editor in lieu of spawning a duplicative thread
Q. I just started a new laser etch process (YAG Laser) for marking on 304 stainless steel, the depth is about 0.05 to 0.1 mm, after the laser etch, I found "brown layer" on the surrounding area, any chemical can remove this "brown layer"?

Thanks
Ken Low
Production - Singapore
---
---
August 3, 2012
Q. We use the Citrisurf citric acid product and have good success for the most part. Some items do very well, and some do poorly. It must be the Chrome issue brought up by another answer. It is a bit of an art to passivate w/o removing the etch. We dipped them in a heated bath for awhile, but had some instruments that didn't fair well. We primarily use the Gel form and it works well. What I suspect is the use of highly alkaline cleaning solutions being used by hospitals causing the staining. There is very little actual Rust. I'm looking into just Acid etching now. Anyone need a really good fiber marking laser? What concentration of Nitric acid was being recommended? I wanted to try that on a few particular instruments that the Citrisurf seems to dislike.
Joe B Black
surgical instruments - Tucker, Georgia, United States
---
May 9, 2013
Q. Hello
Somebody can recommend for the most effective procedure for passivation? What the best acid to use and what should be the percent of it?
Michael Rachilevsky
- Tel Aviv, Israel
---
---
How to mark polished stainless steel?
February 28, 2015
Q. I sell polished stainless steel tools online. These tools will be used with massage oil/creme and cleaned with alcohol regularly. Currently they are CNC engraved.
I would like to be able to offer personalization (customer name put on tool) as an option. I saw some laser cutters/engravers on eBay for under $500 and thought that would be great, but found out they will not work. Then I found they "may" work if I used some liquid ink (Ceramark/Thermark or something similar) and had the laser go over it a couple of times. I then looked into lasers with enough power to engrave/etch directly in one pass, but they seem to cost about 20K. Way more than I can spend and also laser pricing is well hidden by the manufacturers ... you need to contact a distributor with all your personal info just to see if the price will fit my limited budget.
As I plan on charging $20-25 for this service that limits the cost of hardware. I have also seen the Etch-0-matic but not sure it lends itself to making a lot of unique marks. How can I permanently mark customer names on my products from home?

Thank you in advance,

Mike
Michael Hartman
- Caldwell, Idaho USA
---
May 10, 2015
Q. In desperation I finally found this board, and and really hope someone can assist me. And have ready though all the previous threads and it seems like a general problem all round.
We engrave medical bracelets for a client (stainless steel grade 4) and currently use a local supplier of "etching paste" which they will not reveal the contents of. The cost cost of this paste is almost 1/2 the price of other like Thermark LMM14 (exchange rate etc etc) and lately we have had a lot of comebacks with the black mark wearing off. I read in a previous post of a Thermark bonding agent that "frizzles" it as the gentleman explain it but cannot find this on Thermark website. Do you have any more info on this perhaps?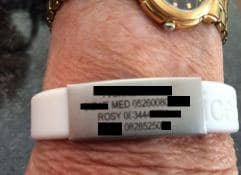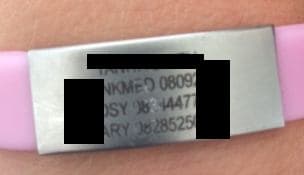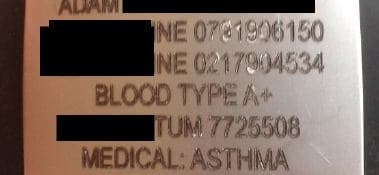 Also, as this is an item worn on the wrist and is subject the quite a lot of surface wear (particularly athletes or people in wheelchairs who constantly brush against the chair as they move about), obviously there must a limit to the lifespan of these items. Is there any industry standard indicating such limits that I can impart to my client?
Any help will be much appreciated.
Charlie
Charles van der Spuy
laser engravers - Cape Town, South Africa


If you have a question in mind which seems off topic, please Search the Site