Where the world gathers for
plating, anodizing, & finishing Q&As since 1989
-----
Stainless steel laser etch and passivation

www.finishing.com is made possible by supporting advertisers ...
this text gets replaced with bannerText

Q. Hi Team,

From a medical device manufacturing company, Do we need to validate stainless steel (Irrespective of grades) post passivation test after laser marking? Since ASTM A967 [affil link] touches based on Chromium % of stainless steels. Since we are not getting same result in the with the same process parameters and same Chromium % steels. Any experiments or support to conclude and follow a test post passivation after laser marking??!!
PREM KUMAR DHANAPAL
Private employee - Perai, Pulau pinang, Malaysia
December 23, 2022
A. The laser-etched area has iron oxides on the surface. These oxides makes the laser-etched surface to be visible to the optic devices. It is important to leave the laser-etched surface not impacted with passivation procedure. Both citric, nitric and hydrogen peroxide solutions, if staying longer than 20-30 seconds, will begin to clear the laser-etched surface.

Passivation instructions:

Degreasing and rinsing.
Prepare the modified passivation solution:
5-10g/l (85% Phosphoric acid
0.5 g/l NaCl (kosher salt)
1% Hydrogen peroxide solution.

Use plastic mesh to submerge single-layer parts into room temperature passivating solution. Hold for 20 seconds, remove, rinse with tap water. Submerge into solution of 5% sodium carbonate, rinse again. Submerge into rinsing tank again and check that pH is neutral. Submerge into the tank with deionized water. Dry. If parts are in form of tubes, make sure all water is dried out from the tubes.

Be sure that after passivation the SS parts are rinsed in deionized water and dried completely. Humidity destroys 420SS during extended storage time. Make sure that the storage area is dehumidified.
Also take special precautions when packing that the parts do not touch each other, in order to prevent damage to passivated film.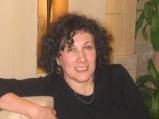 Anna Berkovich
Russamer Lab

Pittsburgh, Pennsylvania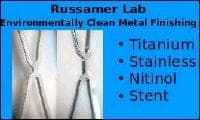 A. I would say that in general, "do we need to" questions are a matter between you and your customers. ASTM A967 [affil link] for example is not written with medical applications in mind, though other medical devices standards do refer to it.

If it were up to me, I wouldn't worry to much about "validating" the passivation of a laser mark on stainless. Run it in a citric acid process and cut the time short if need be to prevent the laser mark from being ruined. If you really want to run a test, in my experience the best one for laser marks in the boiling distilled water immersion test (listed in A967 and ASTM F1089 [affil link] ).

I'm not sure what you mean about chromium % unless you're looking at the copper sulphate [adv: item on eBay & Amazon]test method. copper sulphate is very prone to false failures on laser marks, mainly because you can never really passivate a laser mark to the same degree as the unmarked steel.
January 9, 2023

Ray Kremer
Stellar Solutions, Inc.

McHenry, Illinois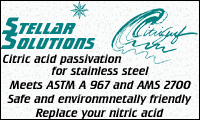 ---
---
↓ Closely related postings, oldest first ↓
---
---
Q. Hi,
I am having trouble passivating small laser marked components made of 420F free machining stainless steel. When I receive the parts from the vendor that does the marking, the marks are dark and smooth (just the way my customer wants them). Unfortunately, upon passivation one or more of the following problems often occur:
a. The darkness (from the carbon that the laser brought out of the alloy?) fades or disappears.
b. Rust appears at the marks.
c. Stains appear elsewhere on the parts.
d. Surface damage to the part occurs from acid attack.
I rarely experience any problems with 420F parts that are not laser marked.
My passivation process is as follows:
1. Ultrasonic cleaning @ 140 °F in a 5% solution of Loctite "Natural Blue" for 30 minutes.
2. Rinse in R.O. water.
3. Soak in a 5% sodium hydroxide solution, 30 min. @ 170 °F.
4. Rinse in R.O. water.
5. Soak in a 50% nitric acid solution , 30 min.@ 130 °F.
6. Rinse in R.O. water.
7. Soak in a 5% sodium hydroxide solution, 30 min. @ 170 °F.
8. Rinse in R.O. water.
Any ideas out there that won't cost a small fortune? Thanks,
Mike Kiser
- Bloomington, Indiana, USA
2000
A. Hi Mike,
Laser marked colors are generally made of inorganic chemicals that are soluble in acid solutions. As a consequence, the colors will disappear during etching. Furthermore, some of the dissolved color components are able to attack metals.
In general, laser marking operation follows surface finishing. You should be able to get rid of this problem by changing the process.
Ling
Ling Hao
- Grand Rapids, Michigan
A. adv.
We have had great success on this application with our CitriSurf 2250, a citric acid proprietary blend that provides much improved corrosion resistance and lower reject rates for many surgical instrument manufacturers and orthopedic manufacturers. It is a much easier process, yet produces improved results.
However, we have also found that any laser etched surface is going to be the weakest link on the surface, and a potential corrosion site. We have recommended to some manufacturers that they etch a little deeper with the laser and then completely remove the black oxide. This produces an "engraved" surface that looks excellent and has maximum corrosion resistance long term. This can all be done easily.
Please contact me for more details or if you want tests run.


Lee Kremer
Stellar Solutions, Inc.

McHenry, Illinois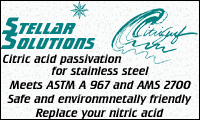 A. We mark medical and aerospace components daily, and have not heard of this problem with regards to the laser marking we provide. It is possible that your supplier is putting a very fast pass with the laser to achieve price points required. If you allow the beam to dwell longer by slowing down speeds or putting multiple passes on product the mark will be blacker and will not go away.
Jeffrey Feinberg
- Chatsworth, California, USA
2001
---
---
Multiple threads were merged: please forgive repetition, chronology errors, or disrespect towards other postings [they weren't on the same page] :-)
---
---
Should I Passivate Before or After I Laser Mark my Low Grade SS Parts?
Q. Should I passivate before or after I laser mark my low grade SS parts, or not passivate at all?
The steel I have is such a low grade of Stainless that technically I can't call it stainless. I'm told it might be close to a 400 series.
We received our first parts with a brown laser mark and have found some rust on the laser marks.
If I passivate the parts after laser marking will that solve my problem, will I loose the laser marking after passivation? Thanks for your help Gary
Gary Gillis
- Howell, Michigan, USA
2000
A. If you are getting rust more in your laser mark, than on the rest of the part, I would say that you should passivate after the marking. I don't believe that you remove much material during a proper passivation. But at any rate, you should be able to easily test some scrap parts before going to full production with the new process. -tom


Tom Pullizzi
Falls Township, Pennsylvania

Thanks for the suggestion Tom, I will give it try!
Gary Gillis
[returning]
- Howell, Michigan, USA
A. adv.
Gary, the surgical instrument industry has attained dramatic reduction in corrosion and rejects due to laser etching with the use of CitriSurf products. They passivate AFTER laser etching, and depending on how you do it (and the grade of stainless) you can either leave the dark etch mark or remove it to get an "engraved" look.
Either way, you will improve your corrosion and rusting resistance of the laser etch by passivation. Unless you remove most of the dark material, it will always be the weakest link in the part, but passivation with CitriSurf will give you considerably improved results. Lee


Lee Kremer
Stellar Solutions, Inc.

McHenry, Illinois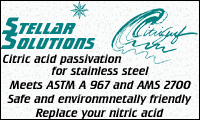 ---
---
Multiple threads were merged: please forgive repetition, chronology errors, or disrespect towards other postings [they weren't on the same page] :-)
---
---
Q. I am a designer of Medical devices/instruments. The primary material in use is stainless steel, 17-4 PH heat-treated to H-900 condition.
After laser etching part numbers, we have the instruments passivated for corrosion resistance.
After passivation, our laser etching is all but non-existent. If we laser etch before passivation, the area of laser etch corrodes after autoclaving.
Any suggestions on how to finish for corrosion or laser etching with reference to technical documents would be appreciated
Anthony Rubino
- San Diego, California
2001
A. Anthony:
This is a typical problem. The laser etched area is the weakest area on the parts and must be passivated to prevent rusting in the etched area. However, it can be very difficult to get the etched area passive without removing ALL of the darkened color used for identification.
adv.
We have had great success with our citric acid formulations in producing excellent corrosion resistance in the laser etched area without removing the color. Many surgical instrument companies have gone to this system because the amount of problems and rusting are significantly reduced compared to nitric acid passivation.

Let us know if we can help you.
Regards,


Lee Kremer
Stellar Solutions, Inc.

McHenry, Illinois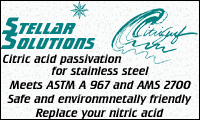 Q. I would like to know if Anthony has found a solution to the problem as I have the same problem.
Bill Buttermore
- Cincinnati, Ohio
May 16, 2008
A. Passivation of stainless steel that has been laser etched must be done with a different solution of Nitric acid. If you have found this problem to be intermittent, it is due to the variation of the chromium content in the SS. For the laser etch to hold the chrome content must be above 16%. 17-4 stainless rides right on this line. Any washed out laser etch issues will have lower chrome then this. If you are experiencing these problems, you are probably using a nitric 2 bath. The solution is to use a nitric 1 bath which is a lesser concentration of acid or to use citric acid .
Nathan Meyer
- Avilla, Indiana
March 5, 2009
---
---
Q. We are currently in disagreement with our customer over whether the brown oxide from laser etching on 17-4 Stainless Steel should remain after citric acid Passivation to a surgical company's spec. Tools are used to tighten and place screws and pins into the human body. We say etching should be clean after processing, customer wants lettering to be visibly dark.
Process; (1) Glass bead tools to mil spec. (2) Customer picks up parts and sends out to laser etch letters and numbers onto parts. (3) Parts are returned to us for citric acid passivation and test per Koslow Scientific Testing Instruments [a finishing.com supporting advertiser] method. Surgical company specs say to specifically test spot near working tip and on lettering. Parts fail Koslow test on lettering, in fact the test itself removes some dark lettering. Customer takes parts without certs. because project is running late. Last load 80% of smut was removed from lettering and we are now blamed for ruining the parts! Other than smut removal, part has not changed dimensionally or surface texture wise.
It is our opinion the glass bead blast before etching is to provide a contrasting background for the lettering after passivation. Also when parts pass Koslow test no smut is visible in lettering, etching is shiny compared to glass beaded surface. We do not want to lose this customer but he is dictating his needs contrary to the spec. and will not allow parts to form passive film before testing. Wants them now!
Paul Szymanowski
plating - Erie, Pennsylvania, USA
2004
A. Each company in this industry has different requirements, but usually they want the discoloration of the laser etch to at least partially remain in order to be more visible for doctors and nurses in hospitals, etc. This can still be attained and get good passivation with the correct citric acid formulations. If you are using straight citric acid it is probably not possible.
Significant reductions in corrosion of the laser etch is possible with the correct formulations without removing the mark. This is being done on millions of parts.
adv.
Contact us if you need further information.


Lee Kremer
Stellar Solutions, Inc.

McHenry, Illinois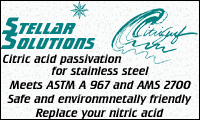 ---
---
Q. We are a medical manufacturer of instruments and implants. We typically laser etch 17-4, 440C, & Titanium.
We have a reoccurring problem with etching. The etched surface will corrode (rust) after nitric passivation treatment. Re-polish /buff, cleaning and laser etching again does no good.
Does anyone have any knowledge on this issue dealing with laser etching and passivation?
Gene Christman
Medical Manufacturer - Fort Wayne, Indiana USA
2005
A. Gene, I've been laser marking Orthopedic instruments made from 300,400 and 630 series of stainless steels for 15 years. The majority of these parts were passivated in 30% by volume Nitric acid at room temperature for thirty minutes. There have been few problems with this process. However, I have had problems recently with citric acid passivation. Details of laser marking parameters versus passivation too lengthy for this reply.
Ron Stephens
- Cordova, Tennessee, USA
A. Re: laser marking on SS. What type of laser? Yag or diode pumped? In general, the darker the laser mark the more likely it will rust. A good question to ask is what gives laser mark its dark appearance? A nice rich layer of iron oxide.
I once upon a time helped with a study on surgical tools (17-4). In a humidity cabinet I would see the nice dark laser mark drip red rust in a matter of hours. We played around with means and methods and concluded the lighter laser mark to be more corrosion resistant. I had some idea of electroetching letters but was trumped by a company called Thermark. They have or had a ceramic glaze that was brushed on prior to laser mark. The laser fritted the glass and the resulting laser mark was damn near corrosion proof.
Jon Quirt
- Minneapolis, Minnesota
A. Strange that someone has success with nitric acid and not with citric, but maybe the conditions are different.
adv.
We have many customers who have switched to citric passivation totally BECAUSE of vast improvements in corrosion of the laser mark compared to what they used to get with nitric acid.

If the right laser and enough power is used you can get an excellent mark that will passivate very well without being removed by the passivation or rusting in the autoclave.


Lee Kremer
Stellar Solutions, Inc.

McHenry, Illinois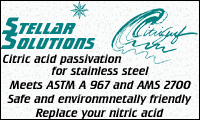 ---
---
Q. I just started a new laser etch process (YAG Laser) for marking on 304 stainless steel, the depth is about 0.05 to 0.1 mm, after the laser etch, I found "brown layer" on the surrounding area, any chemical can remove this "brown layer"?

Thanks
Ken Low
Production - Singapore
October 23, 2010
---
---
Q. We use the Citrisurf citric acid product and have good success for the most part. Some items do very well, and some do poorly. It must be the Chrome issue brought up by another answer. It is a bit of an art to passivate w/o removing the etch. We dipped them in a heated bath for awhile, but had some instruments that didn't fair well. We primarily use the Gel form and it works well. What I suspect is the use of highly alkaline cleaning solutions being used by hospitals causing the staining. There is very little actual Rust. I'm looking into just Acid etching now. Anyone need a really good fiber marking laser? What concentration of Nitric acid was being recommended? I wanted to try that on a few particular instruments that the Citrisurf seems to dislike.
Joe B Black
surgical instruments - Tucker, Georgia, United States
August 3, 2012
---
---
Q. Hello
Somebody can recommend for the most effective procedure for passivation? What the best acid to use and what should be the percent of it?
Michael Rachilevsky
- Tel Aviv, Israel
May 9, 2013
---
---
How to mark polished stainless steel?
Q. I sell polished stainless steel tools online. These tools will be used with massage oil/creme and cleaned with alcohol regularly. Currently they are CNC engraved.
I would like to be able to offer personalization (customer name put on tool) as an option. I saw some laser cutters/engravers on eBay for under $500 and thought that would be great, but found out they will not work. Then I found they "may" work if I used some liquid ink (Ceramark/Thermark or something similar) and had the laser go over it a couple of times. I then looked into lasers with enough power to engrave/etch directly in one pass, but they seem to cost about 20K. Way more than I can spend and also laser pricing is well hidden by the manufacturers ... you need to contact a distributor with all your personal info just to see if the price will fit my limited budget.
As I plan on charging $20-25 for this service that limits the cost of hardware. I have also seen the Etch-0-matic but not sure it lends itself to making a lot of unique marks. How can I permanently mark customer names on my products from home?

Thank you in advance,

Mike
Michael Hartman
- Caldwell, Idaho USA
February 28, 2015
---
---
Q. In desperation I finally found this board, and and really hope someone can assist me. And have ready though all the previous threads and it seems like a general problem all round.
We engrave medical bracelets for a client (stainless steel grade 4) and currently use a local supplier of "etching paste" which they will not reveal the contents of. The cost cost of this paste is almost 1/2 the price of other like Thermark LMM14 (exchange rate etc etc) and lately we have had a lot of comebacks with the black mark wearing off. I read in a previous post of a Thermark bonding agent that "frizzles" it as the gentleman explain it but cannot find this on Thermark website. Do you have any more info on this perhaps?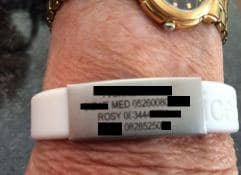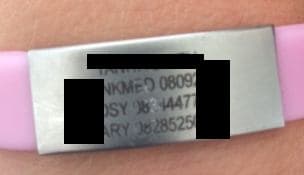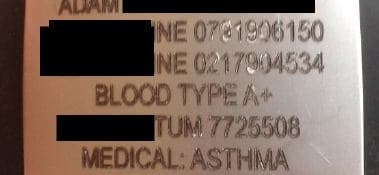 Also, as this is an item worn on the wrist and is subject the quite a lot of surface wear (particularly athletes or people in wheelchairs who constantly brush against the chair as they move about), obviously there must a limit to the lifespan of these items. Is there any industry standard indicating such limits that I can impart to my client?
Any help will be much appreciated.
Charlie
Charles van der Spuy
laser engravers - Cape Town, South Africa
May 10, 2015
A. I have been etching all kinds of surgical instruments for almost a year due to the coming UDI by the FDA. We provide total instrument tracking solutions to hospitals.
We have three YAG lasers (Rofin 1064 nm) and this is my experience with Citric passivation and marking:
You can engrave, etch or aniline any material, coming to stainless steel this are my findings --

1 We have tried Citric passivation with good results
2 We designed an ultra fast sensitive 2D camera so we can make really small marks without stressing or removing much material of the instrument
3 We usually run tests with Hydrogen peroxide, which is more aggressive, to see the results of passivation; citric does a good job.
Rule of thumb, marks must have a good contrast black to be easily read by scanner. I have been seeing in SPD (Sterile Processing) people getting frustrated because they cannot read marks.
4 Laser set up is fundamental; power, frequency, focus play the ultimate results.
Really not much literature online to learn this but I have been investing a few months perfecting the DataMatrix marks.
Gus Vargas
instrument tracking - Winston-Salem North Carolina
A. I think in general, going for a deeper etch gives something that you can be sure will hold up over the long term. However, most laser marking on stainless is in the medical industry for surgical instruments, and I am told that in the dimly lit surgery room, the very dark black high-contrast mark is key. There are tricks to this, but it always comes down to some trial and error as well.

I think for something like medical ID bracelets, for the most part something with a deep etch would be okay even after the black starts to wear off.

Ray Kremer
Stellar Solutions, Inc.

McHenry, Illinois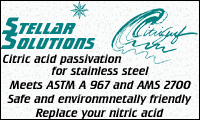 ---
---
Q. Can anyone share the recommended process cycle for UDI? is it recommended to passivate the surgical and dental instruments after Laser marking? I would highly appreciate if anyone can provide the process cycle for the same.
Sobhan Aslam
- Siakot Punjab, Pakistan
October 1, 2020
---
---
Q. Hello, We are medical device producer, our products surface are uneven so, after laser marking we cannot make proper passivation; then we have rust on marking area. So could you please share your experience for passivation of SS after laser marking?

Thanks
Arda YALAMAC
Engineer - Izmir Turkey
July 12, 2021
A. Arda,
Passivation is done with an acid, generally a dip bath or a paste version, so I'm not sure why you say an uneven surface is causing a problem for you.

You do need to passivate after laser marking on stainless, though some trial and error is often needed to determine an ideal process time that does not damage the mark itself.

Ray Kremer
Stellar Solutions, Inc.

McHenry, Illinois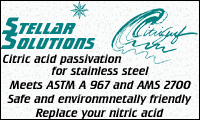 A. Arda,

Passivation of stainless steel after laser marking can sometimes be challenging and there is a different method. In some cases you would want to passivate before laser marking and do a citric gel passivation after laser marking; I have also found that nitric with sodium dichromate passivation works well on 300 series stainless steel to keep the laser marking from lifting.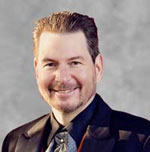 Mark Battles
Plymouth, Minnesota
July 23, 2021
---
---
Q. Hello, We have a rusting issues around laser marks with our stainless steel (4057) made medical product. Before sending our Medical Drill to "Laser Operation" , we use passivation with nitric acid (%20) due to other operations , but after the laser we don't passivate because we lose the laser markings. And not passivating the product causes the rusting problem. What kind of passivation do you suggest for us? We currently use nitric acid (%20) for 30 min at 125 °F (50-55 °C) and also laser lines are in the curved space , does this change the type of the passivation?
Ak Tolgali
Engineer - Turkey
August 5, 2021
A. Ak,
Post-laser mark passivation is often done using citric acid formulations. There is still the issue of removing or otherwise ruining the laser mark, but it happens more slowly than with nitric acid, so with some trial and error you can work out when to remove the parts from the citric bath to have better corrosion resistance on the marks.

Ray Kremer
Stellar Solutions, Inc.

McHenry, Illinois