topic 9034
Alodine filtration
2001
Q. I would like to ask an Alodining question in relation to small business. Our set up consists of 1 product tank, followed by 1 rinse tank. Is there any type of closed filtration system which would allow the user to extend the life of the product and cut down on the hazardous waste being generated? It doesn't take long for the rinse tank to become as dark as the product.
Any suggestions would be greatly appreciated!
Brad Beckham
- New London, Connecticut
---
2001
A. The thing to do is add a 2nd, and preferably a 3rd, rinse tank. This will greatly reduce your water usage. Recovery of chromating solutions is nowhere near cost-effective for small shops.
Ted Mooney, P.E.
finishing.com
Pine Beach, New Jersey
---
2001
A. One method is some type of ion exchange (IX) or reverse osmosis (RO) system to filter your rinse water and send it back to the rinse tank. Most likely, you will not be able to use the regenerant waste from the IX system as make-up for your coating tank. The nice thing about this, however, is you end up with a small volume of concentrate waste instead of thousands and thousands of gallons of rinse waste with a low concentration. You can also use the clean water for make-up for the coating tank.
Depending on contamination levels, you could use the rinse water as-is for volume make-up for the 1st tank. You really have to watch, though, or you could end up really contaminating your 1st tank with some external constituent.
Christian Restifo
- Pittsburgh, Pennsylvania
---
2001
A. Read Ted's essay on rinsing available at this site. More than additional rinse tanks, they need to be counter flowed for optimum effectiveness. That can be by bucket on small lines. 3 tanks, cascade counter flowed, 1/1000 of the water use. That is cost effective.
James Watts
- Navarre, Florida
---
2001
A. There is a substitute for the chrome/Alodine for your operation. It will meet the salt spray and paint adhesion requirements. This material can in most cases be put right down the drain without any environmental hazard.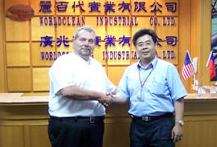 Drew Nosti, CEF
Ladson, South Carolina


If you have a question in mind which seems off topic, please Search the Site