60,000 Q&A topics -- Education, Aloha, & Fun
topic 8976
Sodium hydroxide analysis of alkaline zinc
A discussion started in 2001 but continuing through 2019
2001
Q. What indicator do you suggest I use for analysis of sodium hydroxide in alkaline non cyanide zincs? The one used at present is BDH 11-13 but this is no longer available.
Philip Gormley
plating services - Irvine ,Ayrshire, Scotland
---
2001
A. Try using Sulfo-orange or phenolpthalein. I use the sulfo-orange for cyanide based solutions. It might work. I use the phenolpthalein for alkaline cleaners.
I'm not at work until Tuesday, at which time, if you want I can try a couple of experiments and get back to you.
K. Gendron
- Trenton, ON, Canada
---
2001
A. 1. 5 ml. sample into a 250 ml. flask.
2. Add 25 ml. 20 % barium carbonate.
3. Add 3 drops phenolphthalein indicator.
4. Titrate with 0.1 N hydrochloric acid, color change is pink to white.
5. mls. titrated x 1.06 = oz/gal.
Bill Hemp
tech svc. w/ chemical supplier - Grand Rapids, Michigan
---
2001
A. In response to the NaOH Titration procedure of Alkaline Zinc At our shop we use 5 ml sample 20 ml water A few specks of Indigo Carmine Indicator Titrate with 1.0N HCl from yellow to blue mls titrated * 0.95 = OZ/GAL * 7.5 = gms/lt
Lee Moss
- Calgary, Alberta, CANADA
---
2001
A. We gave up on indicators and now use a pH meter and stirrer this gives more repeatable results. End point pH 11.2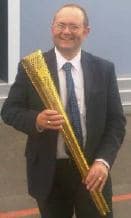 Martin Trigg-Hogarth
surface treatment shop - Stroud, Glos, England
---
April 7, 2019
A. BDH 11-13 indicator is actually pretty easy to make yourself ... only 2 reagents needed
I have been making my own for years
Nigel Gill
Aerospace - Glasgow, Scotland
---
July 17, 2019
Q. And how can I make the BDH 11-13 indicator by myself?
Which reagents are needed?
Benjamin Buettner
- Newhouse, Thuringia, Germany
---
August 5, 2019
Q. Good morning,
I would like to know the recipe for the preparation of the BDH 11-13 that I used but, at the end of the product, I was no longer able to obtain it from my supplier who did it in his laboratory.
Paul from Torino Italia
Paolo Scialuga
Surfaces treatment - Torino Piemonte Italia
---
October 30, 2019
A. Hi Paolo,
The compound used in BDH 1113 indicator is 4-(4-Nitrophenylazo)resorcinol.
So, dissolve ~1% m/v in ethanol.
You can get 4-(4-Nitrophenylazo)resorcinol from Fisher Scientific.
Best Regards,
Mark Lees
aerospace - A not so warm rock in the irish sea