Not a lecture hall but a roundtable with a seat for you!
60,000 topics spanning 36 years. Education, Aloha, & Fun
topic 8937
How to refinish cast iron and cast bronze fireplace surrounds
Current question and answers:
December 9, 2020
Q. Hey there, my name is Michael and I am an avid woodwork and furniture maker.

I have read several of the comments / feedback to folks at finishing.com. I do a fair amount of woodworking and understand finishes for wood but I am not as educated when it comes to metals. I am building a new fireplace in our 1907 house and using an 1895 historic metal surround for a water vapor fireplace. The water vapor fireplace module produces a very realistic flame. This fireplace produces vapor just as a ultrasonic vaporizer does. Because of this minimal vapor I want to ensure that I protect the surround from rusting while keeping the beautiful patina and matte finish. Several of the finishing options look like they add a shine to the finish, which I am trying to avoid.

I was impressed with your level of knowledge and detail in all your comments.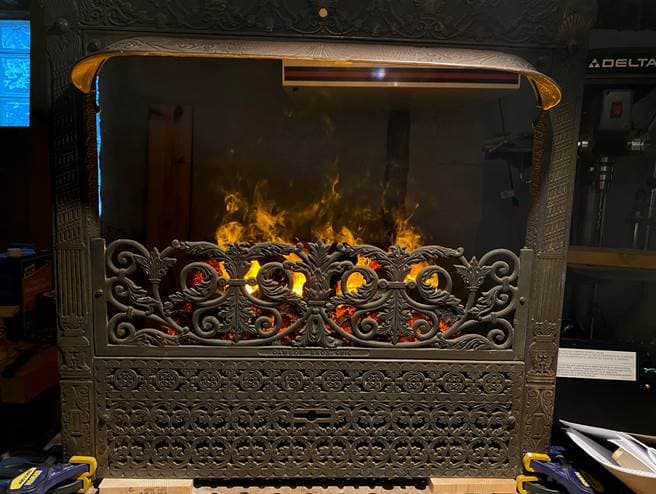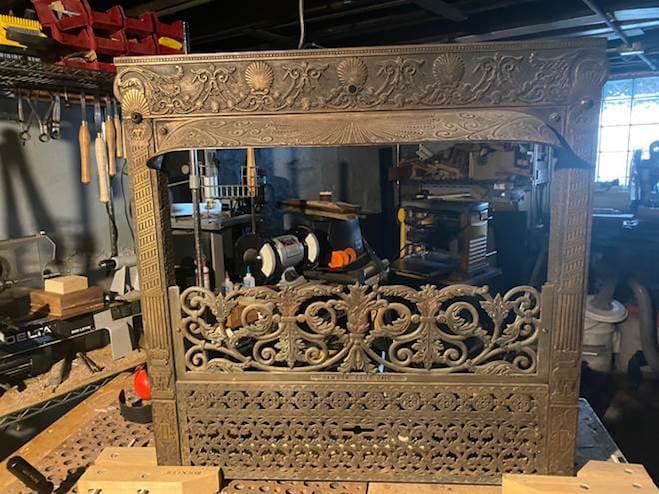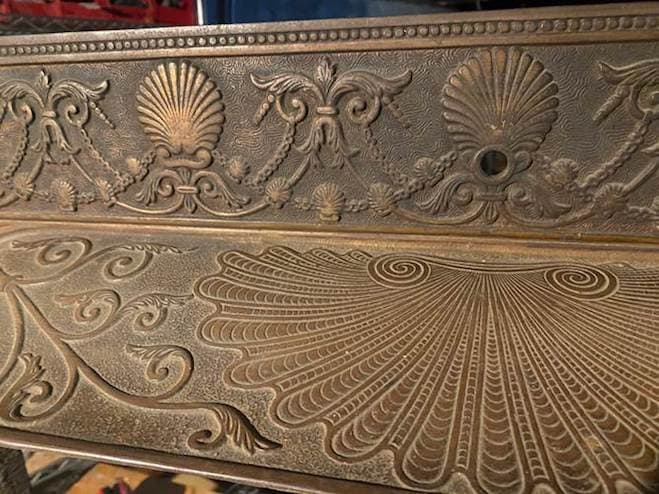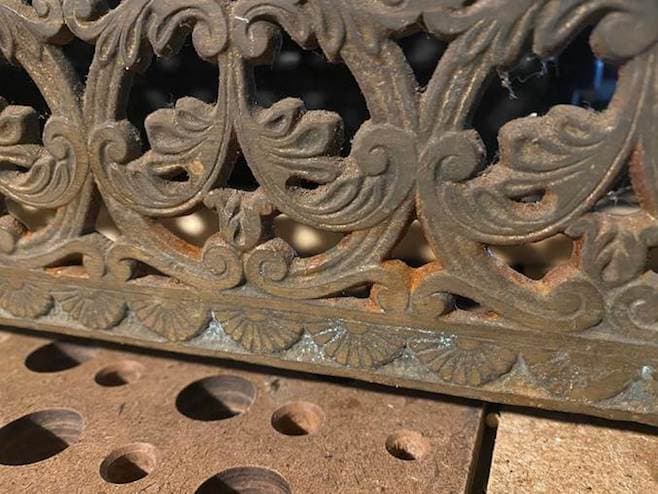 I was hoping that someone could offer some advice on how to seal this from the moisture while accommodating for some heat. Is does not get nearly as hot as a regular fireplace as there will be an electric heater install in the roof of the fireplace and that will blow out the front under the protruding lip.

I greatly appreciate your opinion on this project and thank you for any insight you can give.

Respectfully written,
Michael Johnson
- Chicago, Illinois
---
---
---
Previous Q&A's on this subject started in 2001 and continued through 2019
2001
Q. I recently came across your fascinating home page, finishing.com, and have a question that I am hoping you can answer. We would like to refinish the fireplace surround shown in the attached pictures.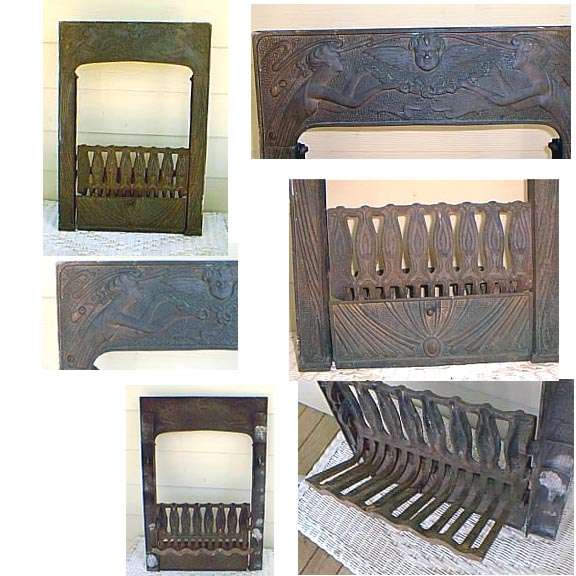 It is cast-iron, made in the late 1800's. As you can see, it has a slight bronze finish on it already, which may be some sort of overlay, and is in poor condition. Overall, the piece measures 30"x20". We would like it to have a more rich bronze look to it, and possibly an overlying clear coat that can resist heat.
Any suggestions?
Thanks,
Adam Landsman
- Chicago, Illinois
---
---
To minimize search efforts and to offer multiple viewpoints, we combined previously separate threads onto this page. Please forgive any resultant repetition, failures of chronological order, or what may look like readers disrespecting previous responses -- those other responses may not have been on the page at the time :-)
---
---
Patina for bright brass fireplace surround
2002
Q. I have a bright brass (presumably lacquered) fireplace surround. I would like to create a patina finish. As it is obviously subjected to high heat, is there a particular product or process you would recommend?
Theresa Mooney
- Christina Lake, BC, Canada
---
2004
Q. Looking for a chemical that will allow a slight to moderate change to the brass fireplace finish- making it antique brass. The surround is solid brass with a coating, I believe.
thank you
Carolynn F Sasso
homeowner - Neshanic Station, New Jersey, United States
---
---
2005
Q. I have just sandblasted a wrought iron (cast-iron) fireplace surround. It looks great but I was a little surprised at the result, a very matte grey. I plan to finish the surround with "Williams" black semi-paste stove polish [affil. link to info/product on Amazon] to give it the black lustrous finish I am looking for. (It's made from graphite and carbon black pigment). Is this polish considered a primer, does it replace the primer, or should I prime, then stove polish black? If I need to buy a primer is it readily available?
Thanks very much.
Andrew B
[last name deleted for privacy by Editor]
- Jersey City, New Jersey.
---
2006
-- this entry appended to this thread by editor in lieu of spawning a duplicative thread
Q. I have beautiful brass fireplace doors and and changed my decor in the room that I want to tone it down or make it a rustic look. Is this possible or will I have to replace them?
Susan Lapour
Retired - Blue Springs, Missouri, USA
---
2007
I am a homeowner who is tired of looking at my dated brass-plated fireplace insert. There is nothing wrong with the insert other than the outdated look hence my desire to refinish it as opposed to replace it. This is a gas fireplace that has rarely been used since gas prices have risen so high but I can't rule out future use of the fireplace. Is it possible to refinish this surface so that it will have an updated look and still be fireplace friendly? Any suggestions would be appreciated. Thanks!
Kay Bammert
Consumer - Marquette, Michigan
---
---
November 18, 2012
-- this entry appended to this thread by editor in lieu of spawning a duplicative thread
Q. I have a large piece of hot rolled steel I intend to use as a fireplace surround. After fabricating, there are greasy fingerprints and smudges along the edges / sides that I haven't been able to remove. we used lacquer thinner, which cleaned it up nicely, except for the greasy smudges. I intend to put a clear-coat finish after I get it cleaned. Please advise.
Anne Larson
- Victor Idaho
---
---
Problem refinishing cast iron fireplace surround
October 19, 2019
Q. I'm stripping and polishing a cast iron fireplace surround from the late 1800's in Hamilton, Ontario, Canada. Some of the underlying finish is irregular, shiny and brown compared to the rest. Is it a variation in the cast iron itself? No amount of grinding with a drill-mounted wire brush seems to change it at all. Thanks for your help.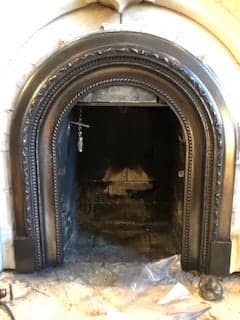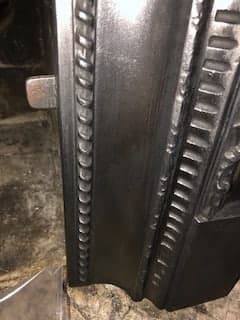 Carolyn Rogers
DIY restorer - Hamilton, Ontario, Canada