60,000 Q&A topics -- Education, Aloha, & Fun
topic 8931
Where to buy sodium chlorate for my copper oxidation
2001
I have printed on some copper sheets, and would like to oxidate portions of it. Where can I purchase sodium chlorate, and how much will I need for ten 12"x12" plates?
Thank you for your help.
marcello grande
- Chatsworth, California, USA
---
2001
Marcello,
To buy Sodium Chlorate? Don't really know but try the manufacturers such as Albright and Wilson (in Canada) and Canoxy (once called Hooker Chemicals).
They have chlorate cell tanks! Maybe they can give you some or at least tell you whom to approach.
Terrific stuff for killing grass but beware when the grass has dried out as it will burn very nicely, thank you.
Highly dangerous if mixed with red phosphorus. Don't even consider doing that as it will explode.
Cheers !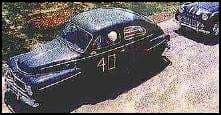 Freeman Newton [dec.]
White Rock, British Columbia, Canada

(It is our sad duty to advise that Freeman passed away
April 21, 2012. R.I.P. old friend).