60,000 Q&A topics -- Education, Aloha, & Fun
topic 8916
Magnetic Stainless Steel
2001
I have just finished reviewing you responses (letter #7136) to the question regarding whether 304 SS is or is not magnetic. It was stated that 304 could become magnetic by cold rolling. Do you mean during the formation of the piece of stainless? Our question has to do with a piece of 304 SS (Solid Square bar) that was "delaminated" (flattened due to its malleability by friction of plastic bearing material) in a spray drier system used to produce dried egg.
Would fine strands of SS removed from the bar described above be made magnetic? Temperatures in the drier are approximately 500 degrees F.
Thanks for the help
Mike Lathrop
- Omaha, Nebraska, USA
---
2001
Hello Mike!
As Larry said in letter 7136, 304 will become ferromagnetic with cold work. Your "delamination" which gives off fine strands qualifies as cold work, and the mere 500F is not enough to anneal the material. So I'd bet today's lunch that those fine strands would be picked up by a magnet. Of course, lunch today is a peanut butter and banana sandwich, so I'm not risking much...

Lee Gearhart
metallurgist - E. Aurora, New York
---
2001
I agree with Lee. When Stainless steel molecules are drawn out they become aligned and that pattern makes then subject to magnetism.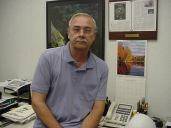 AF Kenton
Hatboro, Pennsylvania