60,000 Q&A topics -- Education, Aloha, & Fun
topic 8888
Painting an ABS-PC Computer Case
2001
Q. I'm under taking a project to colour the front plastic part of a computer case. I think that most computer fronts are made of ABS-PC (correct me if I'm wrong). What is the procedure that I should use to paint the frontage? Should I strip the paint first or can I just apply some paint? What sort of spray paint (brand, etc.) should I use? And is a spray primer required (again brand, etc.)? And the number of coats required?
Thanks in advance. Hope someone can help me.
Gene
[last name deleted for privacy by Editor]
- Singapore
---
2001
A. Gene,
I know nothing about paints, even less about computers ... but I'd hazard a guess that your computer box was never painted and your assumption of it being ABS is probably correct as the material is very impact resistant and inexpensive compared to PVC, for instance.
ABS is slowly attacked by aliphatic solvents and quickly by aromatics.
May I suggest you: 1. Clean the surface to be painted, alcohol or Acetone [affil. link to product info on Amazon]. 2. Cover the parts you don't want painted 3. Get a can of spray paint, automotive type which contains solvent (so that it will 'bite' into the ABS) and spray away. OK?
You don't need, shouldn't need any primer. The number of coats depends on how long you spray onto it, doesn't it?
Have fun ... I really like your mega caged bird centre in your zoo. Highly recommended.
Cheers!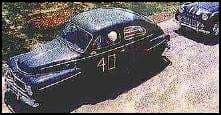 Freeman Newton [dec.]
White Rock, British Columbia, Canada

(It is our sad duty to advise that Freeman passed away
April 21, 2012. R.I.P. old friend).
---
2002
A. The ever burning question, How do I paint the front bezel of my computer case?
I'll tell you, the first thing you have to do is sand that sucker down using 400 grit sandpaper. Then clean with alcohol making sure you don't touch it afterwards. The last thing you want to do is have an imprint of your fingerprints of the front of your case. Then prime the front bezel with automotive primer. Let it dry overnight. Now its back to sanding, grab your 400 grit sandpaper and sand that sucker down again, moving North to South, then East to West, making sure you get the whole of it. DO NOT move in a circular motion. How many coats? That all depends on you. Keep applying primer until your satisfied with your surface. Onto color, use lacquer based paint, automotive preferably. Make sure your surface is clean as specified before. Move left to right keeping the bottle 8 to 10 inches away, overlapping each pass by half. Let that dry in the sun, bringing it at night so it won't haze over. Grab your cool looking bezel and make sure its super clean. Grab some 600 grit sandpaper and sand that sucker again, making sure you don't get down to the primer. Super clean it yet one more time and apply another coat as before. Let it dry again. This time grab some 1500 grit paper and sand away lightly. Clean again. Grab some rubbing compound and apply in a circular motion, READ THE INSTRUCTIONS ;) Once you do that, get some automotive glaze, I use Meguiar's 7 Professional Show Car Glaze [affil. link to product info on Amazon].
Again, READ THE INSTRUCTIONS! That should give you a bezel you can fix your hair on.
George Perselis
- Bronx, New York
---
2004
Q. I am a hobbyist, and I am making a loft bed out of ABS pipe. The pipe is black and I would like to know if I would be able to paint it to match the bedroom decor. If I am able to paint it what would the best paint type be, and would I need to prime the pipes first?
Louwana Prudat
hobbyist - Regina, Sk., Canada
---
2004
A. Paint with Krylon Fusion [affil. link to product info on Amazon] .
It is a new paint for plastics works on metal and wood too so it would match and you wouldn't have to try and match two kinds of paint ...
Expensive for spray paint though about 7.50 a can...
Remember Krylon Fusion available in 18 colors... one color I'm noticing looking at my catalog is primer grey... you can prime the whole PC or ABS for the other person asking a question.. and used what ever type of paint you want... I also see a computer painted in my wholesale catalog using Krylon primer the anodized aluminum paint looks like a blue chrome. sweeeet. Hope I was informative.
Justin J Willison
- Cedar Springs, Michigan
---
2005
Q. I have a somewhat new Acer laptop silver and I am clueless as to what kind of plastic this is they have used for the laptop shell. But I want to mask up part of it and paint the outer shell and maybe spot paint the keys later ... I know the keys require a different paint ... and then stencil in the letters for the end result.

So my question is what the best paint I could use to paint this laptop and how can I protect the paint once its applied from being scratched?
Brent Spencer
- Brea, California
---
2006
Q. I would like to ask:

1- is Krylon Fusion spray paint for plastic is sold in Singapore or any southeast Asia region?
2- is it 100% durable in my country (high humidity, wet and sweating all year around)?
KHAIRUL HANAFI
Architect - Malaysia
adv.