World's #1 finishing resource since 1989
No login needed: Chime right in
topic 8869
Cooling coil material
2001
Q. Dear Sirs,
I am going to install a new cooling coil for our electroforming bath of nickel which is for manufacturing optical disc stampers. PH is around 2.5 to 4, temperature 35 to 70 °C, nickel sulfamate 400 to 500 g/l, boric acid 40 to 60 g/l.
What is the cheapest and safe material to make the coil?
Thanks for your helps.
Eric Lee
- HK, SAR of China
---
2001
A. I will only use Titanium coils.
Payal Mag
- Charlotte, North Carolina
---
2001
A. Titanium is the only way to go. It may not be the cheapest but it's definitely the best. Call it, money well spent....Good Luck.
Randy A. Mattson
Skills Incorporated - Seattle, Washington, U.S.A.
---
2001
A. Eric,
You had asked about the CHEAPEST and a safe material to make cooling coils ... so I didn't think of replying until I saw the answers from the cognescenti
Sure seems that Titanium is the way to go BUT expensive!
Have you thought about the PVDF plastic cooling coils? A.OK to around l40 degr. C, superb in acids, not so good in high pH. Standard cooling coils (G.F.Fischer?) are made in PP (not recommended in this instance because of the temperature) and PVDF which some people call Kynar. One drawback is that by being plastic, their heat transfer is not as fast as a metal. But pricewise possibly l/2 the price of Titanium.
Food for thought, anyhow.
CHEERS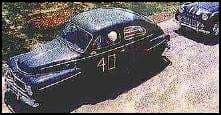 Freeman Newton [dec.]
White Rock, British Columbia, Canada

(It is our sad duty to advise that Freeman passed away
April 21, 2012. R.I.P. old friend).