60,000 Q&A topics -- Education, Aloha, & Fun
topic 8852
Magnesium corrosion protection
2001
I am developing a new housing and covers using a AZ91d mag casting. I will be using steel hardware to secure these together. The mag parts are finish with DOW20 under a powder coat(where these parts mate, there is no paint for emi issues).
Am I going in the right direction, with this type of protection?
I am also thinking about having the hardware zinc plated.
Carlos Santos
- Lowell, Massachusetts
---
2001
Zinc plating the hardware is a good idea as there is the issue of bi-metallic corrosion between the dissimilar metals. If bare steel bolts are screwed into the magnesium they will corrode together and be almost impossible to remove.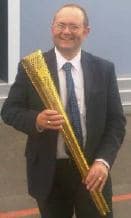 Martin Trigg-Hogarth
surface treatment shop - Stroud, Glos, England
---
2001
If this is for an outdoor application...I would suggest you run painted sample plates of your material in a salt chamber prior to introducing any other components. You will get a feel for the reactivity of az91d by itself, as it will be 10 times worse with other materials...especially a conductive gasket with Silver or Nickel. Dual gasket approach will be your best option if shielding is necessary.
James Hale
- Arlington Heights, Illinois, USA